082: ARMOR EVOLUTIONS OF COURAGE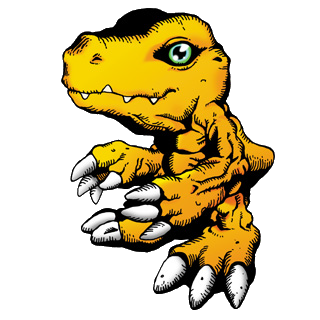 With our season 2 heroes out of the way, I said I'd tackle additional "armor evolutions" individually, but then that would be almost two months straight of armor evolutions alone, so instead, we'll be sorting them by which Digi-egg or "Digimental" they evolve with, and we begin with the power of Courage, the crest originally associated with Agumon.
EGG OF COURAGE + HAWKMON: ALLOMON
Like any other digimon, there are now many things that can canonically evolve into each of these armor forms, but each also has a child stage they were sort of "officially" introduced for, like how Allomon here evolves from Hawkmon. Any instance of a bird evolving into a nonavian dinosaur, or vice versa, is always pretty cool in my book, even if it's a little gauche that they made a cartoon dinosaur look "native american" and called it a day.
Minus its dressup accessories and the fact that real Allosaurs may have been
entirely
feathered, Allomon is otherwise one of the most "life like" carnivorous dinosaur digimon, and that has to count for something too...though I'm not sure how exactly this is an "armor form," and that's going to be an issue quite frequently as we go over these.
RATING:

EGG OF COURAGE + ARMADILLOMON: BOARMON
From an armadillo to a pig, huh? Not that big a leap, by digimon standards. An armadillo IS pretty piggley. There's not much to boarmon other than a straightforward flaming hog, but that's pretty cool in itself. Could have easily been an early-season digimon, too, especially when it barely has any more "armor" than Allomon up there. Just a metal plate bolted onto its skull. It's almost like they just filled up a lot of "armor level" slots with whatever miscellaneous concepts they had lying around. Boarmon deserves better than that!
RATING:

EGG OF COURAGE + PATAMON: BAROMON
Highly
unexpected, even as far as these go. The power of pure courage allows Patamon to evolve into a
barong
instead of Angemon? And it's virus type?? Huh. Interesting, though, and designed nicely enough.
RATING:

EGG OF COURAGE + GATOMON: LYNXMON
The little kitty cat's courage armor form is a flaming lynx, and its description focuses on it being seen as the "opposite" to the cold-loving wolf, Garurumon, even having a more carefree, lazy personality to Garurumon's fierce fighting spirit. Like I said...this really feels like a depository for some extra digimon they didn't know what else to do with.
RATING:

EGG OF COURAGE + WORMMON: SHADRAMON
It's too bad we never see this in the anime. I'm not really into its design style, but it's an
evil
butterfly-themed digimon, so it's one of those Skullgreymon style evolutions, but for Wormmon! It gets an extra point entirely for being a bad butterfly. A badderfly.
Interestingly enough, though,
Flamewizardmon,
which we reviewed a ways back, is an alternative Courage form for Wormmon.
RATING:

EGG OF COURAGE + AGUMON: SALAMANDERMON
Of the original Digimon Adventure partners, only Patamon and Gatomon get a full set of armor evolutions...but this absolutely
wonderful
flaming salamander was given as an armor form to Agumon, and more intriguingly, to some of the more underloved child digimon including Gazimon, Otamamon, and even
Chuumon!
It's a perfect salamander design; nice and broad and flattened like a proper giant 'mander, with the addition of pointed brow ridges to give it a more menacing streak and a stitched mouth for no reason other than it's super cool.
RATING:

NAVIGATION: