083: ARMOR EVOLUTIONS OF FRIENDSHIP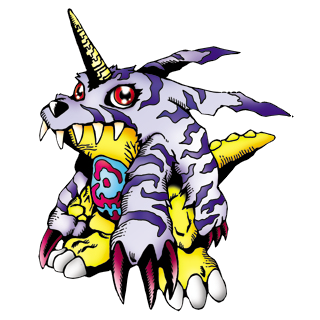 Friendship was the crest of Matt and Gabumon in Adventure 01, and it's also worth mentioning that in the anime, we got little glimpses of these other digimon during every armor evolution sequence, so whether or not it makes sense, everything on this page supposedly borrows some of the spirit of Gabumon's evolutions. Everything here is basically part wolf, in a sense. Sort of. I guess.
EGG OF FRIENDSHIP + HAWKMON: RINKMON
An eagle with the power of a giant dog's friendship apparently results in a figure skater. Alright idea, but the result is somewhat cheesy looking.
RATING:

EGG OF FRIENDSHIP + ARMADILLOMON: SEPIKMON
A weird one. This "demon man" or "wizard" digimon is just a monkey with a tiki mask and a gigantic boomerang. I guess they were going for a really jungle-ey theme, but the boomerang would be Australian, and Australia doesn't have monkeys, damn it!
RATING:

EGG OF FRIENDSHIP + ARMADILLOMON: KENKIMON
Very, very few new armor evolutions were ever added after their original introduction...but a couple of years later, this construction bot was added by
Digimon Story
as an alternative Friendship form for the Armadillo. Odd, but at least more thematic than a boomerang monkey. I like Kenkimon's sort of "lego figure" head, that's adorable!
RATING:

EGG OF FRIENDSHIP + PATAMON: STEGOMON
Hold up...shouldn't THIS have been assigned to Armadillomon??? Not a bad stegosaur, otherwise. Nice to see some more leathery dinobeast digimon. Now might be a good time to mention that they literally
did
just pull some of these from existing games and decide later on they were armor forms. I guess the intention was that it would breathe some life and popularity into these underused monsters, but then they didn't really get a chance to appear in the anime or anywhere else of note, and I think by now, every kid viewer knew that the franchise would only treat
ultimate
evolutions as really worth anything. No matter how much we might love an Adult stage or an armor, we all kinda got this sense that it was already "obsolete" if it wasn't more evolved.
RATING:

EGG OF FRIENDSHIP + GATOMON: BITMON
I'm really torn between the fact that armor digimon SHOULD be armored like this, because that seemed like it was kind of the point, and the fact that it's not a visual style I find very appealing. There's not much to this little pink rabbit I care all that strongly about either way, except that it's said to enjoy collecting fossils for some reason. Actually, its two main characteristics are that it can burrow really well and it can curl into a defensive ball, so....another one that should have gone to Armadillomon.
RATING:

EGG OF FRIENDSHIP + WORMMON: TOGEMOGUMON
OH COME ON! Another burrowing animal,
already
known for its defenses and ability to roll up, and it's
also
unrelated to the Armadillo!? This is just silly. Apparently the spines are ice crystals, whatever, why is this a Wormmon armor.
RATING:

NAVIGATION: