084: ARMOR EVOLUTIONS OF LOVE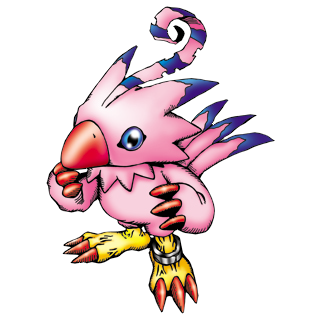 Today's digi-egg is love, associated with Biyomon the bird digimon! Unlike yesterday's nonsense, almost evrything this time around actually does tie in logically to this theme, though it's going to be kind of short, because we already looked at both Sethmon and Halsemon, armors of the same crest.
EGG OF LOVE + ARMADILLOMON: PTERANOMON
See? Armadillomon has a tendency to evolve into reptiles and prehistoric creatures, so when he borrows the same crest as the Biyomon line, he turns into a pterosaur! Duh! It's also one of the more "armored" armor evolutions, but a little cooler than some others, I'd say. I probably feel this way because it has an almost shark-like feel to it, but it's also an airplane monster. Reptilian, sharky airplane monsters are almost always cool.
RATING:

EGG OF LOVE + PATAMON: PIPISMON
A subconscious part of me thought there was already a number of bat-based digimon, but I guess it was thinking of the bat wings on Patamon itself or the overall shape of
Demidevimon.
This is the only pure chiropteran digimon that I know of, and it's pretty sweet! Just a freaky, toothy bat with metal hooks on every appendage! Rad!!!
RATING:

EGG OF LOVE + GATOMON: SWANMON
...Eh. I'm not a fan of Gatomon getting so many of these animals with a weaker, daintier reputation, even if that reputation is highly unfounded. Just because she's a white cat and can evolve into a blonde angel doesn't mean she has to get stuck with swans and bunnies! Fortunately it's not
too
big of a trend throughout these. I might also just be feeling this way because Swanmon is so incredibly boring to me in general.
RATING:

EGG OF LOVE + WORMMON: OWLMON
An insect with the power of love-armor is an owl with night vision goggles? Well...alright. It's silly enough that I have to like it, even if we're really getting shafted in terms of possible insect digimon here. Owlmon is apparently not very strong, but exellent at gathering information.
RATING:

NAVIGATION: