085: ARMOR EVOLUTIONS OF KNOWLEDGE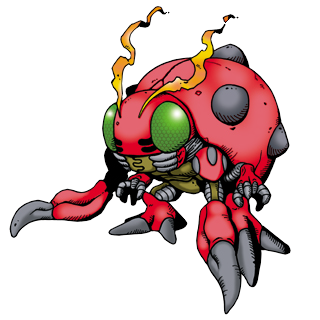 Today's digi-egg draws from Tentomon and Izzy's crest! Does that mean we're in store for a bunch of awesome bugs!?!?

......Not quite. Sigh.
EGG OF KNOWLEDGE + HAWKMON: FLYBEEMON
What honestly ever happened to the way they used to draw arthropod digimon? From pretty much this season onwards, we
almost
never get another one that looks like an organic insect, or really like anything other than either a robot, a bug-themed dinosaur or a bug-themed human. Flybeemon just doesn't interest me much, but I'll give it a three because it's not bad
for what it's going for.
RATING:

EGG OF KNOWLEDGE + PATAMON: MOTHMON
Now,
for
an armored digimon and
for
one of these modern bug digimon, Mothmon isn't terrible. It's got six legs, it's not entirely humanoid and it almost has an actual moth's head, except for the little anime mouth, but I guess that derives direct from Patamon. A moth with a gatling gun is also kind of funny.
RATING:

EGG OF KNOWLEDGE + GATOMON: BUTTERFLYMON
This, meanwhile...I don't know what this is. I want to give it props for looking fairly menacing, both for a butterfly and for one of Gatomon's armors, but we already saw a scary armor-level butterfly a few pages back, and the way this thing is designed and drawn just doesn't grab me. I will say there's a kind of interesting backstory that says Butterflymon, Flybeemon and Honeybeemon (see V-mon's page) all evolved during a "mass outbreak of Kunemon."
RATING:

EGG OF KNOWLEDGE + WORMMON: SEARCHMON
Finally something almost fully insectoid, even if it's also robotic. A metal cricket with a radar dish is a pretty cool and unusual digimon, one of those that I'm aware of but constantly forget exists because it shares SO little in common with anything else in the series. It's also another that's supposed to be physical weak, but great for reconnaissance.
RATING:

NAVIGATION: