087: ARMOR EVOLUTIONS OF HOPE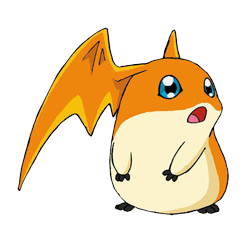 Up next, the power of "hope" that once allowed Patamon to evolve into Angemon! That's pretty important to this series, and you expect some pretty epic "holy" digimon out of this. Instead, what we get is as weird and ecclectic as any other set of armors, but not necessarily bad.
EGG OF HOPE + HAWKMON: MOOSEMON
Yeah, a moose. The only thematic connection here is that Hawkmon and Moosemon are both drawing from North American wildlife, I guess. It's supposedly a sort of sacred guardian beast associated with frozen mountains, and it definitely has that vibe to it at a glance.
RATING:

EGG OF HOPE + ARMADILLOMON: SHEEPMON
A round, pink sheep with bazookas on its back is a fun visual and idea. I actually do rather like this one! The guns fire "balls of wool" that apparently put opponents to sleep.
RATING:

EGG OF HOPE + PATAMON: PEGASUSMON
I forgot this one completely when we reviewed Patamon, even though it was one of the ones that actually appeared in the anime. Maybe because it just didn't impress me that much. It's a gold pegasus and that's pretty much all there is to it. Absolutely pales in comparison to the existing winged unicorn digimon, Unimon.
RATING:

EGG OF HOPE + GATOMON: GOATMON
Much
more interesting is the fact that Gatomon can armor evolve into a grizzled old goat. It looks like it would be an almost villainous digimon, but Goatmon is apparently a "guardian of data" whose goatlike nature only
sometimes
leads to it eating said data. Adorable.
RATING:

EGG OF HOPE + WORMMON: BULLMON
There IS a theme here, it seems. For whatever reason, every single one of the Hope armors have been hoofed mammals. I can't think of any hoofed mammal that would make biological sense to evolve from Wormmon, but I can see why they went with this luchador bull, which feels as if it ties in with Wormmon's "superhero" evolutions.
RATING:

NAVIGATION: