088: ARMOR EVOLUTIONS OF LIGHT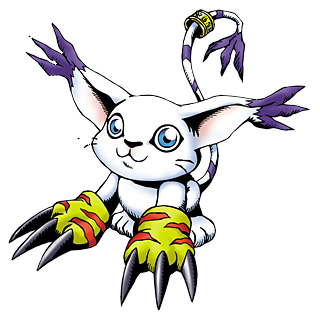 Now we come to the other "angelic" digimon crest, that of Gatomon or Tailmon, and the selection here is very strange. No coherent theme this time, but a few interesting gems! The observant may also wonder why we skipped over Palmon and Mimi's crest when we ran through the original heroes, but that's because of my "save favorites for last" policy!

Also of note is that we already covered Gatomon's own Light Armor evolution, Nefertimon, back when we reviewed her over 80 pages back! I still don't know whether I should have really done it that way or saved it for this page, to be honest. I told you Digimon were gonna be a mess to review.
EGG OF LIGHT + HAWKMON: HARPYMON
Unfortunately, our first Light Armor evolution is not one of the "interesting gems" in my book. No offense, but when you say "harpy," I think "screeching, clawing bird-woman monster," and I imagine that might have looked badass as hell if it were done in the kind of style as older digimon like
Ogremon
or the Devimons. I don't know what this is, but it ain't a harpy, and I am indifferent.
RATING:

EGG OF LIGHT + ARMADILLOMON: SEAHOMON
This is more like it! I mean, there's no reason at all for "light" to turn Armadillomon into a seahorse, but it's interesting, for sure, and it has a megaphone for a face. It's curiously said to have a very small body in its natural environment of the deep sea, but "becomes even larger than seadramon" if it swims to the surface. Weird!
RATING:

EGG OF LIGHT + PATAMON: MANBOMON
Two truly absurd fish digimon in a row! This is just a mola-mola or ocean sunfish with a propeller in its tail, muscly arms and boxing gloves, which is a very very digimon sort of thing for anything to be. It's also described as a "precious" digimon whose body "produces antibodies against computer viruses," which is neat. I wonder if whoever wrote that was aware that ocean sunfish suffer from exceptional parasite density compared to almost anything else in the ocean. Being very large and very slow will do that!
RATING:

EGG OF LIGHT + WORMMON: COATLMON
Another non-bug for wormmon, but at least a "worm" and a snake have some visual similarity, and I like the implication that a snake might be the middle ground between a worm and a cat. It certainly has aspects of both! An angelic, vaccine-type snake based on Quetzalcoatl isn't a bad idea for a holy digimon, either, though it's a little grand of an idea to be limited to a relatively weak armor type. This really should have been something's Ultimate stage.
RATING:

NAVIGATION: