Halloween 2006: September Finds II

So much becomes available in September, it can't fit on one page and still maintain sanity!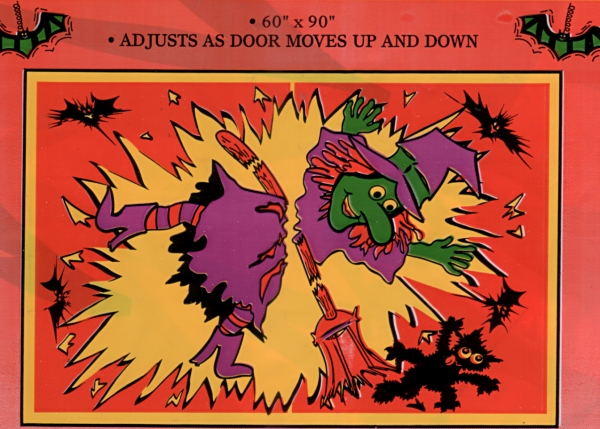 September 14 - Some dollar store and card shop dealie

-"Bugs n' Kisses" brand Garage Door Cover-

I can't even remember the name of this store, but I stopped in on my way home from White Marsh
mere minutes before closing and found only this $1 "garage door cover" to be purchase-worthy. I
wouldn't be surprised if the clerk thought I was just covering for a bunch of shoplifting, but I really am
the sort of person who will burst into a dollar store at 8:55 pm, buy a picture of a broken witch, and
leave.

Look at that poor cat, though. He was down with the cackling, hexing and child-eating, but he was
NOT prepared for her to gleefully collide with a garage door and snap in half. I like the "See, that
wasn't so bad" look on her face.

I only really bought this $10 set for the mummy, which in my opinion could easily be a $10 mummy
lawn-stake all his lonesome self. I added him to my
table of terrifying lamps
, using the other three
bulbs to light smaller pumpkins on said table while scattering the three extra monsters in random
meaningless locations about the house. I think Frankenstein's lurks in an Aloe now, or something.

September 18 - Wal-Mart II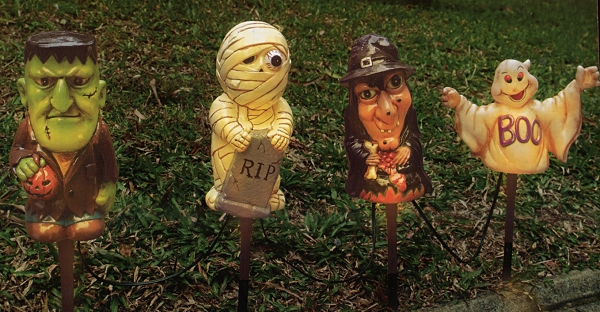 These work exactly like the Pocket Screamers from previous years, only now they are all male and
have more varied designs, with these two being the most unique. Oddly enough, their tags warn "FOR
AGES 8 AND UP NOT A TOY". Now, I can buy that these might not be safe for infants and
toddlers, but I can't believe they have the audacity to claim that wailing rubber zombies should not be
considered "toys". What the hell else can they possibly be?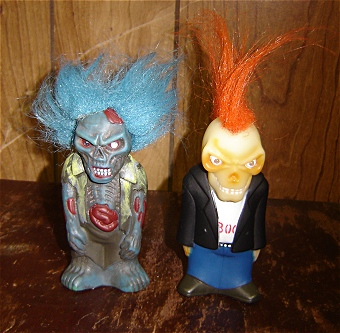 There were many new selections on my second trip to the card outlet, but as usual, it's one of the
smallest and cheapest that impress me most. I always love to see a new set of halloween Finger
Puppet monsters, and this is a pretty cute set. I don't know why all of their heads are so flat.

September 21 - Factory Card Outlet


Also available in Pumpkin and Vampire format, these kiddie cups are all set to turn snacktime into a
morbid display of diabolical carnage as you slurp chocolate sundae -or whatever you like!!!- from the

quivering innards of a severed head!!!
Will the mayhem never cease!?!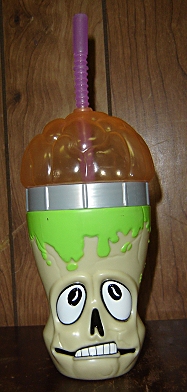 -Parachuting Pumpkin Men four-pack-

Parachuting toys are a classic party favor, but even the most gullible children rarely get more than
two uses out of one before they realize that parachuting toys are only interesting the first time.

At least until they grow up and realize that life is too short to
not
find parachuting toys interesting!

September 22 - CVS Pharmacy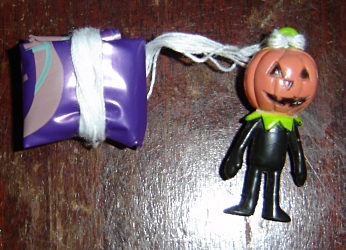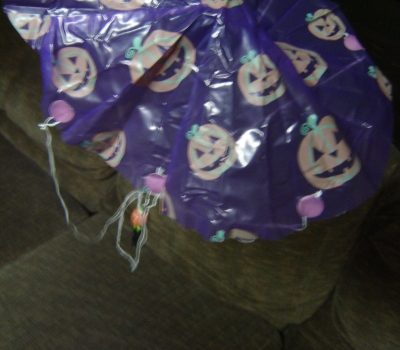 THIS IS PUMPKIN MAN 3 COMING IN FOR A STUPID
LANDING!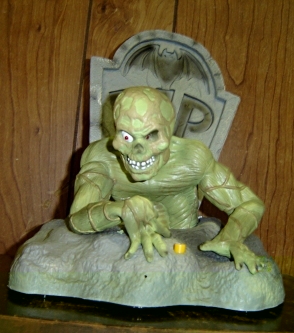 Packaged just like the Creeping Brain and Musical Eyeball from August, this rubber zombie in a big,
plastic grave is slightly less bizarre than either one of them, but has a classic appeal that no
self-respecting zombie fan would ever pass up. Just listen to his HILARIOUS voice clips!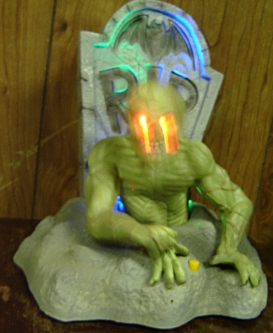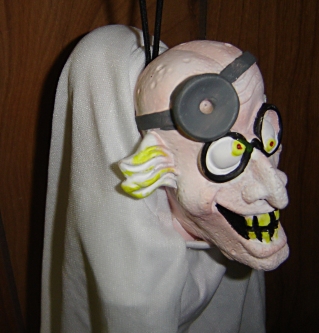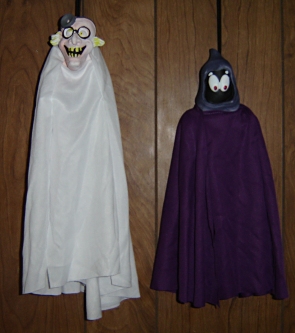 Dangling heads in capes can be a tough thing to avoid. Each year brings about at least a dozen
different sets of them, and the basic variety shown here almost universally retails for $2.99. This nutty
professor and purple phantom are supposed to be part of the same set, but the good doctor is
bestowed with an awful lot more cloth. I guess he's just extremely tall. I appreciate the attention to
detail with his hunched back.

September 25 - CVS Pharmacy (again)

The same company responsible for the Parachuting Pumpkin Men was apparently too cheap to
make two different packages for two things that are not both spiders. Still, I don't see a lot of
Halloween bendy-toys these days, and the pumpkin one matches his parachuting cousins!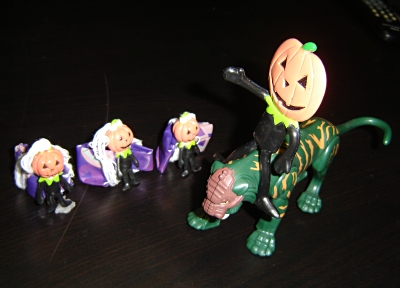 To crush your enemies! To see them driven before
you and to hear the lamentations of their women!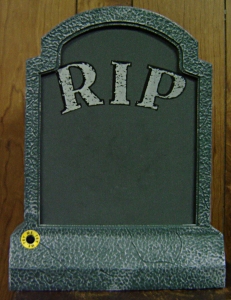 -The "It's Alive" shape-changing tombstone-

Yet another sound-activated tombstone decoration, and easily the most ingenious of all. Its stretchy
fabric front looks uncannily solid at first glance, but conceals a
terrifying
plastic ghoul that presses up
against the flimsy screen at the slightest movement, flashing multiple LED lights and playing a
somewhat unintelligible collection of music, howling noises and garbled speech all at the same time!
Not only is it bad-ass, it's at least twice the size of Dead Ed, making it about as tall as the smallest
real-world headstones.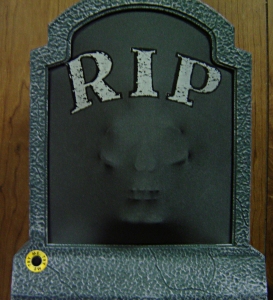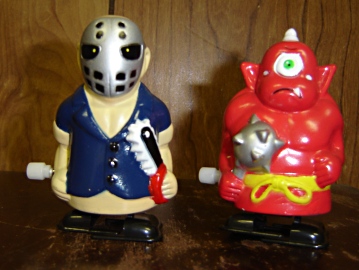 My mother sent me these from Florida in a box of various other things. How
often do you see little wind-up chainsaw maniacs? The cyclops also looks
remarkably like the oni/ogres/demons in japanese cartoons.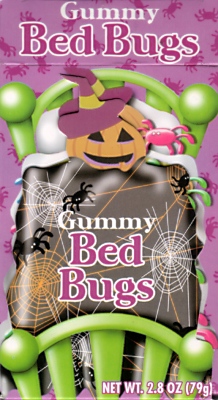 September 30 - Target III

These are actually just mini gummi tarantulas (sold year-round in other
formats), but in hilarious packaging that flips open to change the picture.

....Pumpkin guy is happy with those little black spiders all over his blanket,
but the big multicolored ones underneath are BED BUGS! NOOO!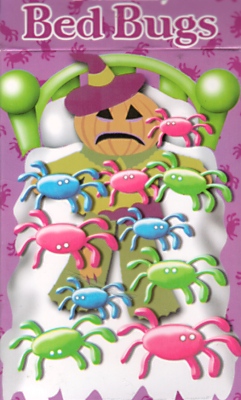 September 30 - Toys R' Us

Toys R' Us rarely has anything special available for Halloween. Most years,
it's the same stuff you can get at Wal-Mart, and carries a distinctly un-horrific
bias.

These mini-flashlights, however, were an immediate must-buy. The oozing,
burtonesque skeleton is the clear winner, but respect must also be paid to the
haystack-scarecrow, with candles in his little eyes and a spider on the end of
his little pitchfork. Not only do they perfectly mesh awesome with adorable,
they say "MUAH-AH-AHHH!" every single time you open their mouths.
ADORABLE.