Decorations, lights and costume parts

Many of these border on being toys, but were created with a more specific purpose in mind.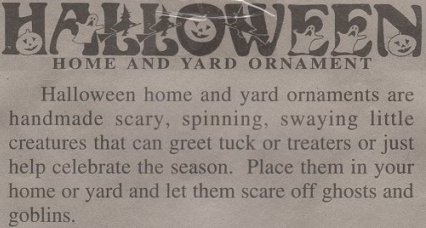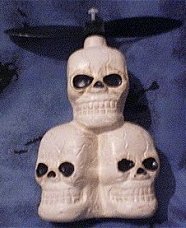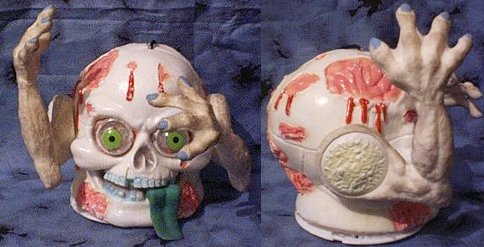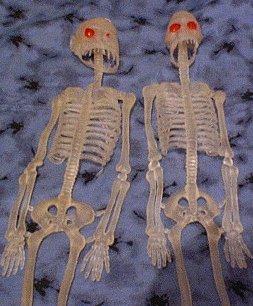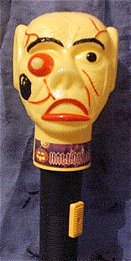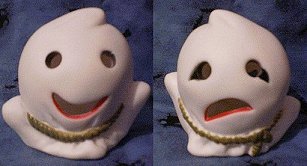 What we have here is a 3'' pile of skulls with a propeller on top...yeah, that's it. The misspelled
packaging really hypes it up. There's a hole to put it up on a stick, but it's just too small to
actually do anythng. Still pretty cool though, and the packaging is too damn cute.

I don't know how old these are, but they look like they've been through
quite a lot. They're two full feet from toes to scalp, they glow in the dark
and they hang by an elastic strand. I really like the one on the left, which
has a skinless zombie head instead of a skull. As you can see, their arms
are attached to their sides by extra plastic you're supposed to twist off,
but I just haven't the heart when they've been this way for so long. I
found them at the same goodwill as the "Oooky" spooky whatevers in
the plush toy section.

These are two sides of the same ghost. It was the top to
a blinking battery powered "candle" but I took it all apart.
It didn't work very well anyway, and the ghost is a neat
little trinket by itself. It's roughly the size of a baseball.

Found at the same dollar store as the ghost one
above, this flashlight is topped by a cheesy mutant
zombie head that looks straight out of the 50's.
Considering the store I got it from, it probably is.
There were others, but just standard wolves and
mummies.

The store only had one of these. It can be hung up, it takes three AA batteries
and when switched on it giggles non-stop with its eyes flashing. What's
extremely interesting about this thing, though, are its arms, which are actually the
arms of a Boglin. For the
grossly undereducated
, Boglins were these
awesome rubber hand puppets made by Mattel back in the 80's. I don't know
how or why, but the arms of this skull are literally the arms of one of the larger
style boglins, same material and same mold. This is the only one I've seen.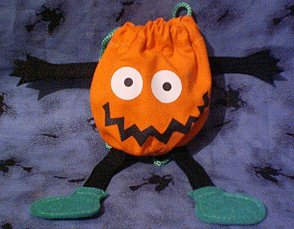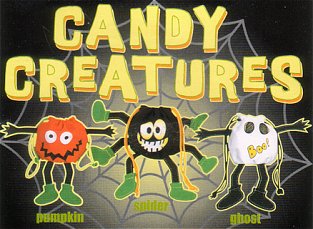 Mini drawstring treat bags made of cloth, sold at Miichael's. I love their faces.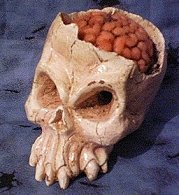 Both brain and skull are pure wax...I haven't the
heart to melt it. I'm not a candlelight person anyway.
Just looks really detailed and cool.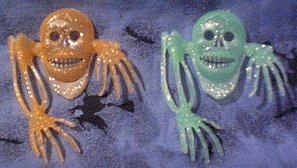 These come in packs of around a dozen, either all green or
all orange. They have glitter directly in the plastic and are
meant to clip onto your pocket but they actually manage to
fail at this. The package says "Warning: this is not a toy. For
decorative purposes only" even though they're only flat
chunks of plastic and they're meant for children anyway.

Available at Wal-Mart in skeleton or ghost form and made of soft, transparent
rubber, this is part of a halloween safety light for trick-or-treaters. A glowstick
(included) is to be inserted down the opening in its back and worn on a string (also
included). Seemingly included as an afterthought, the package suggests you discard
it with the light and refers to it only as "the fun shape", but they're perfectly reusable
and neat-looking.

"Halloween Home and Yard Ornament" (2002)

Big Vintage Skeletons (2003)

Happy/Sad ghost light (2003)

Hideous Zombie light (2003)

Giggling Skull with Stolen Arms (2003)

Gruesome Skull Candle (2003)

Skeleton "Fun Shape" (2003)