HISUIAN DECIDUEYE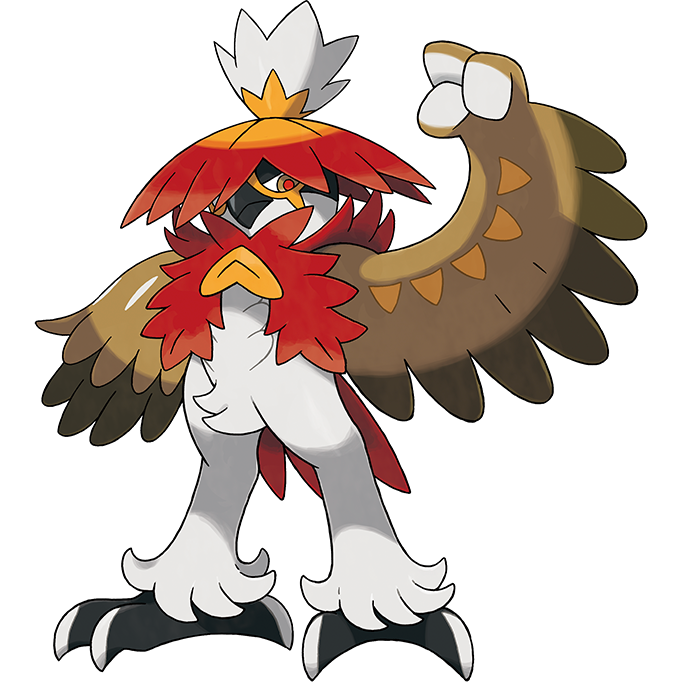 You would not believe how many comments and messages I got across all social media asking why I "skipped" this Pokemon. I reviewed the first two Hisuian starters back to back, so everyone's natural instinct was that the third should come next, but I'm only doing these in Pokedex order and this is the first game to draw its starters from three different generations! The only reason I even reviewed Typhlosion and Samurott in a row is that every Pokemon between them evolves into a brand new species with a brand new Pokedex number, bumping those to the end of these reviews! This is CHAOS! Hisuian Pokemon are ANARCHY!!!

Hisuian Decidueye is cool, though. Alolan Decidueye is grass/ghost, implying an extinct species, but this is a very much alive grass/fighting owl. An owl that kicks and punches. That's a funny concept. It looks pretty distinct, too; whereas the Alolan variety has plumage - foliage? - forming a "hood" around its face, the same plumiage hangs down from the top of this one's head to form more of a broad "rain hat." It's also kind of interesting that the ghost type version is a tropical species with healthy green flumage but the living one is the cold-climate one with orange and red autumn colored pluflomiage.

Actually, of all grass type Pokemon besides the various fungi, both versions of Decidueye probably have the least reason to be grass type. The fact that they're technically supposed to be part plant has almost no bearing on their designs and never comes up at all in their lore.