Binacle and Barbaracle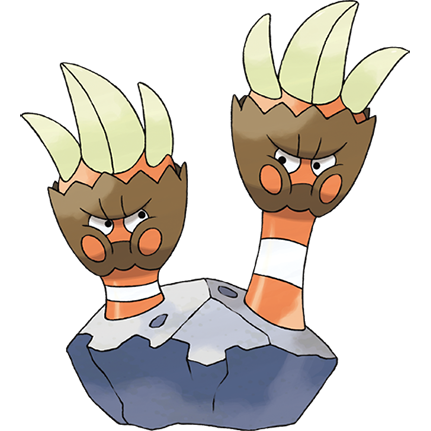 I AM SO EXCITED to talk about this water/rock pokemon! I was excited the moment an image of it was first leaked in the final build-up to X and Y's release, an image countless fans swore "had to be fake" and constituted the "ugliest pokemon they'd ever seen." Joke's on them!

Know what else is exciting? The fact that, according to my stats, there are hundreds if not thousands of people who are coming to my website exclusively for the pokemon reviews, which means, thanks to Binacle, I have a fresh new captive audience to just hear me talk a bunch about BARNACLES, some of my absolute favorite animals since I learned all about them as a small child.

Heck, I bet some of you reading this have never even thought twice about barnacles as animals. "What are those things again?" some of you may ask. "Like, coral or something? I don't know, who cares."
Well, PAL, you should care, because barnacles are GREAT. Barnacles are crustaceans, like crabs, lobsters and shrimp, but early on in their life cycle they flip themselves upside-down, cement their heads permanently in place, retreat into the back of their hollow but still-living outer body and start sweeping plankton out of the water with the long, hairy legs they will never again use for swimming or walking. In fact, barnacles are scientifically known as cirripedes, which pretty much means "hairy legs," because people looked at these armored, immobile bug fortresses at some point and decided the hairiness of their legs was their most memorable characteristic.
Barnacles come in a lot of variations, from microscopic "borers" that actually
can
move around to outrageous parasitic species who mature into little more than cancerous, fungus-like flesh. I talk about them all in slightly more detail
here
, but for their first-ever confirmed cirripede pokemon, Gamefreak opted for a straightforward "stalked" or
"goose"
barnacle, which is fine, because those are probably the coolest looking of your garden-variety barnacles anyway.
I'm pleased to be able to say that this is my very own photograph of one such species, taken here in Oregon when a friend of ours took us tidepooling - one of my dream activities since kindergarten. The next logical step, of course, is to actually
own
some barnacles, though rearing them in captivity is said to be a little more challenging than you might think. Once I've got the hang of that, of course, I can talk about finally
becoming
a barnacle, and I definitely already have the "eating constantly but never moving" part mastered.
...What were we talking about again? Digimon? RIGHT! Binacle! Binacle consists of two goose barnacle pokemon sharing the same rock, and their stylized resemblance to a pair of taloned "arms" is a pretty cool way to turn a barely mobile animal into a battle-monster.

I wasn't sure at first if I really liked the almost human-like cartoon faces on them, but their goofiness grew on me, reminding me of either a Megaman robot or the vast majority of minor Anpanman characters. Interestingly enough, a barnacle does have both a tiny, toothless mouth and VERY reduced eyes in roughly the same place, but they're hidden away completely inside the shell. The eyes are basically only good for telling the animal whether it's night or day.

Anyway, I'd have been pretty happy with Binacle as a design even if it never evolved, and that's more or less what I initially suspected - that this would be a well-defended, single stage pokemon like Shuckle.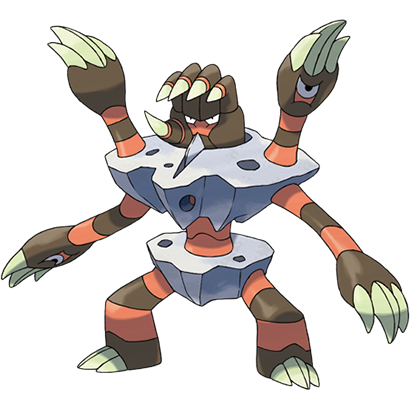 Instead, Binacle shocks the world by evolving into a humanoid, which is something I would normally find disappointing if we weren't talking a humanoid made out of more barnacles. Not only that, but most of Barbaracles barnacles are adorably cycloptic, with only the "central" or "leader" crustacean possessing two eyes. A single eye would still have been a lot cooler, admittedly, but I love how the head honcho also plays up the "clawed arm" thing with the shape of a complete five-fingered hand.

This pokemon is a bunch of barnacles, in the shape of a person, with a hand for a head. That's bananas. ALL the bananas.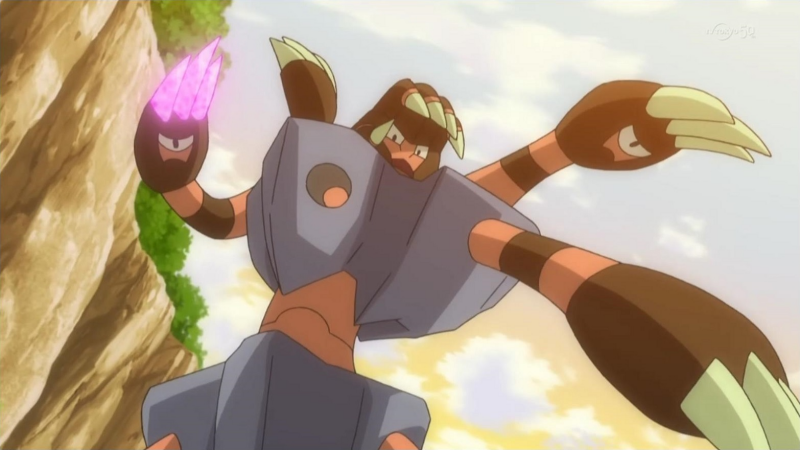 Not only bananas, but pretty terrifying to boot, and Gamefreak knows it. You know its English name comes from "barnacle" and "BARBARIC," but its original Japanese name, Gamenodes, also comes from "barnacle" and "DEATH."

In Germany, it's Thanathora, from "THANATOS" and the Crustacean order "Thoracica."

In China, Barbaracle's name is a mix of "Goose Barnacle" and "Giant Armor."

And finally, in France, this Pokemon is known as Golgopathe, which doesn't even bother having any connection to barnacles and only mashes up "Pathos" with "GOLGOTHA"...in turn roughly translatable as "Place of the Skull," famously the name of the hill where Jesus Christ was crucified.

CALM DOWN, Barbaracle!!!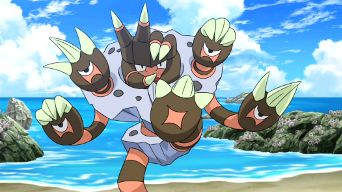 What more can I say about this Pokemon? It turns one of Earth's most humble, overlooked and passive of all creatures into an unexpectedly brutal monstrosity. That alone epitomizes what I love most about Pokemon as a series, and the only possible room for improvement here would be for an even scarier evolution or regional variant.
Personally, I'd actually have to cast my vote for a
water/dragon
form. Not only does it feel like a logical step up from a humanoid killing machine, but it's actually
not
too
uncommon
for large, floating barnacle colonies to be mistaken for "sea monsters."

I just wrote a million words about a cartoon barnacle and I never even got around to talking about
penises.
.