Bombirdier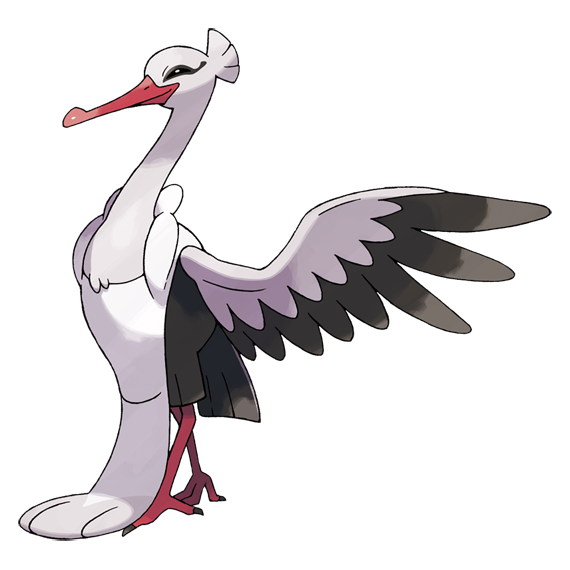 This single-stage bird is another Pokemon they selected to be one of the "titan" bosses in Scarlet and Violet, and it's interesting in a few ways. It resembles a stork with a sort of "apron" made of feathers, and it actually holds the end of this in its beak to form a sort of "sling" it can use to carry objects. This evokes the classic fable of the baby-delivering stork, but Bombirdier prefers to use this to carry stones it rains down on its foes. This is represented by the unique ability, Rocky Payload, which boosts rock-type attacks as if Bombirdier were rock type itself.

Bombirdier's actual typing, however, is Flying/Dark! It's cool to have another predominantly white-colored dark type, and another of those dark types based on an animal you wouldn't normally think of as a devious fiend. They did a good job giving the face a conniving sort of smirk to it, certainly the most ominous I think a Pokemon-style stork could have been. Is this also Pokemon's FIRST wading bird? For real?! We never had a stork, heron or egret before? Huh!

All Scarlet/Violet sprite animations ripped by adamsb0303!