LOST GEN I POKEMON:
THIS IS SERIOUSLY GYARADOS

CONTENT UNCOVERED BY HELIX CHAMBER

Original sugimori style artwork by Rachel Briggs!

*POKEMON BELOW MAY BE PARTIALLY SPECULATIVE! PLEASE READ THOROUGHLY!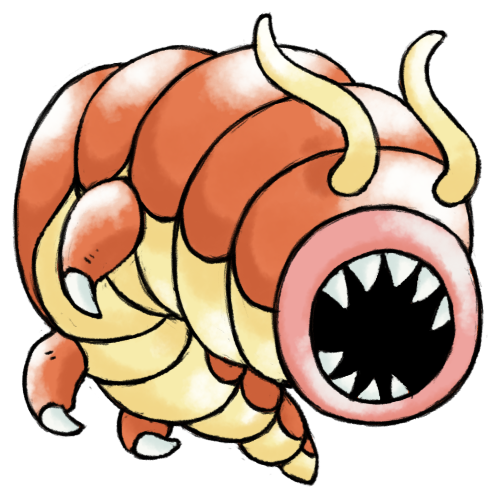 Yeah, so...HOLY SHIT??? Are you kidding me?! This magnificently terrifying, eyeless sandworm appears as a beta sprite in the Sugimori manga and is literally labeled "Gyarados" right there. I appreciate Gyarados as-is, yeah it's one of the most iconic Pokemon of all, but can you just imagine a world where this alien nightmare is the evolution of MAGIKARP!?! Maybe there wasn't even a Magikarp at this stage of development, who knows, maybe it was just a giant rampaging demon-leech without a prevolution, but they eventually reworked it into a fishy sea monster and then decided it should be the surprise evolution of a pathetic goldfish. I don't know. I'm just guessing here.

This really easily would have been one of my favorites of the first generation, though admittedly, I'm not sure it would have remained very high on my list as more imaginative and unique monsters debuted with every subsequent generation. This feels highly unconventional for a Pokemon design by the current standards of the franchise, but it's PRETTY conventional for a monster design in general, and perhaps that's the real reason why it was scrapped.

Still, I wish we'd just gotten both of them. Maybe this could have been a bug type or a ground type instead of a sea monster.