LOST GEN I POKEMON:
BUU

CONTENT UNCOVERED BY HELIX CHAMBER

Original sugimori style artwork by Rachel Briggs!

*POKEMON BELOW MAY BE PARTIALLY SPECULATIVE! PLEASE READ THOROUGHLY!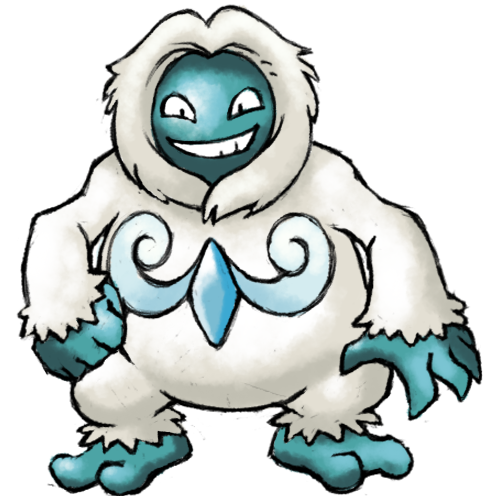 At long, long last, after all these years...we finally know
exactly
where the hell
Jynx
came from. Even with only a back sprite and a name, it seems clear that the intention here was basically a Yeti, and that it was probably also a reference to a famous
Ultraman
monster known only as
Woo:

In addition to being a yeti, Woo also borrowed heavily from the mythology of the
Yuki-onna,
or
Snow Woman
yokai, and was once one of the few Ultraman monsters to be confirmed as female. You can basically see how all of this would have morphed into
Jynx
once they likely decided they were risking a lawsuit, and I can't believe it took me this long to realize that Jynx was basically Pokemon's first attempt at a Yuki-onna. Here I kept thinking all my life that she was some kind of sea creature, like a mer-person!
None of this, however, lets Jynx off the hook for her controversial aspects. Woo may have a dark face, but it's certainly not
pitch black with pink lips,
and like I talked about in Jynx's review, every kind of snow-woman yokai is white-faced, too. It was a good call of them to at least lighten Jynx up to purple, but I think they could have still taken her farther and made her look more icy-pale.
Buu would have also formed a more obvious elemental triad with Electabuzz and Magmar, whose Japanese names were also
Eleboo
and
Boober (tee hee). They all would have had "Boo" or "Buu" in there somewhere, and they all would have been humanoid beasts for three of the game's major elements!