LOST GEN I POKEMON:
DEER

CONTENT UNCOVERED BY HELIX CHAMBER

Original sugimori style artwork by Rachel Briggs!

*POKEMON BELOW MAY BE PARTIALLY SPECULATIVE! PLEASE READ THOROUGHLY!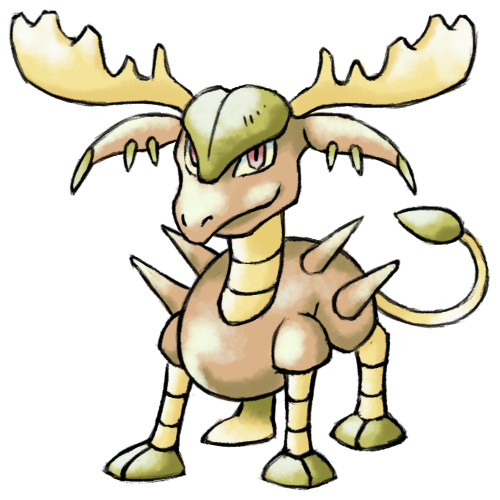 Yes, this one's final Japanese name would have just been Deer, which honestly isn't much more creative or complicated than most other Japanese Pokemon names. It's also clearly more of a moose than anything else, isn't it? Or maybe a caribou. I suppose it was ultimately replaced by Stantler, but I can't imagine why they toned the concept down so much. Stantler's "false eye" antlers are very cool, yes, but everything else about Stantler is pretty boring compared to this almost reptilian creature. This design basically does to a deer what Kangaskhan does to a kangaroo, from the more dinosaur-like skin to the bony head shield, and I really like that! I really miss more Pokemon having this scaly, leathery look to them!