LOST GEN I POKEMON:
THE SQUIDS

CONTENT UNCOVERED BY HELIX CHAMBER

Original sugimori style artwork by Rachel Briggs!

*POKEMON BELOW MAY BE PARTIALLY SPECULATIVE! PLEASE READ THOROUGHLY!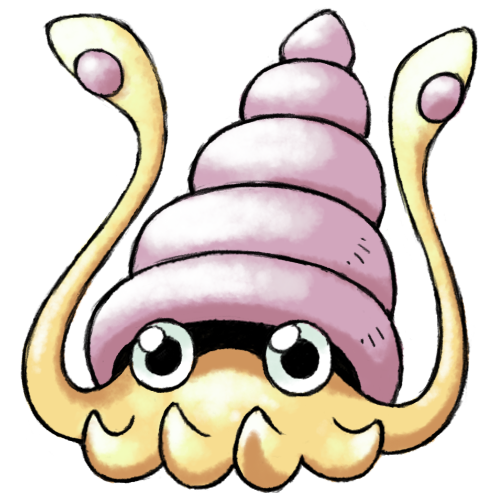 This is another whose true name and face are unknown, but the translators have coined the name "Blottle" and I think the assumption of an Omanyte-like face is a reasonable one. The HM move "FLASH," which lowers accuracy, was actually known as Squid Ink in earlier builds, so it may have been an important move to this shelled mollusk. That wouldn't have made any sense for how Flash came to function later on, of course, as a way to light up darkened caves outside of battle.

The conical shell of Blottle is something that only existed in now long extinct cephalopods, but Omanyte's spiral shell is much more iconic to prehistoric life and was, in my opinion, a better choice for one of our first fossil pokemon. We basically didn't really lose anything here, honestly.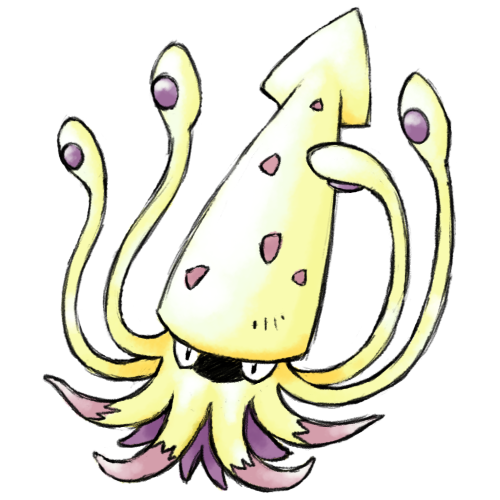 The unofficial name being used for this one is now
Pendraken
, which I like. It's interesting to know that a squid was originally planned for the first 151, and it's also completely unsurprising; squids are just such fundamentally iconic animals,
especially
in Japan, that it's really quite a shock it took so long for us to get an official one, many years later in Generation VI.

Once again, though...good call. As fun and excellent as any squid may be by default, X and Y's
Malamar
offers much more personality and a design surprisingly inverted from the way people typically view these animals. Many of these early Pokemon differ very little from real, normal wildlife, and that may be cool at least
some
of the time, but you can see how they really narrowed that first generation down to creatures they knew would be more memorable than just a few big squids and dinosaurs, and I'm glad that what we got instead was a prehistoric ammonite that
stays
an ammonite.