LOST GEN I POKEMON:
THE CACTUS

CONTENT UNCOVERED BY HELIX CHAMBER

Original sugimori style artwork by Rachel Briggs!

*POKEMON BELOW MAY BE PARTIALLY SPECULATIVE! PLEASE READ THOROUGHLY!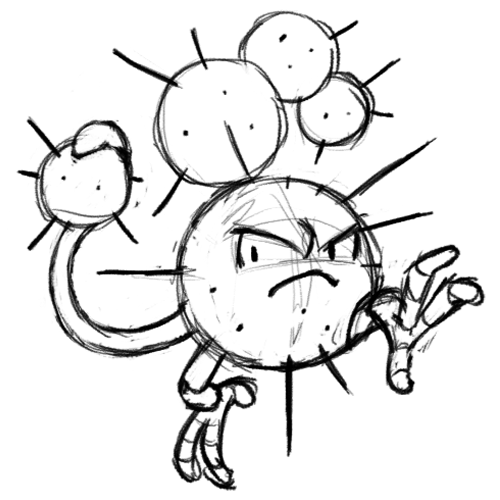 One of my favorites! The front sprite featured in the Sugimori manga is so blurry, it's almost impossible to tell if this one even has a face...but it seems like it may have had the rectangular eyes Sugimori put on so many of his early designs.

I love the whole feeling of a cactus monster, made up of spiny spheres, that runs around on bird-like legs. That's just a really cool and unique look! I feel like modern grass type pokemon would never opt for legs and feet that distinctive, as if it's perfectly sound for a plant monster to have cartoon human feet but would have to be thematically bird-like to ever get bird talons. BORING! This really has a more freaky monster feel to it that I'm really missing about the first generation. There was apparently almost going to be a desert area in the original region, too, so this may have been one of its star inhabitants.

Looking at this design, I feel like it would have ultimately been a bit redundant with the overall look of Doduo and the overall *idea* of the Exeggcute line. I could almost imagine this thing as a peculiar fusion of the two. I still really like it, but it might have definitely felt a bit samey with some other pokemon in the original run.