LOST GEN I POKEMON:
GOROCHU

CONTENT UNCOVERED BY HELIX CHAMBER

Original sugimori style artwork by Rachel Briggs!

*POKEMON BELOW MAY BE PARTIALLY SPECULATIVE! PLEASE READ THOROUGHLY!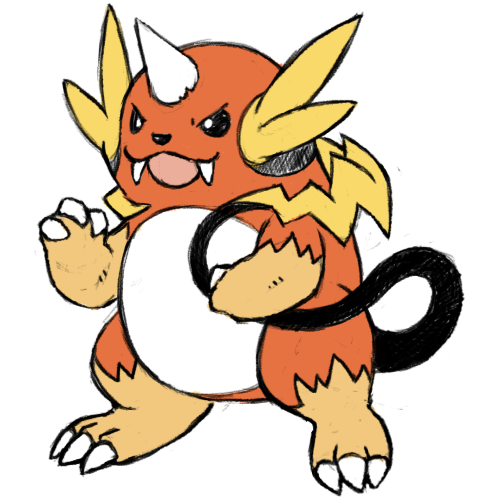 Can you even believe this was almost a thing?! It was confirmed quite some time ago that Raichu originally evolved into a fearsome, horned beast, which blew the minds of basically everybody, but nothing else about its design would be known until the Helix Chamber folks got hold of that single back sprite. It's strange enough sometimes to remember that Pikachu is only the immature stage of Raichu, and damn near inconceivable to imagine a world in which Pikachu is only the baby stage to a lightning demon. Whether those jagged shapes on the sprite are actually part of the tail is another of those details the team had to guess at, but I think it makes sense, unless Gorochu was also supposed to have some kind of hexagonal scales on its back.

For now, Gorochu is the end of our Gen I Beta reviews. Not as incredible a menagerie as the Gen II Beta we already reviewed, but it certainly did have its share of surprises, and even the most boring designs shed a little more light on the creative process behind the cherished 151.

When next we meet beneath a Pokemon logo, it may very well be to review the new upcoming eighth generation...unless, of course, a few new Betas crop up from the void.