MONSTERS OF THE TRAP DOOR - PAGE TWO

Well, it certainly lives up to its name; all we see of this monster are a ring of
squirming tentacles and a huge, grotesquely humanoid head which constantly
deforms and undulates like a boneless bag. If that's not a "thingy," what is?

The Thingy is one of the few monsters shown to have a supernatural power;
electrical-looking bolts from its eyes cause whatever they strike to randomly change
shape and size, If its oafish, whooping laughter is an indication, the thingy gets a real
thrill out of doing this. Wouldn't you?

Monsters in the Trap Door are very rarely given official names, but any name you
see in "quotations" is how the series or its characters referred to the monster.

EPISODE: DON'T LET THE BED BUGS BITE

This episode is nothing but a dream sequence in which Boni gets pulled down the
trap door and Berk goes in after him. He encounters a number of nondescript
creatures, one after another, including a white-eyed worm with a hooked beak, a
trumpeting yellow glob and a gross, saclike organism that snarls eerily.

EPISODE: DON'T YOU OPEN THAT TRAP DOOR

This episode is essentially just a music video for the extended theme song, and
many monsters appear who would make a more official debut in later cartoons. Only
a few seem to be more or less unique here; first we have this really cool, multilegged
head with wickedly long teeth.

While Berk is busy pulling The Thing's bad tooth, Drutt goes hunting worms out of the
trap door and catches the attention of this giant, dripping glob that glides along like a
slug and tries to devour him.

EPISODE: THE LITTLE THING

The castle is constantly crawling with small worms, slugs and insects of all sorts, but
Berk is intent on getting rid of the exceptionally bothersome "little thing," as it zips
about at random and makes loud, obnoxious honking noises.

This entire episode simply shows us the odd reproductive habits of a grub-like
monster. The large adult creeps out of the trap door and pops dozens of eggs from
its flailing red tubes, fleshy knobs burst from the eggs and peel open into darling little
green slugs, and the slugs...all explode one by one into yellow fluff, filling the room
until Berk opens the trap door to drain it all away. What on Earth are we looking at,
here? These things hatch from eggs only to die? Are they spawned just as food for
something else? Does the egg fluff change into another life cycle stage? We'll
probably never know...but Berk has some
interesting opinions
about the crawling
larvae.

EPISODE: FLYIN WOTSIT FINGY

We would describe the "flyin' wotsit' fingy" as a bat, of course, but they apparently
don't have the term in Berk's world. The little creature wouldn't be much of a problem
except that The Thing is apparently "allergic to flyin' things," which cause him to
break out into giant, purple pimples. I wonder how that kind of allergy is even
possible.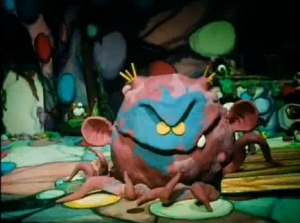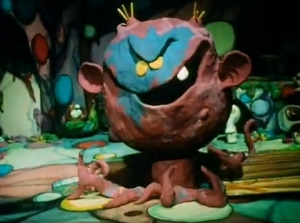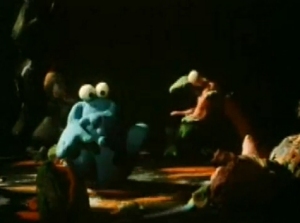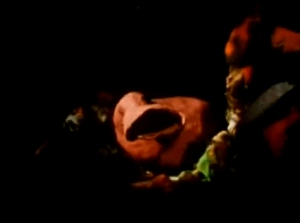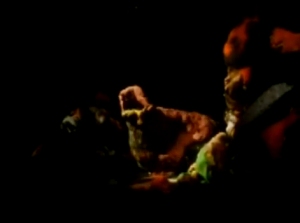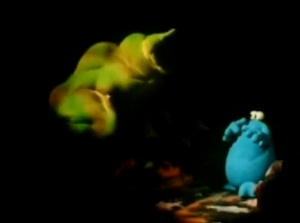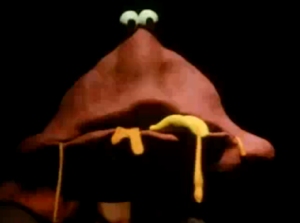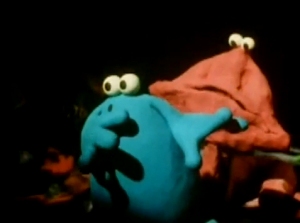 I like this thing. It does nothing but sit there and regard Berk with curiosity, but would
appear briefly in a later episode to drool hungrily at Drutt. We can see that it has a
worm-like body, and I can't help but be reminded of the shovel-headed flatworms or
"planarians" of the real world.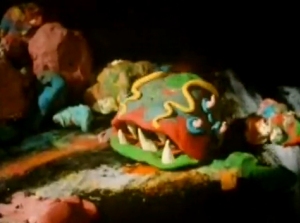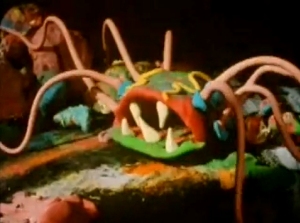 This interesting monster just consists of a fanged mouth with retractable tentacles. It,
too, would make a minor cameo appearance in another episode; it can be seen
crawling around in "Strange Goings On."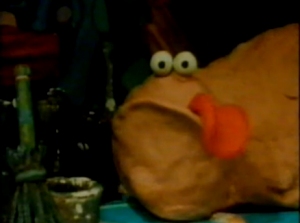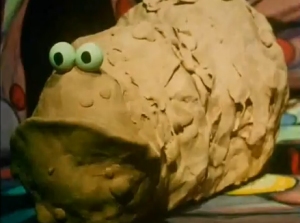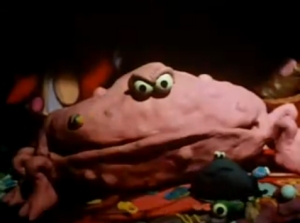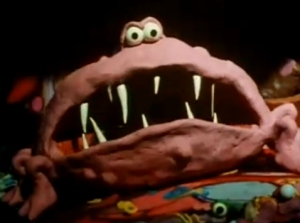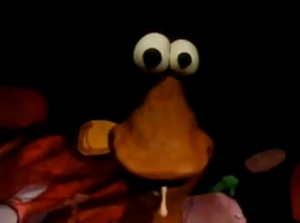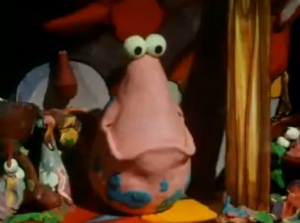 A dopey, drooling creature and a bouncing pink glob pop up throughout this one. I
think the former also appears in another episode or two, but in roles just as minor.