MONSTERS OF THE TRAP DOOR - PAGE THREE

EPISODE: THE HORRIBLE THING

The titular Horrible Thing is a seething pile of "custardy" yellow slime that can
apparently only see by pulling itself open, a creatively creepy feature. Between this
and its personality, it's one of my favorites. Like a few other monsters, Berk offers it
as a snack to The Thing Upstairs.

THE "SLIMY CUSTARDY THING"

Monsters in the Trap Door are very rarely given official names, but any name you
see in "quotations" is how the series or its characters referred to the monster.

When hordes and hordes of "bugs" begin to flood the castle, Berk discovers that
they're attracted to the honking sounds of a particularly large, colorful bag-like insect.
He calls his discovery a "bugpipe," and uses it to lure all the little creatures outside.

EPISODE: THE STUPID THING

This big, pinkish monster has an interestingly placed mouth and makes hilariously
dopey noises that sound recorded from one of those mooing can toys, whatever
you're supposed to call those. It seems fairly harmless and gentle, but makes Boni
miserable by putting him in its mouth, dumping sludge all over him, and trying to
sweep his face off with a broom.

When Berk won't stop throwing garbage down the trap door, it angers a bunch of
colorful and effectively creepy phantoms, specters or ghoulies (Berk calls them all
three) who demand he cease littering. I love their blank eyes and warbling mouths!
They have actually made minor appearances in earlier episodes; the white one here
is from "Don't You Open That Trap Door!" and the green one is from Berk's dream in
"Don't Let the Bed Bugs Bite." It's not until "BOO!" that the ghosts get their time in the
spotlight.

This might actually be tied with the Vile Pile as my favorite monster, just for being so
enigmatic - it's even described by Berk as the "weirdest fing I've ever seen!" The
Lump is a seemingly motionless mass of rotten-smelling flesh found lying by the trap
door, tiny globules (baby lumps?) regularly sprouting off from it and rolling away. It
seems completely inactive until it starts to protrude trumpetlike appendages and
honks up a terrible racket.

When Berk is cleaning his master's detachable eyeballs, he loses one down the trap
door and has to retrieve it, encountering two monsters along the way; first, he thinks
he sees the eye atop a pile of stone, until another eye opens next to it and something
growls at him. We don't see the rock move or otherwise do anything but stare.

Fed up with his out-of-control eating, Berk throws Drutt down the trap door. When he
tries to fish him back out, he instead brings up a little monster that acts sweet and
timid until revealing its true nature.

The globular "Splund" is a slurping, rolling monster that never stops talking proudly in
a deep, demonic voice, terrorizing Boni and Drutt, threatening to eat them and
implying it will take the whole castle for itself. When Berk meets the Splund, he
simply pokes it with a needle and the monster pops, the corny punchline being that
the Splund was "a big bag of hot air."

The "nasty beasty" is no more than a squirming blob of green fuzz that drags itself
around on a sucker-tipped tentacle, latching onto every character one by one.

THE "TWITCHING GREEN THING"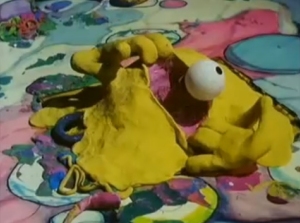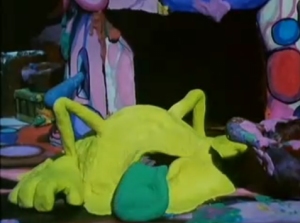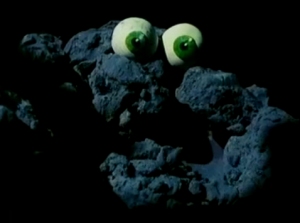 When Berk does find the eye, it's lodged in the throat of a huge monster which
fortunately spits the two of them back up into the castle. This pale, eyeless and
immense monster looks straight out of Mythos!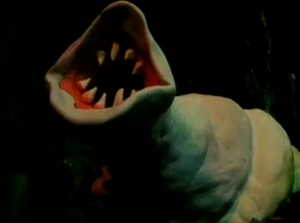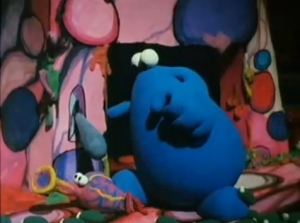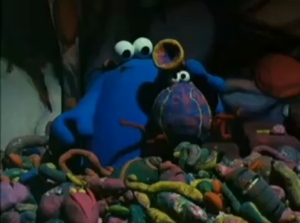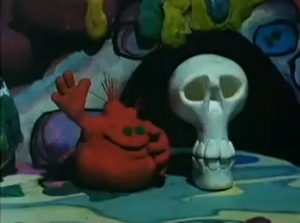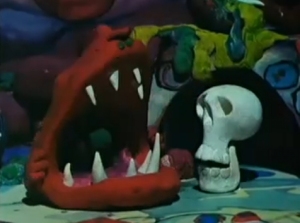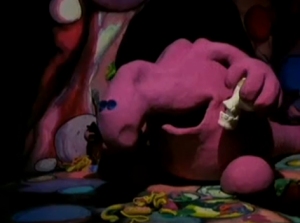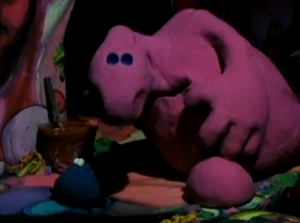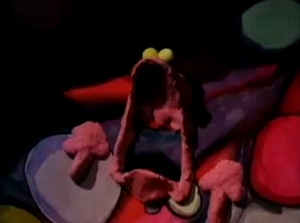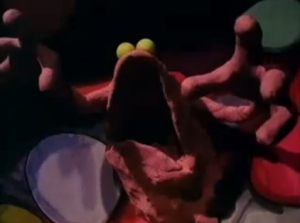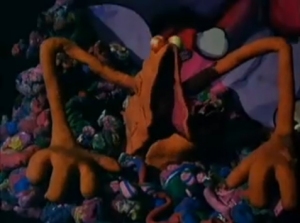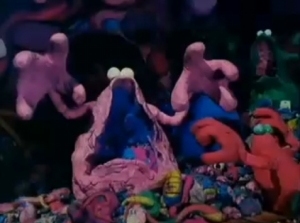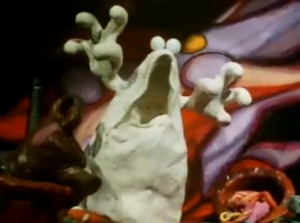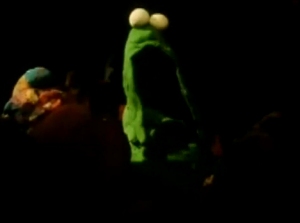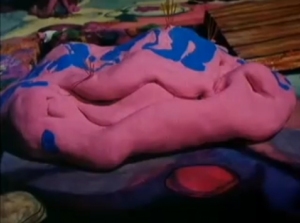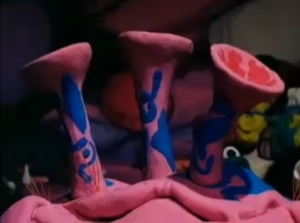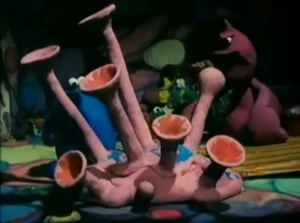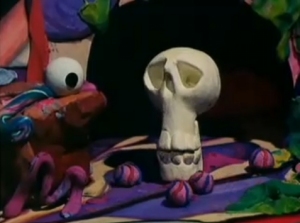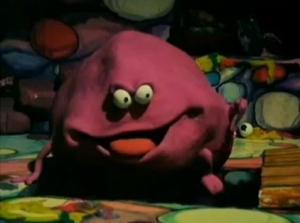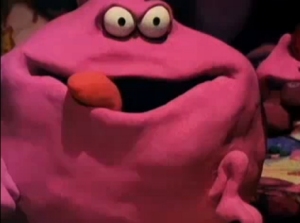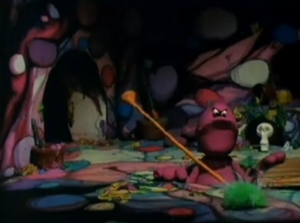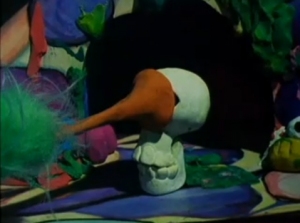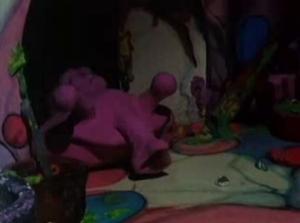 The "weirdo" is indeed pretty weird, even for this series; a pink, eyeless worm-like
monster with a snuffling, piglike nose and a pair of retractable, snail-like tentacles. It
actually swallows Drutt, Boni, Drutt's babies and the Thing Upstairs's dinner before
Berk saves the day, smacking it repeatedly with a club until it spits everything up. An
odd choice for the last new monster of the series; the final episode follows this one
and marks the return of the big red thing.