Bogleech.com presents:

Aaahh!!! REAL ALIENS!

Written by Jonathan Wojcik, artwork by
guest contributor
Eric Kowalick
!







THE MEDFORD SHMOOS

1953 - MEDFORD, OREGON, USA

A husband, wife and daughter were driving through the woods when they spotted three mysterious
shapes gliding over the ground. They were completely covered in white hair with no other visible
appendages or facial features, and oddly paralleled the family with two large beings and one smaller
being. They were vaguely reminiscent of the
Shmoo
, a then-popular creature from the Lil'Abner comics.

THE BLOCKHEADS OF OLD SAYBROOK

DECEMBER 16, 1957 - OLD SAYBROOK, CONNECTICUT, USA

Retired teacher Mrs. Mary M. Starr reported that a bright light awoke her around two to three in the
morning. Peering out her bedroom window, she thought at first that she was looking at a downed
airplane until she realized that the object was hovering above her clothesline. Through the craft's large,
square windows she witnessed two strange entities pass by one another with their right arms in the air.
Their featureless appendages had no hands, their "heads" were transparent cubes with bright red cores
and their rubbery bodies flared out like skirts. She could not see if they had any legs, but guessed that
they were less than four feet tall. As she watched, the windows vanished without a trace, a sparkling
antenna arose from one end of the craft and the entire hull began to glow for several minutes. Finally
the glow faded, the antenna retracted and the object took a complicated path through the air before
shooting straight up without a sound.

THE PALOS VERDES ROAD-BRAINS

AUGUST 17, 1971 - PALOS VERDES, CALIFORNIA, USA

John Hodges and Pete Rodriguez were walking to their car on a remote road at two in the morning when
they saw a mysterious white light shine through the trees. When they entered their vehicle and turned
on the headlights, they saw what resembled a pair of brains lying in the road. Frightened, they drove off
and arrived home two hours later than the trip should have taken. Years later, Hodges underwent
hypnosis to learn more about his missing time and recalled hearing a voice in his mind as the larger
brain hovered towards the car, telling him that mankind would be "instruments of their own fate." He later
recalled being transported to a room where more conventional gray humanoids informed him that Earth
had too much power, and highlighted a map of places "where man could destroy themselves." He was
also told that the brain-beings were "merely translators."

THE DOMESTEN STINK-BLOBS

DECEMBER 20, 1958 - DOMESTEN, KRISTIANSTAD, SWEDEN

Stig Rydberg and Hans Gustafsson were driving through a thick fog at three in the morning (2-3 is close
encounter hour, if many of these cases are to be believed) when they stopped to investigate a weird
glow and discovered a twelve foot flying saucer surrounded by four blueish "jelly bags" somehow

jumping
wildly around the object. The men stood in shock until the beings suddenly attacked them,
latching on with powerful suction and dragging them towards the craft. The men struggled against their
captors, but their arms only sunk into their slimy bodies. Rydberg eventually squirmed free from their
grip, ran back to his car and began honking the horn, which caused the blobs to drop his friend and
"shoot" back into their saucer, which immediately took off. Both men felt ill for days later, and could
vividly recall the horrible stench of the aliens, like "ether and burnt sausage."

THE GIANTS OF VORONEZH

SEPTEMBER 27, 1989 - VORONEZH, RUSSIA

The exact details of the dramatic Voronezh case are hopelessly muddled and may have been heavily
distorted by the press, but in the popular version, a group of young children and several adults
witnessed three enormous humanoids emerge from a round, red aircraft at a public park. The creatures
appeared to be nearly ten feet tall, with metallic jumpsuits and small, dome-like heads, featureless
except for their three menacing, luminous eyes. When a boy cried out in terror, the beings paralyzed him
simply by glaring at him, then vanished into thin air for around five minutes. When they returned, they
fired a beam at another boy who appeared to disintegrate. After a stroll around the park, the giants flew
away in their craft and their zapped victim instantly rematerialized.

THE SCALY ROBOTS OF PACIENCIA

SEPTEMBER 15, 1977 - PACIENCIA, BRAZIL

33 year old bus driver Antonia La Rubia was walking to work at 2:15 in the morning when he came upon
an object like "an enormous wide hat" lying in a field. Frightened, he tried to flee but felt paralyzed by a
beam of blue light and shortly found himself in a pure white chamber, surrounded by curious robot-like
beings. Covered in metallic scales, the beings had tapering tentacular arms, egg shaped bodies,
antenna-topped heads, belts lined with syringe-like instruments and a single rigid pedestal in place of
legs.

La Rubia says that he shouted at the beings, demanding to know what they wanted from him, but that
they all promptly
fell over
as though injured by his voice. Shot with another blue light, he awoke to the
entities projecting a series of images on the wall. This clip show included scenes of La Rubia (some of
them nude), a dilapidated train entering a tunnel, a flying saucer assembly line and footage of the
entities gruesomely "melting" a dog (wicked!). During this sequence, one of his captors drew blood from
his middle finger and squirted the contents at the wall, forming a strange pattern of three circles and an
"L." La Rubia suddenly awoke back outside, and experienced vomiting, pains and dizziness for a few
days.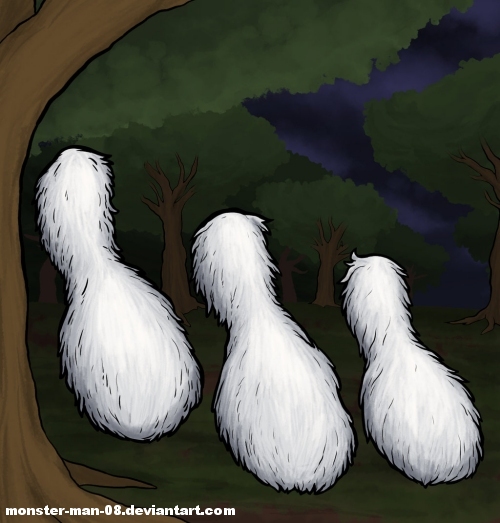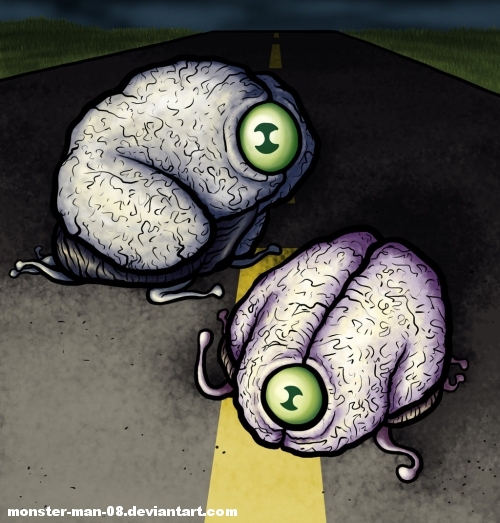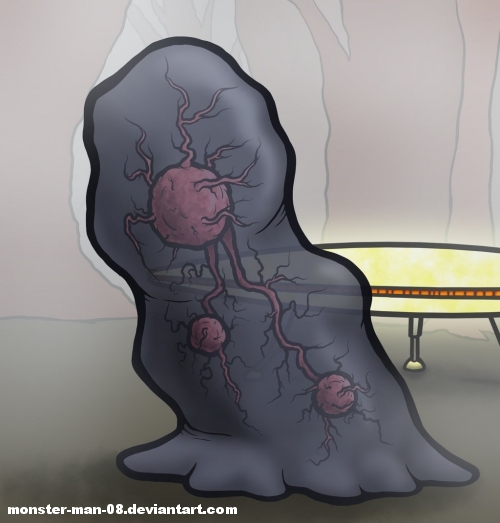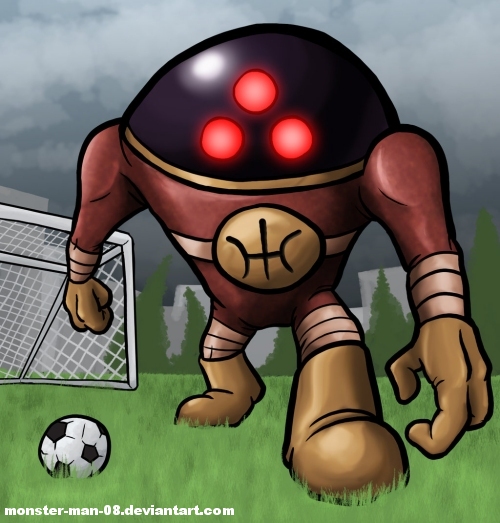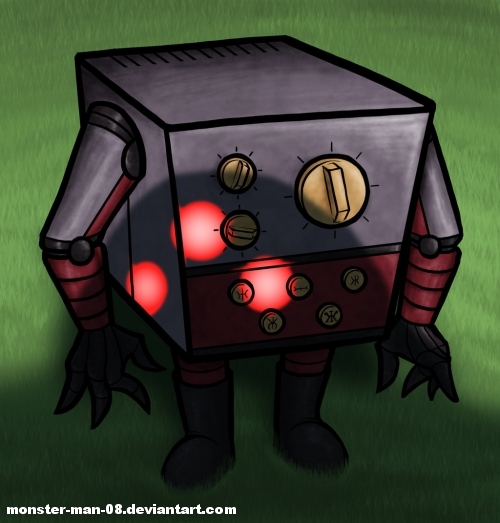 This sensational tale prompted a decidely more terrestrial invasion by self-proclaimed "UFOlogists,"
whose dubious interrogations of the locals extracted many conflicting reports of activity in the same park
between September 21 and October 28. These reports saw the addition of a squat robot sidekick to the
towering spacemen, resembling a headless box with many knobs and twitching fingers. One witness
even claimed to have seen the child-hating giants activate a prone robot with what appeared to be
"mouth to mouth." It's good to know that even advanced spacefaring civilizations still need to blow into
the cartridge every now and then.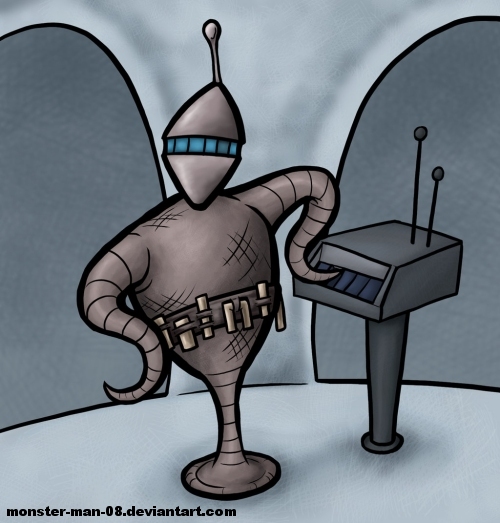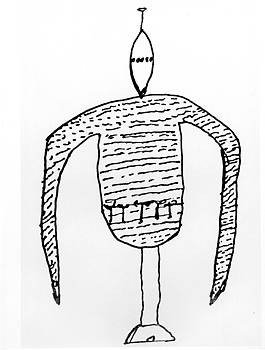 La Rubia's own drawing left something to be desired.

THE GEORGIA STALKS

JULY 1951 - GEORGIA, USA

Pilot Fred Reagan was flying his Piper Club over Georgia when he felt a mysterious force pull his plane
upward, crashing it into an unidentified flying object. Finding himself suddenly inside the strange craft,
he encountered three entities, roughly three feet in height, which he likened to giant, metallic stalks of
asparagus. The hovering creatures, or perhaps robots, apologized to him for the accident, gave him a
quick medical exam and informed him that they had he was now cured of cancer, which he never knew
he had (but we're totally even on the collision thing now, right?). Fred was eventually found unconscious
in a field without so much as a scratch, the wreckage of his plane nearby. Its engine was buried almost
six feet into the ground, having fallen thousands of feet. Eleven months later, Reagan died mysteriously
of degenerating brain tissue, a symptom of overexposure to atomic radiation.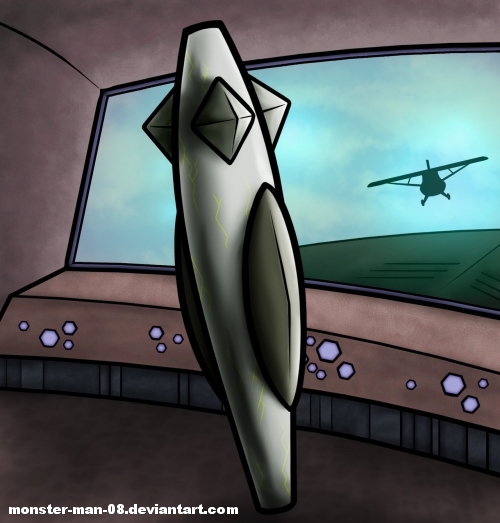 When most people think of allegedly "true" alien encounters, they think of little grey men with big black
eyeballs, beaming people out of their beds for strange medical experiments. In reality, before the
popularity of the "greys," people around the world reported a fantastic variety of otherworldly visitors
exhibiting inexplicable and often disturbing behavior. It's likely that many of these incidents are either
powerful delusions or flagrant lies, but we're not here to pass judgment or debate the paranormal; no
matter the truth, accounts like these form a fascinating modern mythology all their own, and even the
most jaded skeptic should appreciate the rich imagination it would take to cook up eerie manifestations
like these...