>Continue conversation
This guy doesn't seem to be all there, and you're not sure you want to agitate him - or tell him too much about yourself, just yet.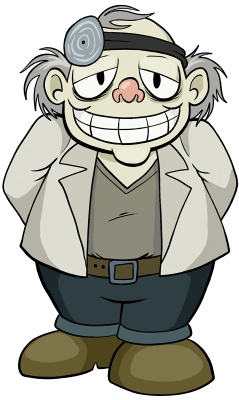 YOU:

What can you tell me about the other doctors, here?




DR. MAN:

Oh, ah, can't complain! Fine practitioners throughout most of the perception range. Best in their fields.




YOU:

What do you know about Dr. Mizer? What's "transfusionating," exactly?




DR. MAN:

Ah! Fine young lad. Best transfusionator in the range. Cutting edge procedure. Shifts zones without entanglement.




YOU:

Huh? What's all this I keep hearing about "zones" and "perception?"




DR. MAN:

Oh, nothing to worry about. It's merely the foundation of all that does and does not exist. It's nothing at all. If you're truly curious, I'm afraid I am but a humble doctor, not a teacher.




YOU:

Can't anybody just tell me where we are? Where is this hospital, exactly? Why was there nothing outside?




DR. MAN:

Ha, ha. There was nothing outside because outside is nothing. The hospital is the hospital, there is no "in" or "out."




YOU:

But...but that's nonsense. I wasn't here before, and now I am. Why would a hospital exist if there isn't anywhere else to go? How would you even know it's a hospital? You just said you came from Virginia. What if I wanted to see Virginia? How would I LEAVE?




DR. MAN:

Oh, dear, you still don't understand. I suppose you never can...not with that stunted core of yours. If you are here, it is surely because you are unwell. Most unwell, to attract the attention of such a venerable medical staff. If you desire the "world" you knew, you will have to be discharged.



Dr. Man moves his arms for the first time you've seen, finger quoting around "world" and abruptly folding them behind his back again.



YOU:

Why are you the only human I've seen? Are there any others?




DR. MAN:

On the staff, I'm afraid not, just as Miss Tori is our only tube-zoner. Budget cuts. Ha, ha. Naturally, patients come and go from all layers of the range.




YOU:

So there are more human beings here?




DR. MAN:

There were.




YOU:

And what happened to them?




DR. MAN:

Ah, this and that. They can't all be success stories. You're in the hospital, after all. You either heal or you do not.




YOU:

I see....at least that's basically normal. I guess I don't know what kind of answer I expected.

That other room wanted something from the cafeteria, the thing inside said it would trade me a key for it.




DR. MAN:

Oh, ha ha. I don't doubt that it intends to uphold its promise to the best of its ability. You must have passed the cafeteria to end up here, I'm sure. Fine young doors. Sharp witted. You might enjoy the flan.




YOU:

Kay....um....is there anything I should know about this "Phage" guy?




DR. MAN:


ABOUT WHO NOW?
The booming voice nearly topples you, though neither his tone nor his facial expression change. Not a twitch.



YOU:

N...nothing...nobody!

You're still shaking a little from the sheer volume of his outburst...at least you get the inkling he might not like Phage any more than you do.

Listen...I just...I'm really looking for my son. He was very sick, for a very long time, and the next thing I knew, I was here in the hospital, alone. I don't know where he is, or what could be happening to him. Whatever's going on, I need to be able to see him.




DR. MAN:

Oh, ah, why didn't you say so. That is quite the pickle. My, yes. Elephantine gherkin, that.

They would have taken him to the maternity ward. It's also pediatrics, and anything else that deals in the medicine of children, larvae, spores and sub-tones.

I'm afraid he is in...quite the pickle.