The interior of the monster smells sulfuric and sour. Your skin tingles unpleasantly wherever it has touched the moist, slick inner tissues. Old, rotting furniture indicates this may have been another examination room or an office.

The pale thing hanging from the ceiling speaks in a very deep voice. You remember this voice; it somehow knew you were looking for your son.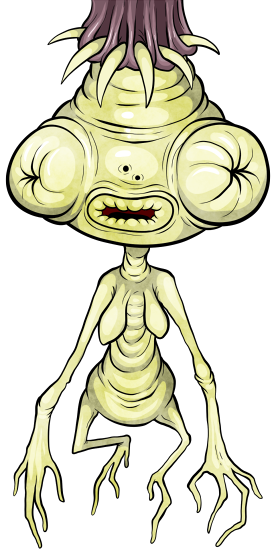 YOU:

...Great. Did I just do all that for nothing?




DANGLING FIGURE:

Heck no, haven't had entertainment like that in fifty, sixty thousand layers or so. You shoulda seen the look on your face when the Barbeque kicked you in the keister.




YOU:

...How the hell did you even see that? And why do you remember it if your...friend...doesn't?




DANGLING FIGURE:

Oh, I remember all kinds of things I shouldn't. Heck, one of the few things I don't know is how I know so much. Guess I might be hooked up to more than just Ora.




YOU:

...Ora?




DANGLING FIGURE:

That's her name, even if she never remembers she has one. Not too bright, but she bubbles up a mean soup! I'm Lexis! What's your name?




YOU:

Not important.



SUBMIT QUESTIONS AND DIALOG!
V V V