The small doctor rifles around in some cupboards for a moment, producing a funny little haz-mat suit and a bottle of what seems to be ordinary disinfectant.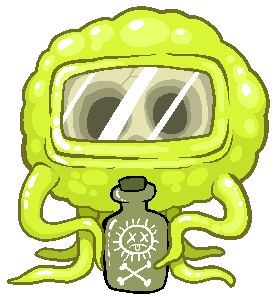 BACTERIUM DOCTOR:

Here you go, dear, I don't like handling this stuff myself.



You choose questions carefully as you clean up your injuries [HP RESTORED!]



YOU:

So, doctorrr...




BACTERIUM DOCTOR:

Staphanie, but just Staph is fine! Now whatever brings someone like YOU to town, if I can ask?




YOU:

It's complicated. I was told you might know someone just out of town who could help me...




STAPH:

Ah, yes, she was hoping she'd get a visitor. Keeps raving about those strange vibrations coming down the North channels. Something's sure funny up there!




YOU:

Y...yes. I'm still not really sure what it is, myself, but I need to check it out. It's...personal.




STAPH:

I should certainly think so! She's long overdue for a check-up if you'd like to tag along.




YOU:

Really? Just like that??




STAPH:

Of course!

It's not just every cycle that the whole world steps into your clinic.