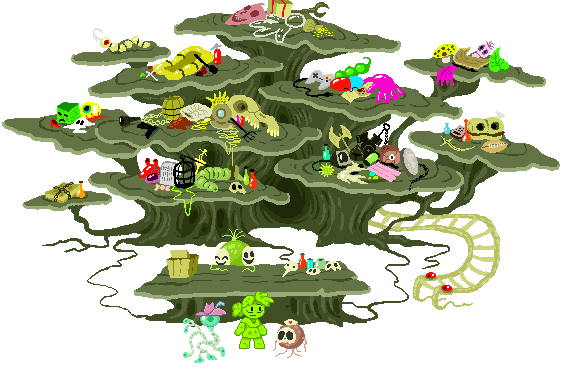 After careful deliberation, you settle on a selection of items that sound generally handy, or at least beg further investigation. You trade in the spit and the bandage for a couple bottled chemicals, and are left with 50 KP to your name.


ACQUIRED:

WORM REPELLANT:

You're assured that worms won't attack anything that stinks like this...but that it's also horribly toxic in general and you don't want it on you or your clothes.




WORM ATTRACTANT:

Whatever's in this, on the other hand, apparently smells irresistibly appetizing and/or maddeningly arousing to anything and everything that qualifies as a worm. Gross, but maybe you can use it.




UNIVERSAL ADHESIVE:

Maybe you shouldn't buy this without the solvent, but you're kind of out of inventory space. This will allegedly bind any two surfaces permanently.




INFLATABLE RAFT:

Made of a sturdy material that isn't quite rubber and isn't quite leather. It feels weirdly organic. Maybe you don't want to know.



ENVIRO-SKIN:

Will supposedly protect you from just about anything for a limited period of time.




KERATIN AXE:

Hefty and sharp. You find that the handle fits nicely into your metal pipe thing. (+1 to "STAB")




SWORD:

Celia insists that this is a low-grade sword and should have been cheaper, but quickly discards her original weapon. (+1 to "SLASH")




CHAINED BOOK:

Something just drew you to this awful thing. It makes you terribly uneasy, but it feels very important.




SHOPKEEP:

Pleasure doin' business with ya!