>Check the Spine's Room
You decide you've probably learned all you can from the talking, bleeding gash in reality, and that you may as well find out what else is different around here. Some of the stuff you bought from that backbone guy turned out useful, didn't it?

Pulling back the curtain to room VI, you discover that the bones have been fairly busy in your absence.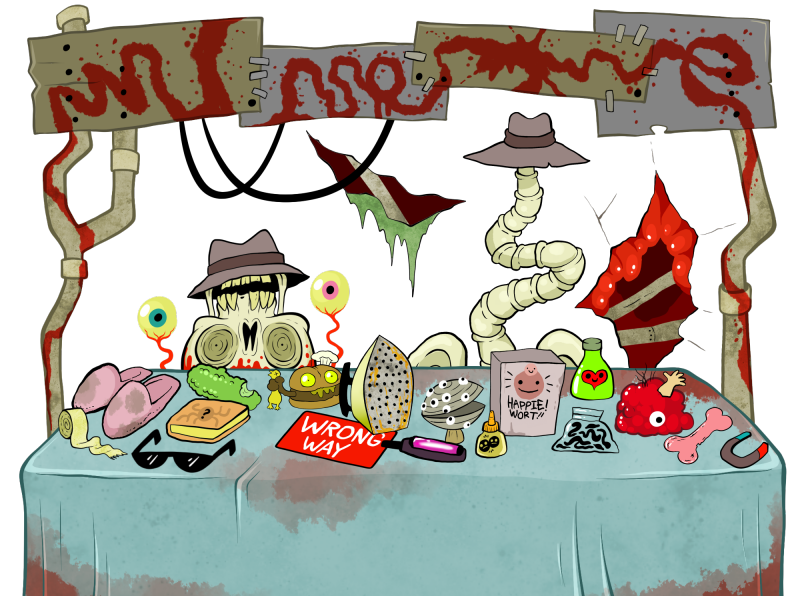 CROOKED SPINE:

SLOWWWWW DOWN THERE! You're liable to SLIP A DISK stumbling over a clearance sale of such SPINE-CHILLING proportions! Don't be the BONELY one on your block to miss out on our grand opening BARGAIN BOOOOONE-ANZAAAAAA!!!!



OOZING SKULL:

Hehehe! Hehheh! Yeah, YEAH!!!!



CROOKED SPINE:

nowacceptingpaymentonlyintheformofusedbandagesreturnsnotacceptedallsafetyguaranteesnullandvoidoutsidestorepremisespleasedirectallcomplaintsatleastfifteenyardsfromourpropertylineadditionalchargesmayapplyseethirdandahalfsideofyourreceiptforcriticaldetails*********