>Conversation Mode
You continue sipping the ungodly delicious coffee. Slowly. You wish it would never run out, but you're not about to put this guy through...whatever that was again. You're not sure how much of you is shaking from the coffee and how much from the bloodcurdling shrieks still echoing in your skull. Either way, you sure have the jitters.

You can't just stand there looking him in the eye while you drink his guts, though. You need to say something. It never hurts to fish for more information around here, right?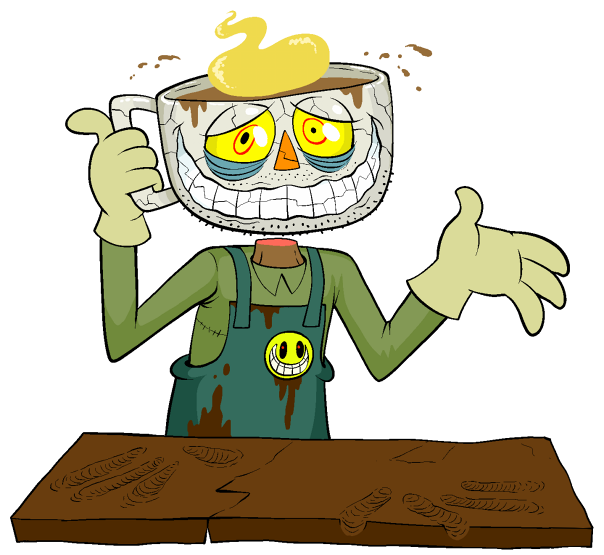 FERN:

Sooooo...this is, uh, very good coffee. I'm Fern. What are you.



Oh, that wasn't awkward at all.

BARISTA:

Ch-ch-chip.

M-mocha is my specialty.




FERN:

...Seems like it.



"Seems like it?" That's your response? Ugh. Think of something. Anything. Just don't ask him how he makes this stuff. You'd rather leave good enough alone.

FERN:

....So, Chip...howwww's... work here in the Hospital?




CHIP:

Oh, w-w-we s-serve a lot m-more than the Hospital. I c-can tell you've had our m-m-mocha before from the g-g-g-grey z-zone branch.




FERN:

I'm, uh, pretty sure I'd remember that.




CHIP:

Your c-c-c-core p-probably filtered us into s-s-s-s-something you're m-more familiar w-w-with before you b-b-branchinated.




FERN:

I ssseeee...so, you um...like this job?




CHIP:

I-I-I am this j-j-job, d-don't really know m-m-much else.



Of course not. He's some sort of "manifestation" thing. You know this stuff by now. Ask something important already.

FERN:

Chip...do you know anything about this "problem" with the surgery ward?




CHIP:

Th-they've been having t-t-trouble with unauthorized b-bioforms in the s-s-staff wing, we s-s-served one one not long before y-you came in, actually.




FERN:

Huh?! What was it?




CHIP:

R-r-reminded me of y-your ph-physiology, n-not the same v-v-vibrations. I guess we d-didn't so much "serve" it as it c-c-came in and took all the m-m-mocha it w-wanted.

L-l-luckily I had enough st-st-strength left to p-punch out while I r-reassembled. C-c-can't waste c-company l-l-layers.



Oh no. He's talking about one of your corpses, isn't he. This is your fault. A dead you assaulted this guy and now you're guzzling his innards in front of him. You've got to tell him. You've got to apologize. You've got to tell him you'll do something about your own mess.

FERN:

I....I uh.........Neat.



NEAT!?!? NO!!! IT'S NOT NEAT!!!! CHANGE THE SUBJECT!

FERN:

I MEAN- uh...how about that surgeon? Right? Circula? That's her name?




CHIP:

Oh, y-yeah, h-h-head of the w-ward. Not a b-b-big c-coffee drinker, but she likes our herbal t-t-t-tea an awful lot, c-can't seem to get enough of the s-s-stuff.




FERN:

Is she ever, um...dangerous?




CHIP:

Oh n-n-no, of c-c-c-c-course not, n-not unless you're a s-s-security threat, of c-c-course, then you're p-p-probably g-going to be used for something else's p-p-p-parts.




FERN:

Heh, right, good thing I'm allowed to be here.



Smooth.

CHIP:

Haha, r-r-right...s-so...while we're asking q-q-questions....ww-w-what's it l-like out there in the non c-c-c-cafe z-zones, anyway?




FERN:

Oh...uh...it's...well...something. It's. Something.




CHIP:

W-wow! That m-must be p-p-pretty n-neat! Y-you...you uh...you ever have a b-b-boyfriend? W-what's that l-like?




FERN:

Oh, er...once? Turned out I wasn't really the "relationship" type...




CHIP:

G-g-gosh! Th-that's s-s-so interesting! H-he, uh, s-still around? H-h-how d-did he feel about m-m-mocha?




SMILING BADGE:

Chiiip, you're not bothering customers with your job-irrelevant thoughts again, are you?




CHIP:

Oh, uh, n-n-no miss f-f-flair




FLAIR:

I'm so terribly sorry, miss. Our employee apparently thinks customers want to hear its problems.




FERN:

Oh no! It's fine! Really!




FLAIR:

No, no, it isn't. Next time you come by, dear, have any drink you want...no charge.




FERN:

O...okay...



This has easily been the most uncomfortable exchange you've had since that godawful spleen guy. At least you're already coming down off rather too intense a caffeine buzz.

You feel compelled to leave a tip.

...really compelled. Like, wow. Weirdly so.
NEW UB COUNT: 0.