>SEARCH ROOM

FERN:

So...looks like we're stuck here for now. Miss, uh, Wound...




OPEN WOUND:

Laschey!




FERN:

Lacey! Sorry...do you mind if I dig around in here for anything useful?




LACEY (THE OPEN WOUND):

Oh, schertainly! Long ash you don't mind my chatter! I jusht can't sheem to keep my me shut for long...shome people find it endearing! ...Hypothetically, I mean, SHOMEWHERE out there, I'm sure!




FERN:

Oh, uh, definitely...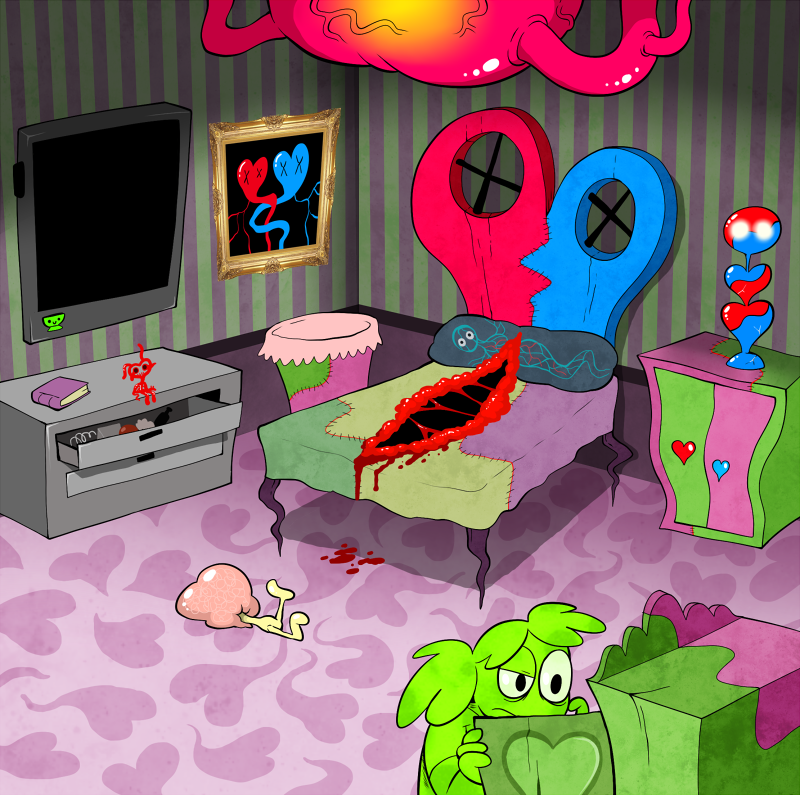 You search the various drawers, cabinets and cupboards around the comfortably cool, sweet-smelling recovery room. Up close, the room is as dirty and grimy as any other in the Hospital, barring that bathroom you're pretty sure just gets.......licked.....clean......
CONTENTS OF THE METAL DRAWER:
This drawer looks just like the one in your own room, and just as you were told...it contains the same objects you put there. Not really too freaky around here.

ITEM: APPLE

If this is "dangerous" to the doctors around here, you might want to hang onto it. You don't know if you're cornered just yet...




ITEM: DUCK

You're still not certain why you took this, or what it could possibly be useful for.




ITEM: LOCKED FILE

You retrieved this from that stomach creature...Ora...when it nearly digested you. It was next door to Doctor Man's office. Feels important.



CONTENTS OF THE WARDROBE:

ITEM: MYSTERIOUSLY HEAVY BOX

There's nothing in the fancy wardrobe but this red, rusty metal bin. It's much heavier than it actually looks, and could fit a small child.



CONTENTS OF THE NIGHTSTAND:
Unfortunately, nothing of particular note. Just some tattered, dirty rags that may have been clothing at some point, a few shards of broken glass and a great deal of lint.
CONTENTS OF THE TRASH CAN:

50 USED BANDAGES

...Oh, right, these are money around here. "Bandages." Everyone really calls them band-aids, but that's a brand name, so you're technically supposed to just call them "bandages" or specify "adhesive bandages." Annoying.



As you explore, the Polyp rolls around the carpet and complains about nothing in particular, while the wound continues on about her new...kittens?

RAMBLIN' EVIL COLORECTAL POLYP:

....You know, I ever planned on being an item pickup. Just seemed like the easy life, you know? The stone kid, she seemed to be enjoying it...




LACEY THE OPEN WOUND:

Sho where wash I? Gertrude, that'sh the fourfth kitten, and she'sh horizshontally inverted with the cutesht transhparent patchesh. Then there'sh Schleppy, a shpeckled male with detached pawsh. Kwamp ish the roundest, and I'm always finding him in the chute rack, shpooking the chutesh! I'd feel shorry for them if they hadn't tried to defunnelize Shamshon, the maine coon, who knowsh half hish alphabet already. Then, let'sh sheeee.....there'sh Virginia, with four white shoxsh on her feet and shixshteen exomandiblesh. I found her shtacking my rainbootsh to the scheiling before she could even open her eye! Tiddo ish her identical shishter, but doeshn't have her jointsh yet. She'sh a late jointinator, it happensh. I put her on a little plank with shome wheelsh sho she can at least push herself around with her exshausht. Adam ish a hairlesh long-eye, and getsh hish eyesh sho tangled in my curtainsh I had to roll them up under hish trimouth! Horasche didn't come out the right way shadly, but what he lacksh in feline anatomy he makesh up for in photoshyntheshish! Lowesht maintenansche you could ashk for, you know....