>Purchase Items, Shuffle Inventory
You do your best to weigh what the head voices want with what you agree seems useful...and ignore Willis's desire to purchase literally everything. You're not sure he really comprehends "money"...or...used band-aid based economies.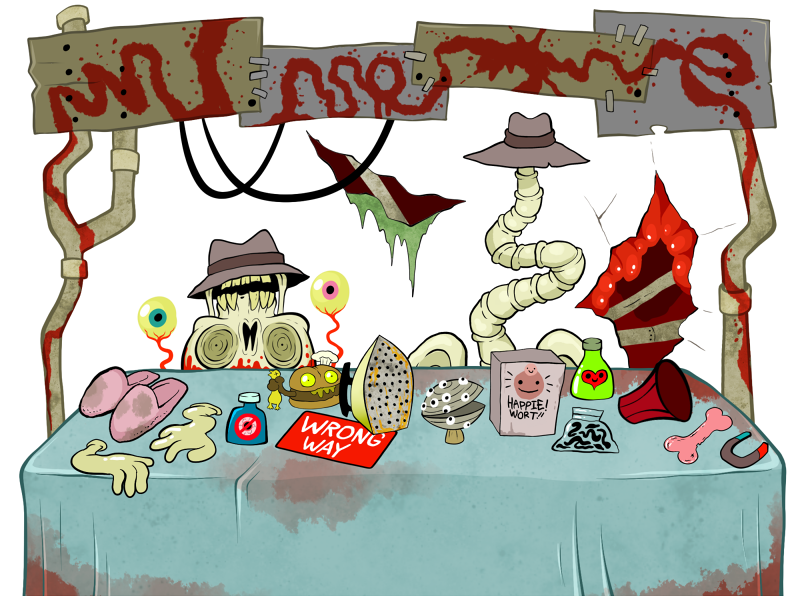 CROOKED SPINE:

Pleeeeeasure doing business as always!!!



ACQUIRED: HAPPIE! WORT!! (-100ub)

Smells horribe even in its box.



ACQUIRED: BAGGIE FULL OF LEECHES (-30ub)

They're squirming around hungrily, but seem to be doing okay in an ordinary sandwich bag.



ACQUIRED: WRONG WAY SIGN (-100ub)

It doesn't look out of the ordinary, but you saw what that "out of order" note could do before, so...



ACQUIRED: BIG RUBBER GLOVES (-60ub)

The gloves you put on when you first arrived just sort of fell apart before you even noticed. You forgot you even had them, to be honest. These look more professional, and would even come up to your short sleeves...


You decide to save your remaining 30 bandages in case something comes up. You put the rubber gloves on, feeling a nice new sense of security, and stash the remaining items in your bag.

FERN:

Alright, let's get moving, Willis



WILLIS:

Awwww...I wanted the stinky shell thingy.