089: ARMOR EVOLUTIONS OF KINDNESS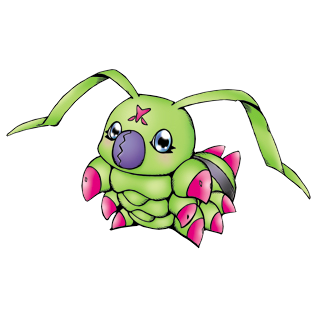 Kindness is none other than the crest of Wormmon! What does this mean for the other digimon? For V-mon it meant turning into a bizarre kangaroo puppet, and the others don't fare a whole lot different in strangeness...
EGG OF KINDNESS + HAWKMON: TOUCANMON
Not just a cartoon toucan, but a toucan whose wings have degenerated to flightlessness. As usual, digimon isn't too great at making wings actually look any more useless than other bird digimon, but it's the thought that counts. The "armor" part of this digimon is just a big eggshell, which is cute. There's not much else to Toucanmon except that it is also referred to as "gaudy and loud," and "rumored to be quite muscular" under its eggshell. I heard Toucanmon was ripped.
RATING:

EGG OF KINDNESS + ARMADILLOMON: CHAMELEMON
Awwww man. I really do wish these armor digimon weren't just a bunch of random, forgotten miscellany, because I really love this grumpy, helmeted chameleon. It's just so nicely designed and drawn! This is also one of the few armor digimon whose armor has anything but a smooth, shiny plastic texture, looking much more natural, organic and studded with knobs to break up the monotony. I have no idea why a chameleon would have aviator goggles, which also seem to be completely unusable the way they're fused into its helmet, but it's a fun little extra detail, sure.
RATING:

EGG OF KINDNESS + PATAMON: PRAIRIEMON
A prairie dog with giant, murderous metal claws. Alright then!
RATING:

EGG OF KINDNESS + GATOMON: OPOSSUMMON
A possum, not even a proper
O
-possum as its name would imply, that generates, battles with, and travels via balloons "filled with computer viruses." That's definitely one of the strangest things Gatomon can evolve into, I gotta say. It's even stranger for what it evolves
further
into in a much later digimon series, but we'll get to that when we get to that, for better or worse.
RATING:

EGG OF KINDNESS + WORMMON: PUCCHIEMON
....Huh? A double dose of its own crest turns Wormmon into....cupid? Or something? I guess it's a "fairy" evolving from a worm, which isn't far fetched at all. It's not terrible, but nor am I an active fan.
RATING:

NAVIGATION: