091: ARMOR EVOLUTIONS OF PURITY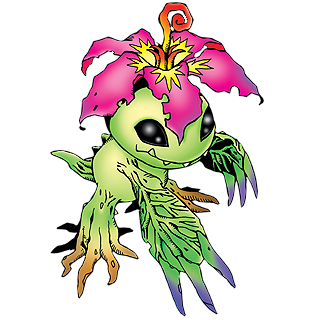 I said I was saving the best of these for last, and none of the armor digimon connected with Mimi and Palmon are a disappointment. Even the two we already saw, V-mon's Yashamon evolution and Hawkmon's Shurimon, were among the coolest possible options for either of them. Palmon NEVER truly lets me down!
EGG OF PURITY + ARMADILLOMON: FROGMON
We already have the best possible frog digimon, and it's called
Gekomon,
thank you very much! Not that I can possibly dislike any given froggy, especially with this particular froggy's little toothy smile. The accessories and armor glued onto it are kind of messy and they chose a
terrible
set of colors for this design, but I'm liking the fact that it can fly like a helicopter...and is that a
knife?
A sheathed
army knife?
Is this a tiny frog that flies through the air and
stabs you!?!
...Its second attack is called "ambush dagger." It is a knife. I'm REALLY let down we didn't get to see this in the anime.
RATING:

EGG OF PURITY + PATAMON: PONCHOMON
Oh yes. For real. When the flying hamster meets the power of purity, it can evolve into a Mexican-themed cactus ghost. "Armor level" digimon are alternately treated as equivalent to adult stage digimon and kind of their own thing, but Togemon, the adult level boxing-glove cactus, is said to sometimes "evolve" into Ponchomon by literally dying.
Why can Patamon evolve into Togemon's ghost?!
Ponchomon's description says that it's always, always dancing and generating music, and that its fellow ghost,
Bakemon,
tends to really enjoy grooving along to the same tune. I gotta say I like everything about the idea of a happy, musical cactus phantom.
RATING:

EGG OF PURITY + GATOMON: KABUKIMON
Whoa! I don't know how, but I could swear I have never seen this digimon in my life. It's cool! A menacing, flowery kabuki dancer that's actually a plant monster underneath its robes, and its flower hands are either decorated with their own masks or they're
actually
additional heads.
RATING:

EGG OF PURITY + WORMMON: NOHEMON
Okay,
WHAT!?
Palmon's crest can turn the caterpillar into a
scarecrow!?
This makes the absolute least sense of any armor evolution, barring perhaps a sort of "farming" theme, but I love it to death. I love all the puppety, stitchy digimon, but this is easily one of my favorites, and that's especially because the little puppet crow is the
actual
digimon here. The rest of the scarecrow is a decoy body it controls telepathically! It's also said to be adept at lying and storytelling, and its main attack, "Delusion Crow," weakens the opponent with its "cawing laughter."
I love everything about this digimon so much that I'm just sad it's an armor stage with no logical tie-in to any other digital monster. I think I even love it enough to give it the gold rating, which is the first time we've done that in a
distressingly
large number of recent reviews.
It figures almost all the armor forms connected to the awesome
Palmon
would be this good.
RATING:

NAVIGATION: