Halloween 2005: Decorations & Stuffed Toys

Part II of this year's spooky horde! Featuring all the more expensive, elaborate items.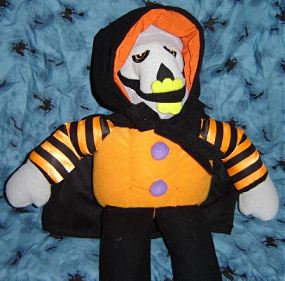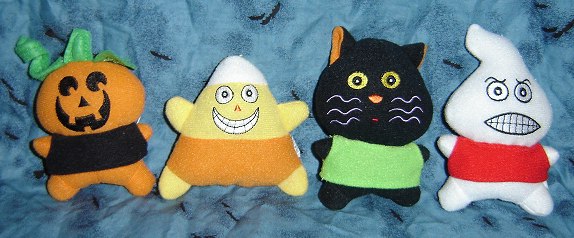 Created just for 2005, these four characters appeared on a wide range
of "Spooky Hollow" products, primarily sold through Joann craft stores.
These mini-plushes were their only 3-d incarnations, and are about 3-4
inches high. They have cords to hang them from, and the pumpkin
features a bendy vine for no real reason. My favorite is the candycorn,
but he beats the angry ghost by only a small margin.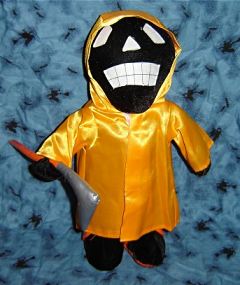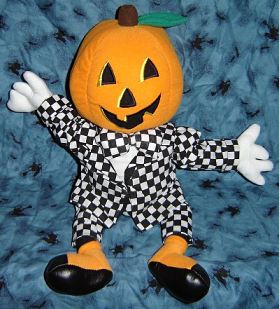 Skeleton mummy riding hood guy thing

Actually came off ebay last year, but some time after Halloween, so I
just counted it for this year. Eight different nonsensical outfits combined
with a very large (two feet tall) skull-faced mummy ends up one of the
most interesting halloween plushes I've ever found.

Rescued from a consignment store, I'm not sure where this guy originally
came from but he has a raincoat and a plush scythe, both removable. You
do not want to get all wet when you run a door-to-door buisiness.

My illegitimate son Stewart

Abandoned by the Pumpkin Queen, Stewart is a well-meaning boy but
his mental handicap can get him into mischief. His fingers are deformed
and he can only say his own name.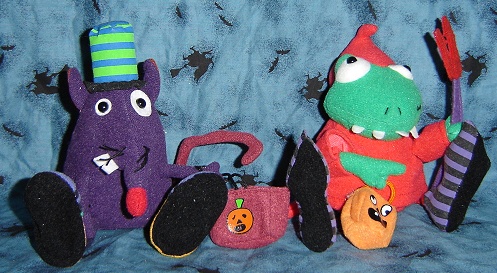 Probably part of a larger set, but I got them from a closeout store that
only had one each of these two. Their legs dangle on strings if you sit
them on the edge of a table. I love the freaky design of the rat.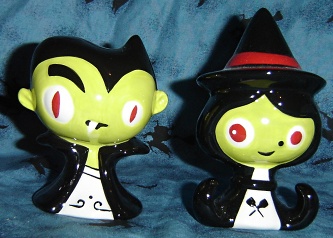 Target "Count Down" and "Scary Mary" figurines

Target decorated for halloween this year with a whole huge family of
adorable, big-headed monsters, plastering them all over their stores as
giant cardboard cut-outs, talking "doorbells" in the candy aisles and a fair
amount of merchandise. None were made into proper toys, but these two
(along with a pumpkin and spider) were at least immortalized as small,
glass figures. They should've been salt & pepper shakers, but ah well. At
least they're cute...and how can you not love a tiny vampire named
"Down?"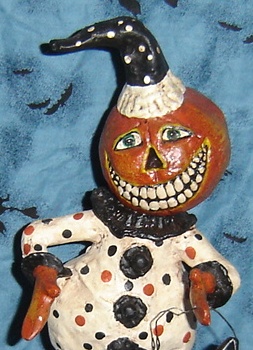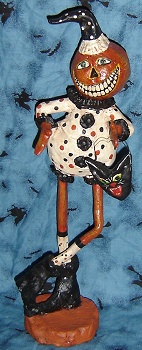 From the same exact store as
last year's
pumpkin-clown demon, only,
MUCH more frightening, which I honestly didn't think was possible.
Here's hoping next year brings a third, even eerier member into this family
of freaks.

Even EVILER Pumpkin Clown Guy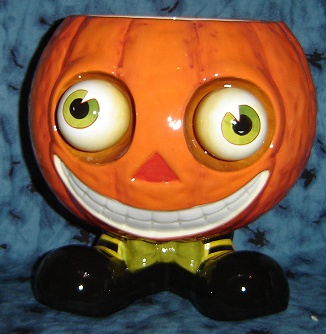 Another item that matches some of
2004's
, this thing has wobbling
eyeballs and stands over a foot and half tall, which is pretty big for
something wide and round. I found him all alone at a TJmaxx.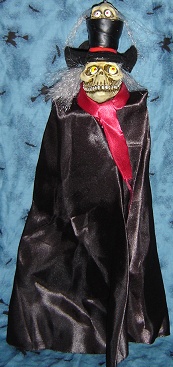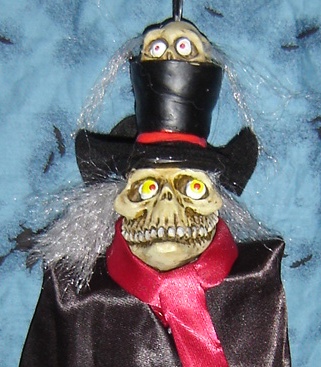 This is one of those hanging decorations with the solid head and empty
cloth body. Like Mr. Hyde from Tim Burton's "The Nightmare Before
Christmas", he has a little brother in his top hat, which is pretty much what
made me like him enough to spend 5.99 on a chunk of resin in a cape.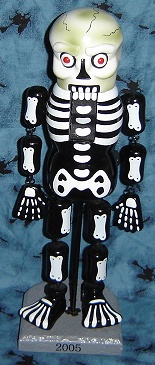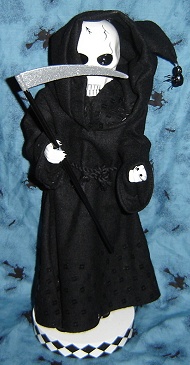 Because Christmas ain't got NOTHING Halloween ain't got better. The
skeleton with the dangly limbs is part of a larger set by Target, while the
beckoning specter of death came from "Hechts." I'm not sure which one I
prefer. The skeleton stands out more and truly looks like a nutcracker
sans flesh (the eyes are perfect), but the Reaper is more elaborate,
generally badassed, and has a dangling spider.

Two completely unrelated skeletal Nutcrackers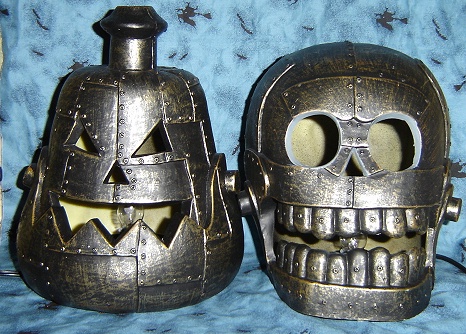 One of the coolest things ever contributed to the holiday by Wal-Mart,
these came in both the "antique" looking metal above and a cleaner,
lighter grey. The bulbs inside are designed to emit a sort of "crackling"
reddish-orange light, making these the perfect decor for your unholy
laboratory. Unfortunately, one of mine has already blown out, and I'm not
sure where to get a replacement bulb with the same effect.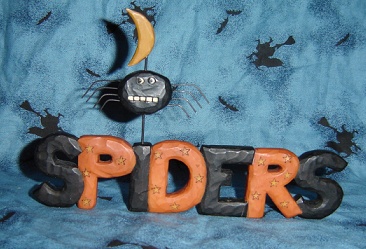 It's the word "spiders". It's made of sculpey. It was seven dollars. The
fact that someone made the word "spiders" out of sculpey and put a 6.99
price tag on it is practically the whole reason I had to have it. "SPIDERS!"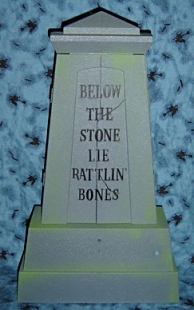 Screaming coffin and tombstone

You can set these to activate via button or motion sensor. Both reveal
ghastly, wobbling heads with light-up eyes and the same hilariously loud,
bloodcurdling scream that sounds MUCH better when you have both of
them going off at once. An entire wall of these would make a nice security
system.