2007 Halloween Collecting Blog: NOVEMBER!

November 1st - 50% off at Halloween Adventure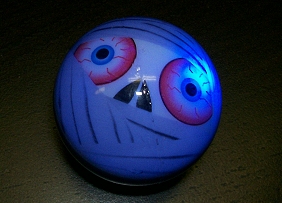 -Flashing Mummy Glide-ball-

When I said I was done with mummies this year, it was all a MALICIOUS
lie.

I don't normally record these kinds of realistic rubber bugs in my Halloween
pages since they're not exclusive to the season, but I'm making an exception
because these are cool-looking and I found them in a clearance bin at a
Halloween store. They're three inches long, highly detailed, and the front one is a
tiger beetle! I've never seen a plastic incarnation of this insect before, and I have
THOUSANDS of plastic insects.

...What, did you think I was DONE?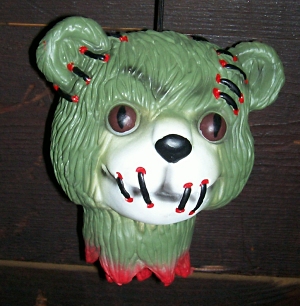 Though not quite as cool as the orange one last month, a significantly lower
price left no excuse for my incomplete set..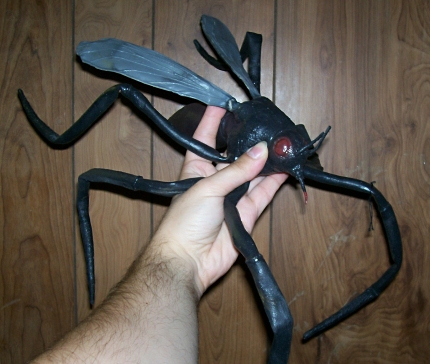 I know you're much more interested in the clammy, hairy arm, but the focal
point here is supposed to be the hawk-sized rubber bloodsucker. Only ten
dollars on clearance, she has a bendable wire frame in both her legs and her
wings. Her head is nowhere near as exciting as a real mosquito, but on the
other hand, it reminds me of a kiwi bird.

November 1st - 50% off at Spirit Halloween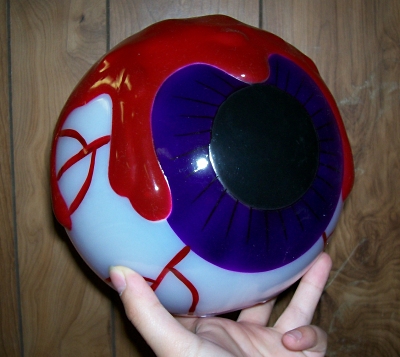 Sold in a pair, these giant gory oculars come with bulbs and stakes to set
them up as gruesome, glowing lawn ornaments!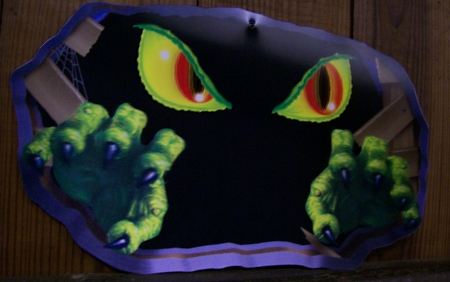 November 1st - 50% off at CVS Pharmacy

-Holographic Wall-monster-

A bit over a foot across, this 3-d image is designed so that its eyes very
convincingly follow you around the room!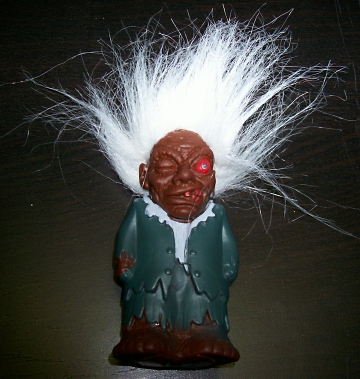 -
Another
Pocket Screamer-

This pocket screamer has shown up for a couple years now and isn't extremely
exciting, but for only a dollar, I had to get at least one. Oddly, I have gotten more
e-mails about Pocket Screamers than any other Halloween items combined, usually
from people who think I sell them. I WISH I was a Halloween store, but alas, I am
only a mere collector.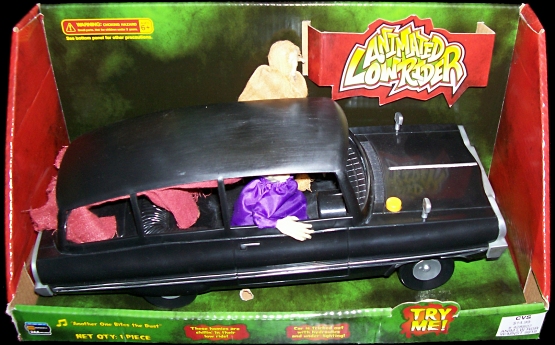 Easily the dumbest thing I've ever spent $7.00 on, this "tricked out" hearse features
a couple of unruly reapers and
preposterous animation
. Pray these aren't the
asshats who come to collect your soul.

November 1st - 50% off at GOODWILL

-Glow-in-the-dark Body Part Webs-

These cheaply-made webs come in four pieces each that snap together via tiny
pegs, and come packed with a suction-cup-hook to suspend them rather crudely in
a window. Pretty crappy, but I love the fact that they have either severed eyeballs
or monstrous mouths suspended in them. Are they trapped there, or physically a
part of the web?!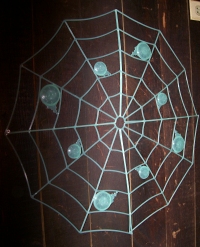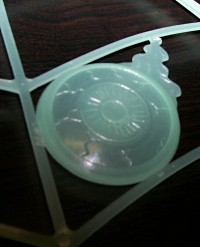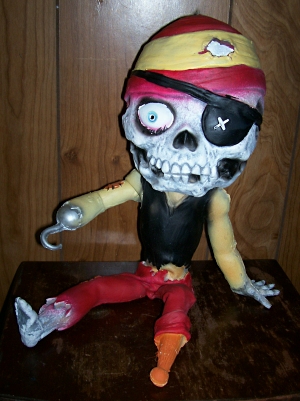 -Big-head Skeleton Pirate-

While not my favorite of the big-heads (I never found that damn mummy!), I
couldn't help feeling sorry for this guy, a brand-new 2007 item already coldly
abandoned at Goodwill with a four dollar price sticker. The string to hang him up
was missing, but he's otherwise in decent shape.

November 3rd - 40% off at Hallmark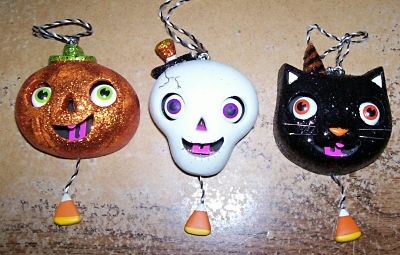 -Silly Pull-string Ornaments-

I previously passed up these cute little bastards for their mildly insane $10 price
stickers, and 40% of thirty bucks is still a lot for three little ornaments, but hey, this
is
Hallmark
crap. It's always well-made, and it's never created for more than one
year. Fit as much for Christmas as for Halloween, these things are made mostly of
metal, each has a different adorable hat, and each makes the same hilarious face
when you tug at their candy corn (don't we all?)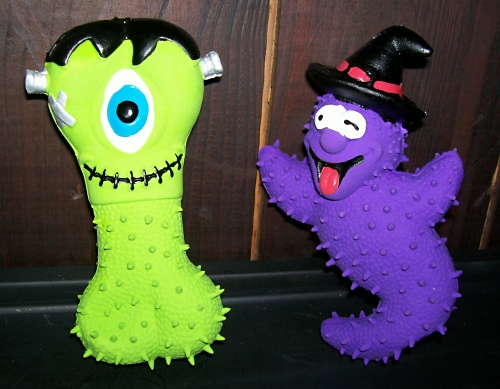 -"Spikey Spookies" Dog Toys-

None of my pet supply chains stocked these guys for 2007, so I tracked a couple
down online. The ghost I just got for the hell of it, but the
Frankenstein's-monster-bone was a must-have. It's even weirder than the unrelated

mummy bone
, looking more like twelve kinds of mutant genitalia than either a dog
bone
or
Frankenstein's monster.

November 9th - Clearance at Toys R' Us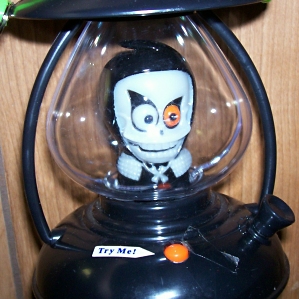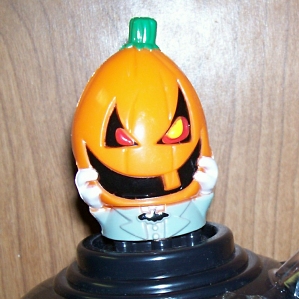 -The other two mini-lanterns-

I said I might come back for these guys after buying the mummy a couple months
back, and I have! One is missing most of the outer lantern and the other doesn't
light anymore, but they were still two dollars apeice, a little under half off. Kind of a
rip I suppose, but they're pretty damn cute, right?!

November 9th - 90% off at Target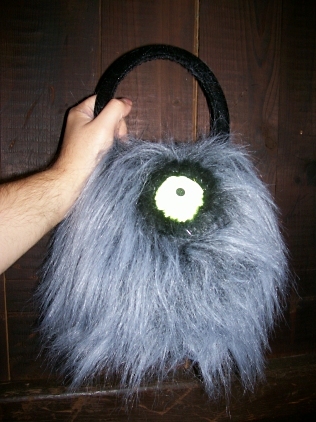 -Edgar & Ellen's hairy pet eyeball-

Geoffrey take note, Target knows the true meaning behind holiday clearance. This
"Edgar & Ellen" critter came stuffed with a decent quantity of malformed gummi
candies and the whole thing was under fifty cents!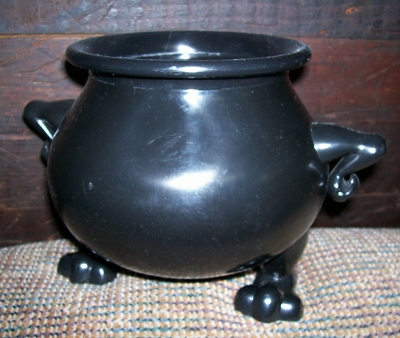 The arms and legs make this a hair more exciting than your ordinary plastic
cauldrons, but it's still the sort of thing I'd only buy when it's practically free, or in
this case, fifteen cents... even less than the value of the sour, crunchy bones it came
with!

November 11th - 90% off at Wal-Mart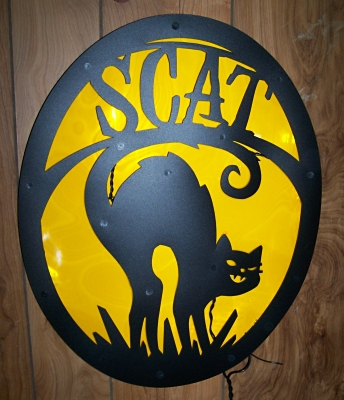 -Giant Lighted "Scat" Cat-

Another thing I wouldn't find that interesting at full price, but I like yellow-orange
and I like kitties, so I couldn't pass this up for a mere dollar, especially when it's
over two feet from top to bottom!

Speaking of bottoms, you would be surprised how many internet people know
only a single definition of "scat", and it is neither the innocent synonym for "scram!"
used here nor the cool musical style.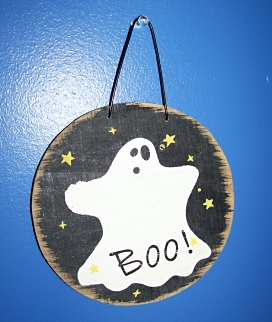 -Little Wooden Ghost Sign-

Simple and adorable, this pathetic little specter wasn't
even painted entirely within the lines!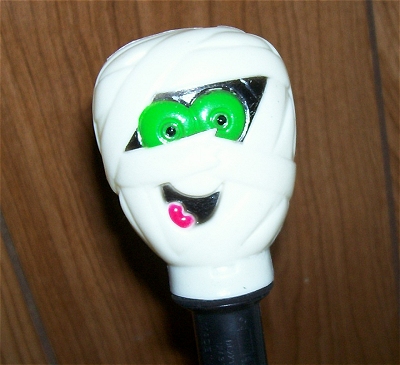 For those keeping count, this crappy little safety-light
makes FIFTEEN freaking mummies this year!

November 13th - 70% off at Michael's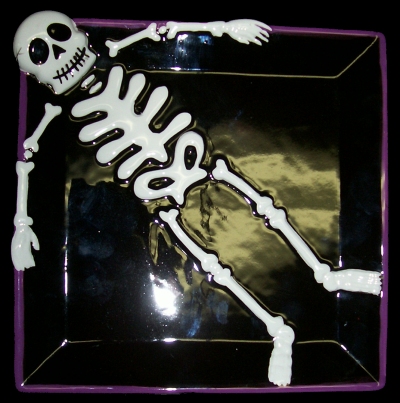 These were part of a whole set that included smaller condiment
trays and larger punch bowls, but only these mouspad-sized
dishes remained. They came with either green or purple borders
and make great little coffee-table candy trays.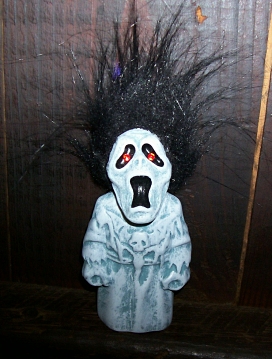 Yet
another
one of these toys! I've developed quite a liking for them this
year, and rather regret passing up the demon-faced assortment at Target,
but we'll see what 2008 brings to the table. The wailing, hairy ghost table.
You don't want to sit at that table.

...Or do you?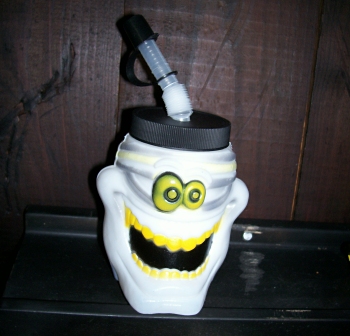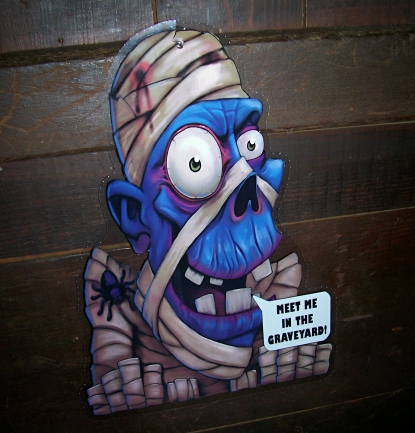 -Intriguing Mummy Window Hanger-

And the mummies just keep coming! This one is nothing but a large plastic
cut-out with a removable suction cup hooked to the back. It would
probably look cooler without the word balloon covering up part of the
artwork, but on the other hand, it adds an air of mystery. Why does he want
us to meet him in the graveyard? Will he reveal his mummy secrets, or is he
just a pervert???

SEVENTEEN! Seventeen mummies! Ah, ah, ah!