October 2007 Collecting Blog!

October 10th - Giant grocers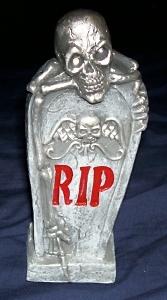 Another soft, vinyl toy that screams and lights up when squeezed, roughly
the size of the cackling monsters from August. The display box exclaimed
"Squeeze my Belly", so it was probably recycled from another product. As
cute as it would be, I'm pretty sure that tombstones do not have anything
you can call a "belly".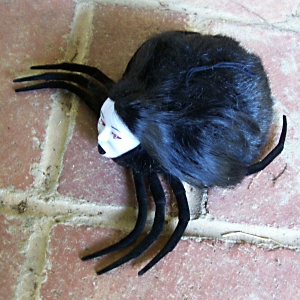 October 11th - The Home Depot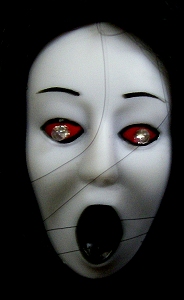 This cute little spawn of Lolth has a beautifully eerie Japanese-ghost-face and even eerier

sound effects
! It's designed to descend on a string when a motion sensor is triggered on its
underside, but there's really nothing impressive about this feature because its underside is just a
smooth, flat battery compartment and its legs are permanently frozen in that flattened, horizontal
position. It definitely could have been designed a little better and may have worked best as a
wheeled, "crawling" prop, but at least it still looks awesome on a shelf of other bugs and
monsters!

October 20th - Another Dollar General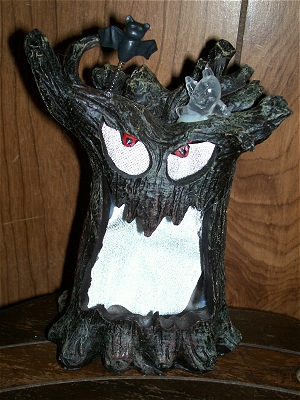 I thought every Dollar Tree had the same exact crap, but on a trip to West Virginia I came
upon one with these nifty little six-inch spooky trees for $1.99!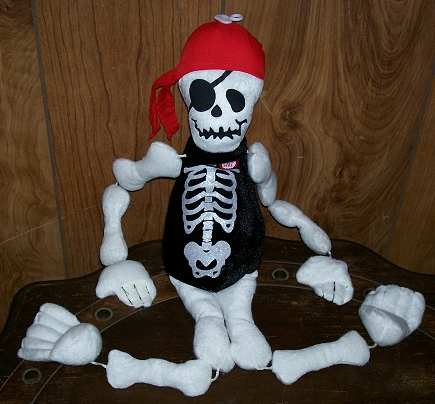 Last year, Dollar General carried a line of long-limbed spooky characters that remarkably
included a
generic Jack Skellington
. In 2007, this set has returned, but Jack has been
replaced by a drastically different skeleton in pirate regalia! In a way, they're still cashing in on
the Disney corporation, but now in a more remote and generalized manner. I'm glad I bought

two
of those generic Jacks...we'll probably never see them again.

October 21st - Pet Supply Plus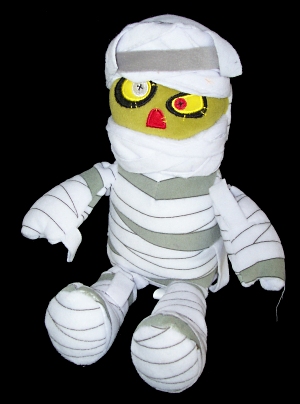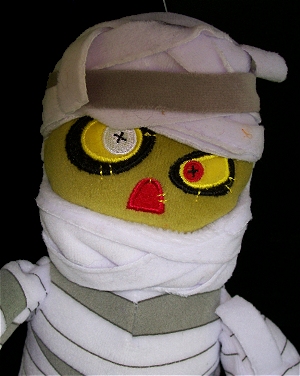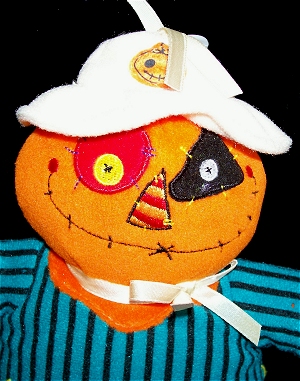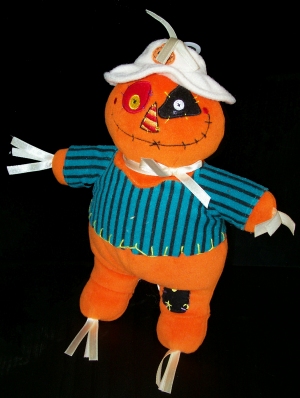 -"Ogres & Oddballs" Halloween squeak toys-

I hit the freaking motherlode of cool-ass Halloween pet toys at this West Virginia store, and
caught them in the middle of a 50% off sale! The super-snazzy mummy and pumpkin here were
normally eight bucks apiece, pretty steep for something your animals are supposed to maul, but
as usual with pet toys, they're far too interesting for this terrible fate anyway.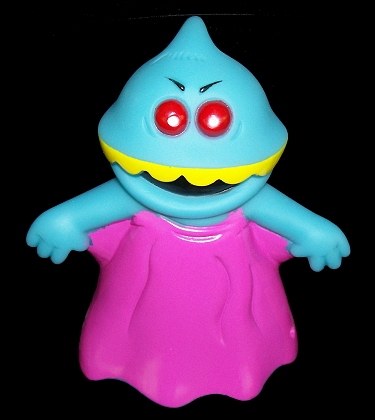 I mainly bought this colorful, simplistic phantom because I love vinyl squeak-toys of crazy
monsters and don't come upon them very often, though it pales in comparison to vo-toys'
smaller, cheaper offering: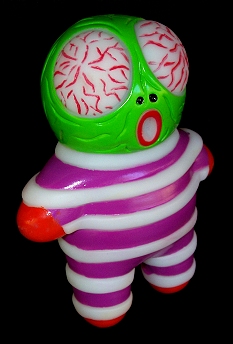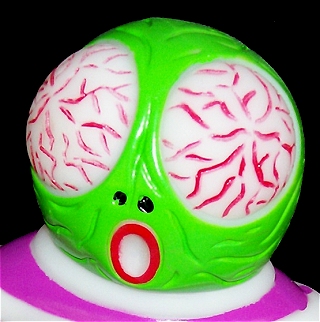 Is this little bastard cool or what!? I had him pegged for some sort of insect or alien until I read
his tag, but apparently this candy-striped freakoid is the carefully preserved body of Egyptian
royalty. Love his spherical, reptilian head, round little mouth and most of all his big, bizarre
eyeballs! Sadly, he was the very last mummy-man left in the store, or I would have gotten
myself a whole supply!

This is the last mummy I'm buying this season, I swear.

October 23rd - Halloween Adventure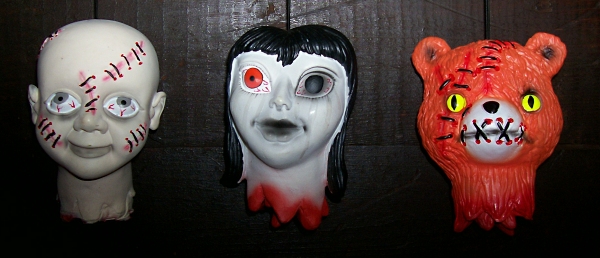 Made of soft latex with an elastic cord, these are very similar to a set of shrunken heads that
have been around for years now, but much,
much
more hideous! The baby-like head is the
most disgusting (and thus the most entertaining) of them all, though the female head warrants
attention for her ugly eye and tear-streaked cheeks.

October 21st - Return to Target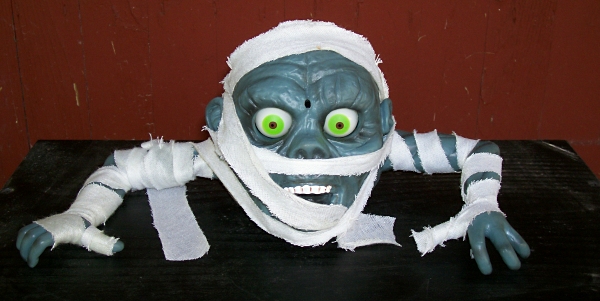 Actually considered part of a set with the
magnificent maggot
, this Boglin-like critter also
comes in a skull-faced form. When its motion sensor is activated, it rolls along on wheels while
its arms flail and we're treated to one of several bizarre phrases including "what have you done
to me!? My body!" and "I'm so hungry! Let me out!"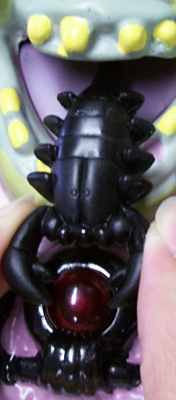 -"Mummy's Curse" Doorbell-

This is just like a Wal-Mart doorbell I got last year, but with an all-new theme! Press the red
button, and a scorpion will strike out of the mummy's mouth! I'm on a real mummy kick this
year.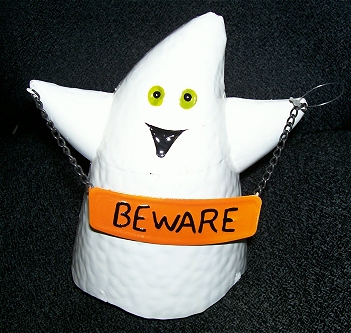 October 24th - Michael's half-off sale

You can't tell from the picture, but this happy metal ghost has a weebl-like rump that allows it
to wobble around on a table, dangling its sinister sign with a look of oblivious joy!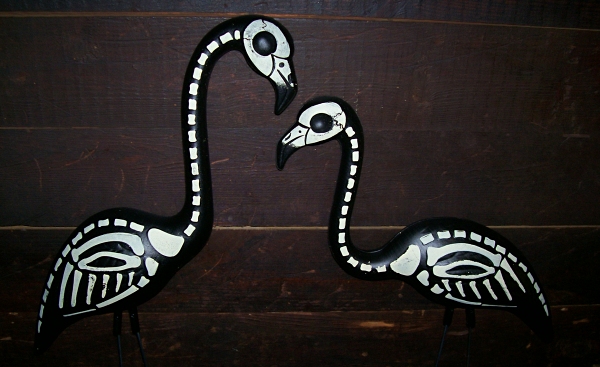 October 29th - Mail from Florida

Sent from Florida by my mother, these glow-the-dark lawn decorations have a sculpted pale
green bone pattern that looks just plain awesome with the lights off! They also came in a cute
"tombstone"
package
implying these rare birds only lived to 38.

I think they could have come up with a better name for these, though...like
Skelemingoes
, or
even
FLAMINGHOULS
.