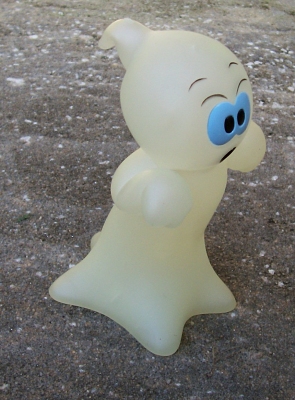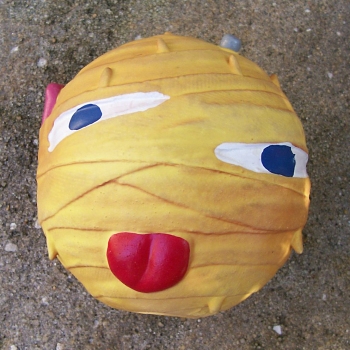 -Glow-in-the-Dark Squeaky Ghost-

MUMMIES THIS YEAR: FOURTEEN!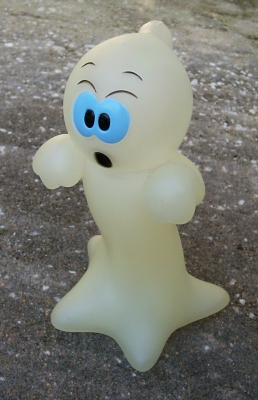 On another trip to Petsmart, I ran across this mysterious rubber ghost. Why mysterious? Because
I'd perused their fully-stocked Halloween section several times now and never saw any ghosts like
this one, which had been left lying in entirely the wrong part of the store and had no corresponding
label on the rack. It was also a mysteriously low $1.99, when even smaller, simpler rubber balls
go for twice that at Petsmart. Maybe it snuck in from some other store? Spoooky!

October 2 - Worldly Shops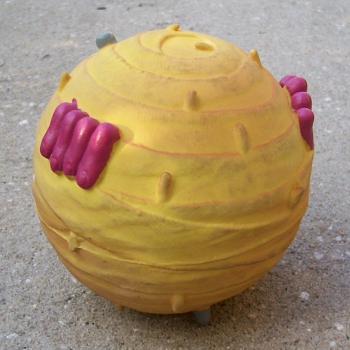 -"ZANIES" Monster Orbs Mummy-

This is from another online pet supply store, and I was supposed to get four different styles. They
assured me in an attached letter that they'll be sending the rest as soon as they get them in, but
who knows when that will be. At least the one I did get is the all-important mummy, which looks
totally awesome with its protruding tongue, misaligned eyes, purple fingers and filthy yellow
bandages. If you look closely, it also has a grey spike or nail of some sort running through its head
and out the other side, which is a rather odd choice in details.

Halloween pet toys have always included some of the wackiest, coolest-looking spooky items but
they really seem to be out in full force this year.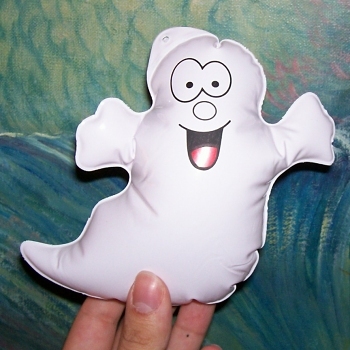 October 8 - Family Dollar

-More Miniature Inflatable Ghosts-

These aren't as cool looking as the trio from K-Mart, but
you can never have too many tiny, inflatable ghosts, right?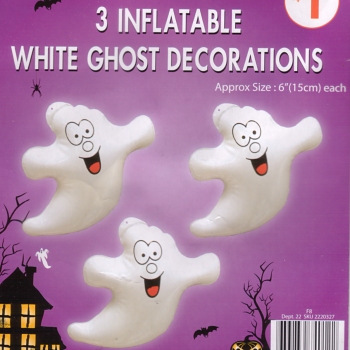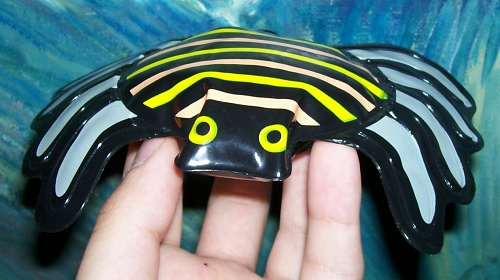 -Not-so-inflatable Miniature Spiders-

Also sold in a $1 three-pack, these poor little spiders barely
have room in their bodies to "inflate" at all!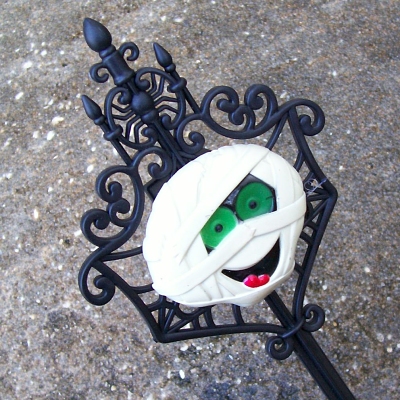 -Light-up Mummy Lawn Stake-

Not counting the stake, this thing is smaller than the palm of
an adult hand, too small to make a very noticeable lawn
decoration, but it does have a battery compartment to make
the eyes light up.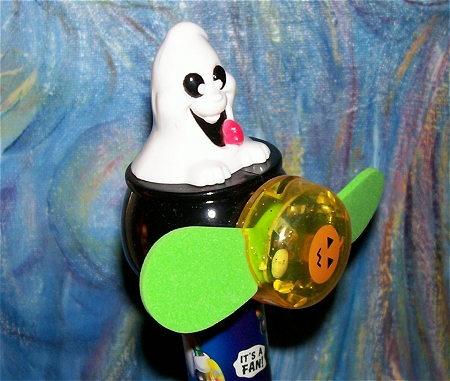 A battery powered personal fan attached to a blueberry lollipop, you
gotta love the ridiculously happy ghost that presumably flies around in a
propeller-driven cauldron. The center of the fan puts on a psychedelic
light show that refuses to photograph.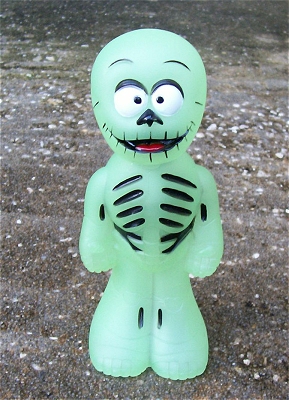 -Glow-in-the-dark Squeaky Skeleton-

This time, Petsmart had a whole supply of those glowing rubber ghosts
from the start of the month, and right alongside them were these great
matching skeletons! Not as menacing as its ectoplasmic counterpart, this
pale green carcass looks more like he just wants to hang out and trade
anecdotes. "Don't worry about that guy" says the skeleton. "He's just
pissy that he can't interact with solid matter."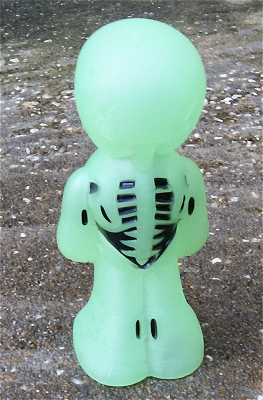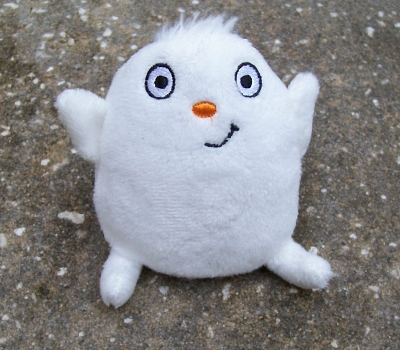 This heart-wrenchingly adorable, pudgy little ghost was sent by one of my
best friends from Maryland! Pull a cord on his back, and he vibrates his
way across a flat surface, much like a different-looking Hallmark ghost
from last year! Will 2009 bring yet another variety? Hooray for buzzing
ghosts!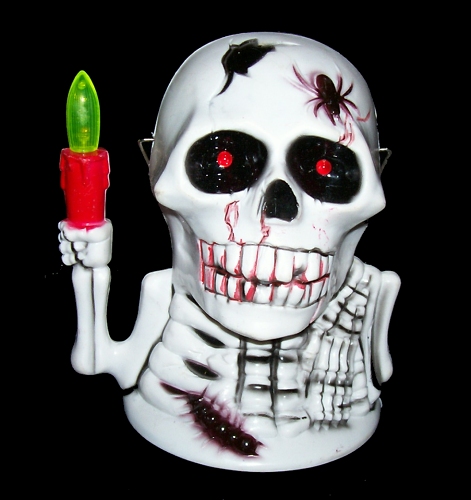 October 18 - Deal Extreme

-"Sparkling" Halloween Lantern-

From the lovely website dealextreme.com, this hard plastic skeleton has a
metal handle for easy hanging and a battery-operated candle. I just love
how gruesome this guy is, especially with all the invertebrate hitch-hikers.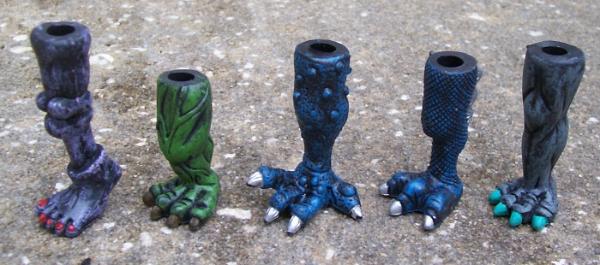 October 26 - Party Outlet (again)

These come in a bag of 13 - two to three of each style leg - and do not
explain anywhere on the packaging what you are expected to do with
them. It's immediately obvious, however, that they're pencil toppers - or
pencil bottomers, as it were - allowing you to turn any standard writing
implement into a grisly trophy straight out of Van Helsing's study! I like
that they aren't all the same length, representing a little realistic diversity
one might get from severed monster feet. The stubby green one is my
favorite.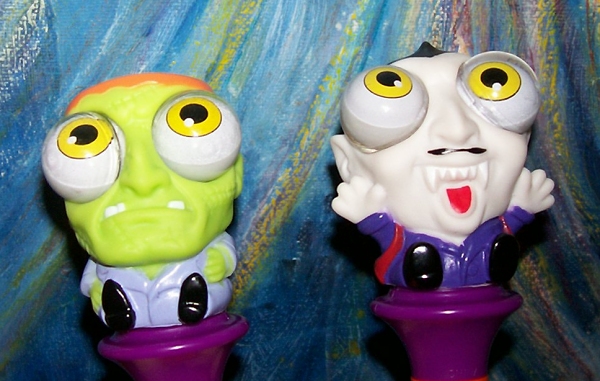 I had to go back for these two. While perhaps not as cool as the Grim
Reaper edition from last month, you gotta love an overjoyed vampire with
a tiny mustache, and the green guy makes a natural companion for him.
You might think greenie is a Frankenstein's monster, but he has pointed
ears and no neck bolts, which leaves me wanting to think that he
represents an "Igor" of some sort.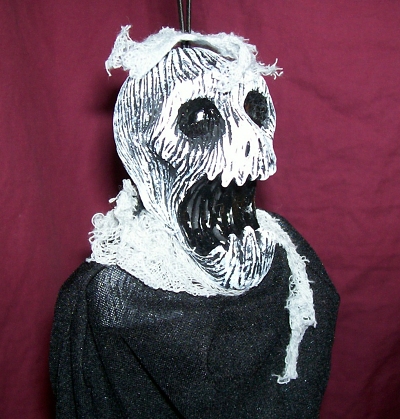 Both the price tag and the receipt for this guy refer to him as a "Wrath
Bounce," more than likely a misspelling of "
Wraith
Bounce," which is still
a very silly pair of words to be in one place. It sounds like some
ill-conceived kiddie ride at an amusement park.

Whether bouncing wraith or bouncing wrath, you gotta love the "What is
that STENCH!?" facial expression and glued-on scraps of cloth.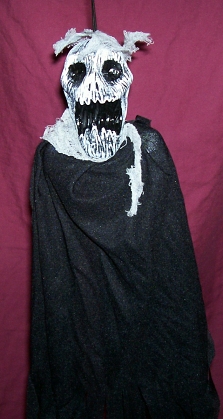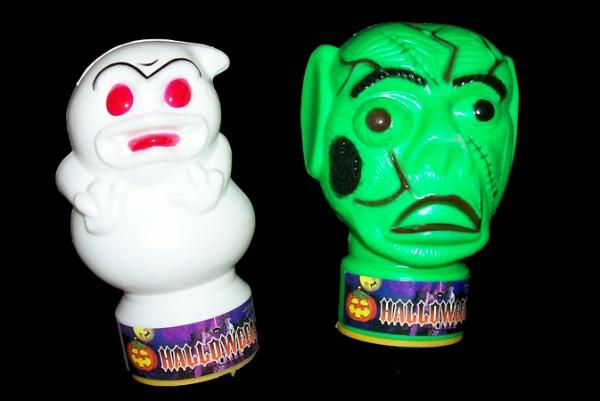 These incredibly cheap plastic flashlights may not even work, but for a
dollar, they make nice little "figures." The hideous green face has also been
sold in a yellow and red version, which you can find in older pages of this
very blog.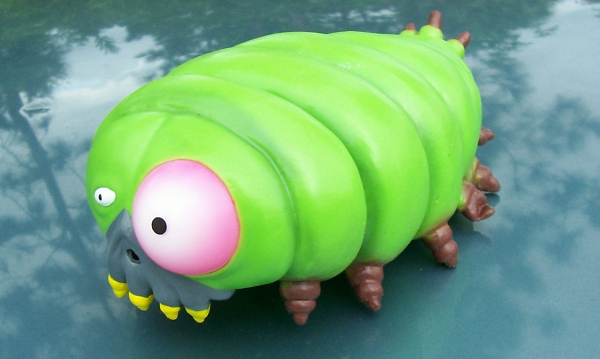 October 26 - Halloween Headquarters

I'd almost missed this Halloween store tucked away in a local mall, and
I'm glad I didn't, because they stocked my beloved Magnificent Maggot in
this bright green variation, matching the flashlight version from this year's
very first entry! I'm almost inclined to stop looking for Halloween stuff at
this point, so our friend the maggot can serve as the perfect bookend, but
chances are good that I'll make a final raid or two shortly after Halloween.

Rather than crawl and slobber, this maggot sings "Born to be Alive" in a
ghoulish voice while flashing and moving only periodically.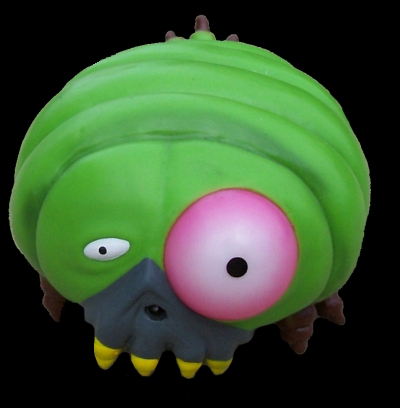 I guess that's it for Halloween 2008, which marked my 25th birthday and the sixth year I've
recorded my spooky toy discoveries. Looks like 2007 still holds the record for the number of
mummies, with this year's final count standing at only 14. I wasn't able to find the fabled
big-head mummy that eluded me last year, either, or
any
of the latex big-head monsters...I
certainly hope they weren't retired for good!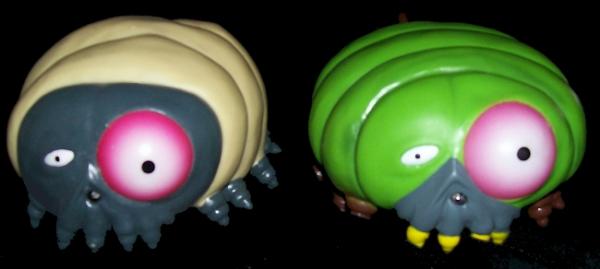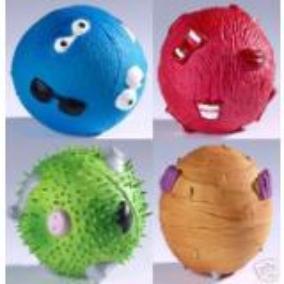 -Almost the Rest of the "Zanies" Monster Orbs-

Above is what I actually ordered last month, but the mummy ball arrived all alone with a note
that they would have to send the rest when their next shipment arrived. As you can see, the
mummy is inexplicably part of a set with a body-part theme, and their photograph shows only the

backsides
of the toys. Unfortunately, what I finally received were two of the green nose-covered
balls and one of the blue eye-covered balls, with another note apologizing that the line has been
discontinued and it was all they could scrounge up for me. This makes the mouth-ball the only
one I'll never see the other side of, and I can only imagine how exciting that might have been. I
shouldn't complain, though...it would have been far worse if the almighty mummy had been the
no-show. So what lies on the dark side of the other two, you ask, with no doubt bated breath?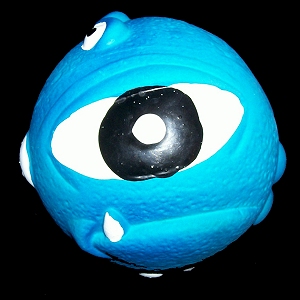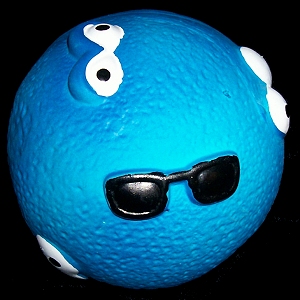 The blue beholder-kin here has pretty much what you expect for a face - one giant
eyeball. More interesting however is the fact that just one pair of eyes are wearing
sunglasses. Either the rest are less sensitive to UV radiation or that pair is just the bad
boy of the bunch. Does this mean every set of eyes has its own brain and personality?
Why am I thinking about this?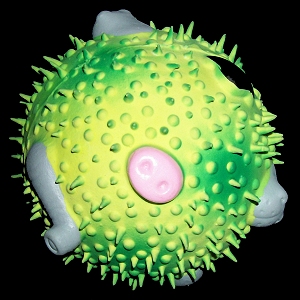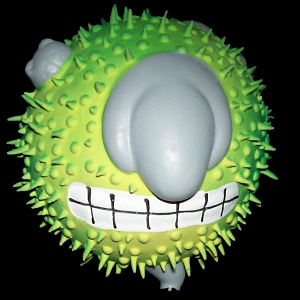 As for the beholder-can't (ahahaha! Even if you get it you're free to pity me) - I
appreciate that it, too, has a mouth, because otherwise this would just be a ball of
random body parts and not necessarily a "monster." There's not much to say about
all these mismatched noses, but I like how the main body is just a big ball of snot.
You could also pass it off as a giant cold-germ that collects the noses of its victims,
but I doubt they were being
that
creative. This all makes me even more curious
about the red one, though...if the eye and nose balls have mouths, does the mouth
guy also have a set of eyes? A tiny nose? Both? WE WILL NEVER KNOW!!!

This is exactly the same as the monster-head doorbells I've gotten previous years, which
included a pumpkin head who upchucks a spider at your unsuspecting finger and a mummy
who does likewise with a scorpion. When it comes to Halloween monsters, there's nothing
surprising about bugs in their mouths...but what's the deal with
this
guy? His throat contains
a scaled-down version of the ghoulish face seen in various sound-activated tombstone
props, and I'm inclined to wonder if this is a tiny little ghost inside of a skull monster or a
regular ghost inside of a giant skull monster. Either way, they must have an exciting tale to
tell, but they're too busy laughing at people who attempt to ring the "doorbell"... or they
would, if the doorbell wasn't disguised as a pair of gold teeth. A lot of people might look at
this and never realize they're supposed to press there.

I think I like this whole thing better as some sort of hand-held device rather than a mounted
doorbell. Sort of like a remote control for scaring people.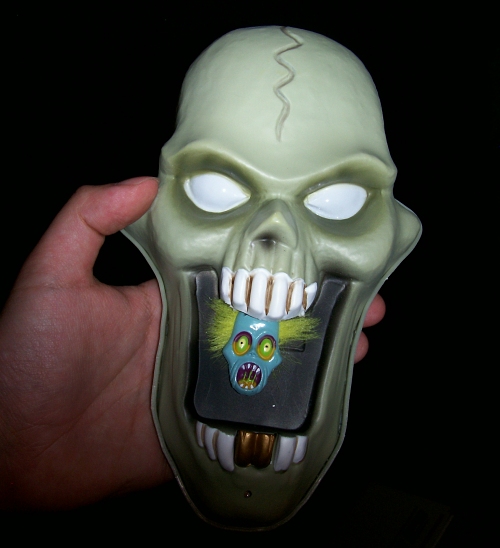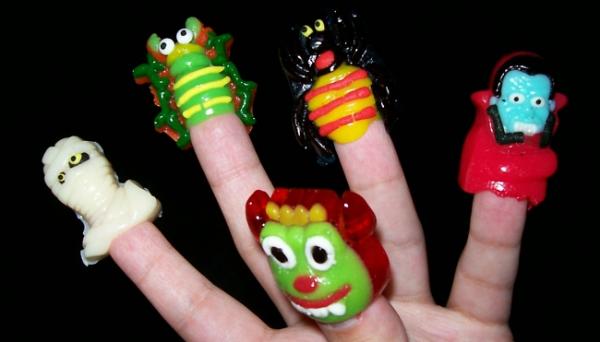 These are so cool looking, I wish they were just made of rubber. Of course, gummi candy
can be left to dry out until it may as well be, and so long as it's kept out of the elements, you
can conceivably keep it around forever. These come in an entire plastic tub with 5-10 of
each variety, so there's plenty of zaniness to go around. The photo just does not capture
how detailed these are, especially the vampire's face.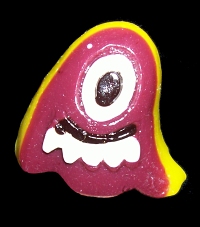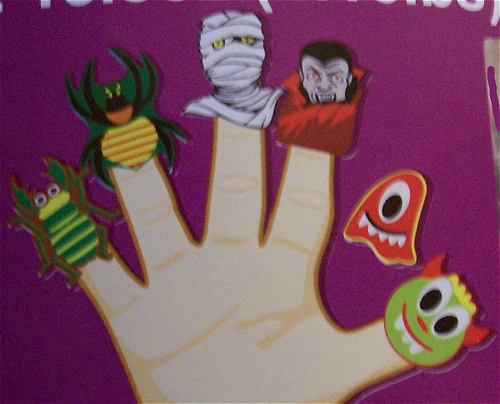 As you can see, there are actually six varieties, but the package artist ran out of fingers and
allowed the awesome little cyclops-ghost to hover in mid-air, as ghosts are wont to do.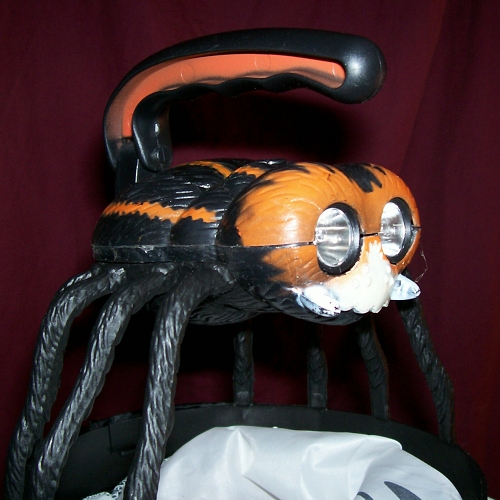 These were also available at target last year, but the bags were completely featureless.
This time around, they've been decorated with skull faces, making them into weird, ghostly
ice cream cones with giant light-up spiders instead of ice cream.

November 1st - 50% off at Party City

-Inquisitive Latex Buzzard-

Entirely different from the latex buzzard I purchased in 2006 - which was ALSO at a clearance
sale - this guy is a little more colorful, somewhat larger, and more eagerly anticipating your
eventual death. I was actually hoping Party City would have a few "bat children" left - larger
rubber demon things that were just a few dollars too high for my taste - but it seemed I wasn't
the only person waiting to scarf them up on sale. The same held true for Party
Outlet
down the
street, which had just sold out of the giant, latex toads I had my eye on. Nuts.

I didn't care much for the flavor of this stuff, which is usually the case
with Jones' novelty sodas, but the drink isn't important here. What is
important is that I now own a set of metal mummies with lemony soda
for brains, and that's worth all the flavor in the world.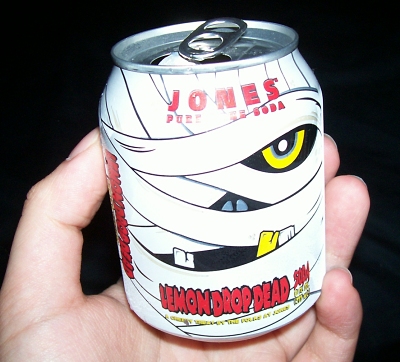 -Jones Soda "Lemon Drop Dead"-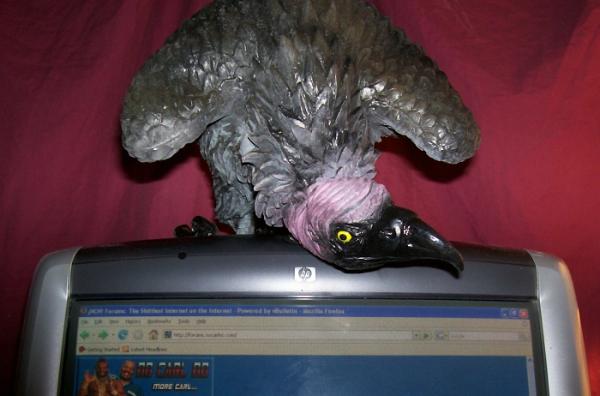 November 1st - 50% off at Spirit Halloween

Oddly enough, it's rare that I buy any Halloween masks or costume accessories, and I
probably wouldn't have gotten this guy if he hadn't been so large for only $25. The great thing
about it, to me, is that when you aren't wearing this, it can pass for an entire monster rather than
a monster's head, since Cephalopods don't have any more body than this anyway!