Halloween 2010 - Part One (August)

It's that time again! I define "Halloween" as the entire three-month period that Halloween
merchandise is widely available in American stores, so HAPPY HALLOWEEN. Stores
including Michael's, AC Moore, Dollar Tree, TJMaxx, Big Lots and party supply outlets
are already stocking as we speak! I'll start off, however, with something I was already
given a few months ago....

This was given to me sometime in the summer by my friends who make a hobby of
rooting through the dumpsters behind Goodwill (shhh!) for items of interest. You would be
shocked and dismayed at what Goodwill considered "garbage," such as this adorable
resin model of a skeleton proudly displaying his Jack O' Lantern from within a casket.

I love that this does nothing and serves no purpose except that it has a door you may
open and close to your taste. You might like to see the happy Skeleton one day, but the
next day might not be a happy skeleton day
at all.
You just never know...that's the beauty
of living and sometimes we have to learn that from a fleshless corpse.

Personally, I plan to leave him closed all year until I start up this blog and close him again
after Halloween. He will be my designated Halloween decoration, because all the other
ones are up year-round anyway.

Keep checking back for more throughout the next three months, or just follow my
twitter!

EARLY FIND - Goodwill (sort of)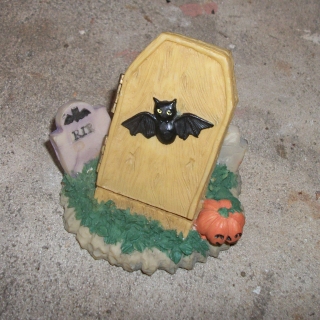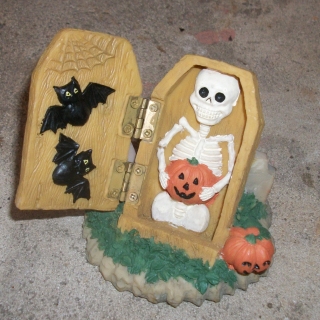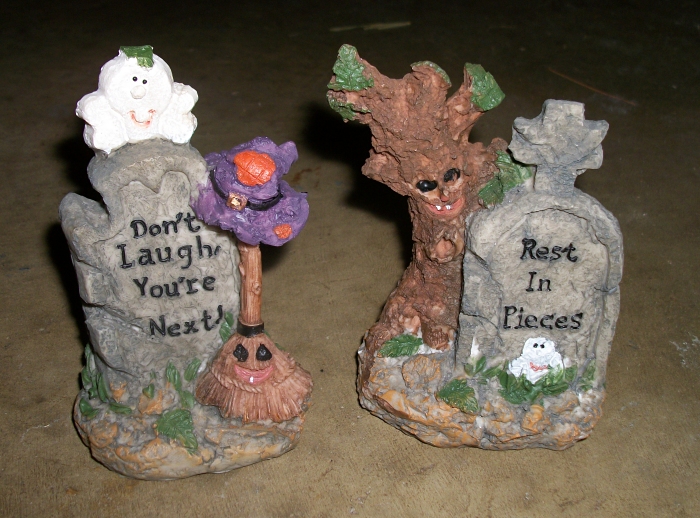 -Haunted things with snarky Tombstones-

The first thing I noticed with these dollar tree tombstones was the spooky-faced tree, one
of my favorite underdogs of the Halloween world. Spooky trees are everywhere in
Halloween imagery, but only rarely treated as monsters in their own right. Too often
they're just a part of the scenery, overshadowed by a bunch of other ghosts and beasties.

It was after picking out the tree that I noticed the broom, and a spooky-faced broom is a
first for my entire collection. It's obviously some sort of witch's familiar, but where did the
witch go? Is that her hat, or the broom's hat? Did she turn herself into a broom? Why
would she do something like that? I guess you never know what a witch might be thinking.
With all those children they eat their brains must be swiss cheese.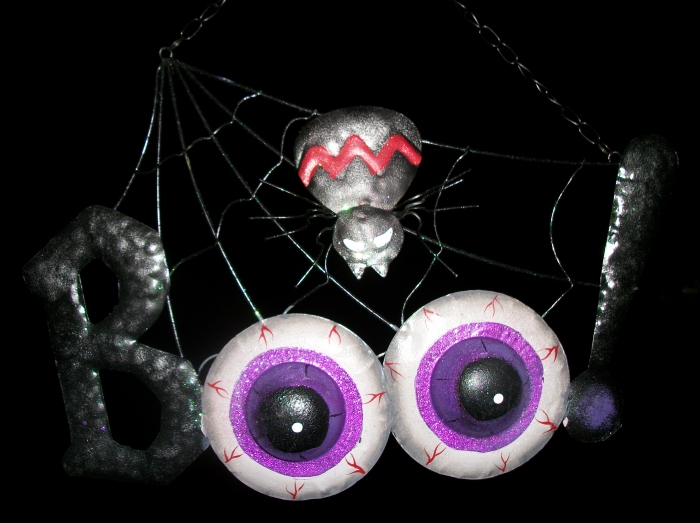 $4 is a steal for a metal sign over a foot and a half across; a store like Michael's or Joann
would ask at least three times that! The bulging eyeballs are the real selling point, but the
menacing spider is pretty cool too.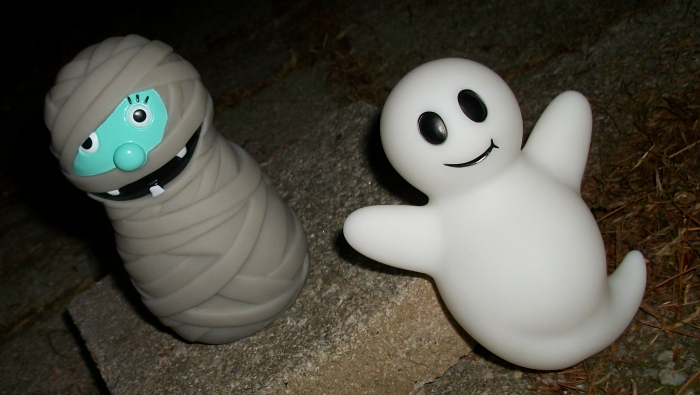 This year's first Halloween pet toy purchase also includes 2010's first mummy, and what a
fine specimen it is! I love the simple peanut-shape and baby blue face. The eyelashes are
a pretty distinct feature as well; if this mummy follows the usual laws of stylization, the
presence of visible eyelashes would exclusively denote a female.

The ghost is fairly cute too, but very conventionally so. It is also unable to stand of its own
accord, unlike our perfect, legless mummy-lady.

August 18 - Gabriel Brothers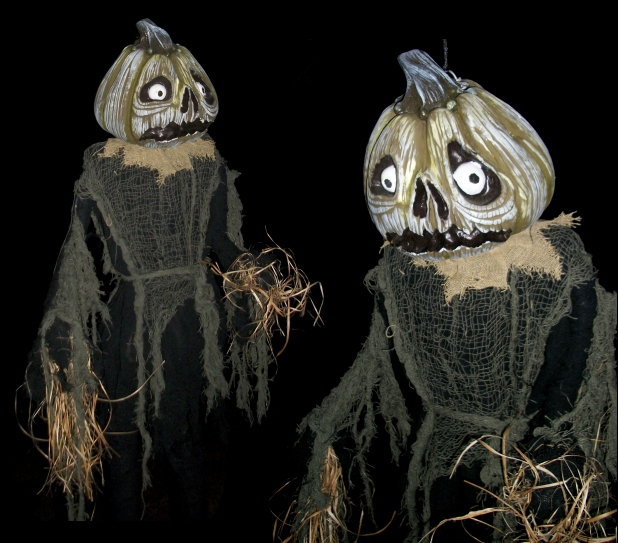 Look at that face! It's like every angle is a new flavor of misery. You can't tell in the dark,
but this guy has a pair of black, tubular legs and straw-clump feet even longer than his
upper body, putting him at almost four or five feet in height! His arms can also be posed,
and I find it really cool that his otherwise crude inner works include a
plastic rib cage
.
You can't see it from the outside, sure, but you can
feel
it when you touch him, like
somebody built a scarecrow from the remains of a baby.


Primarily a clothing store, the same Gabriel Brothers has been in my old neighborhood
for as long as I can remember, but this is the first time they've had anything impressive in
the way of Halloween, and it wasn't just this guy - an entire display wall was devoted to all
manner of hanging creatures, including this guy's
larger, more expensive brother
and

smaller, cheaper nephew
. They were born with real hands, but their orange heads and
red eyes didn't quite tug at my heartstrings like our mopey new friend here. There were
also these
freaky little bag-headed guys
I strongly considered, but on a limited budget I
deemed their drawn-on features too drawn-on.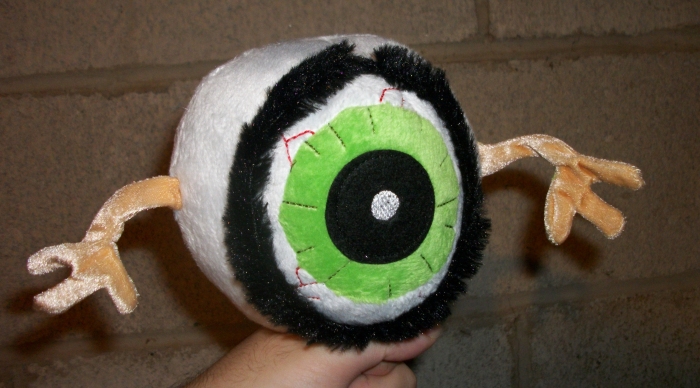 Equipped with a
handle
, this poor frightened-looking hairy eyeball creature lives to be
gnawed on by slobbering canines for their master's amusement. Had it
only
been a hairy
eyeball, I'd have left it to its fate, but the presence of cute little fleshy arms is what pushes
this guy from conventional eyeball territory and into eyeball
creature
territory, one of my
favorite territories to
explore
.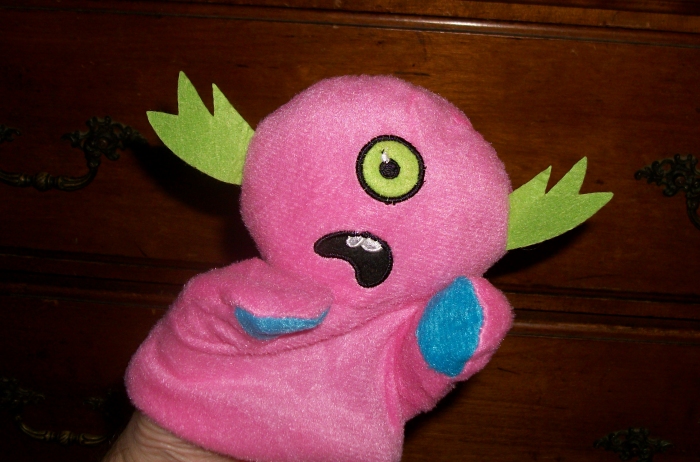 -
Somewhat Horrified Cyclops Puppet
-

A
nother monster that appears to be agonized by something, though not terribly so. Maybe
he just rediscovered a long-forgotten casserole way in the back of the fridge. Maybe he's
watching that youtube video of the walrus pleasuring itself. Maybe it's just something

behind you
.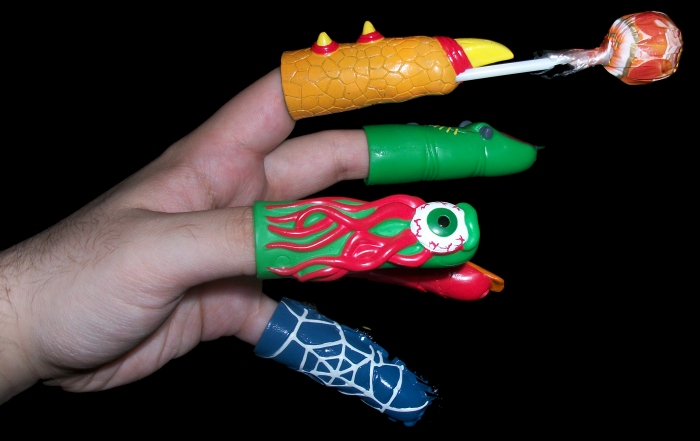 F
reaky Fingers are a colorful plastic product serving the dual purpose of holding a "chupa
chups" confection while giving onlookers the impression that your fingers may, in fact, be

freaky,
though keep in mind that actual freakiness levels may vary accordingly with the
observer. There are six different designs, and at little over a dollar each, I couldn't help but
buy a full set . Now I am going to review them individually, because I haven't found a whole
lot this month and have nothing better to do than review plastic monster fingers.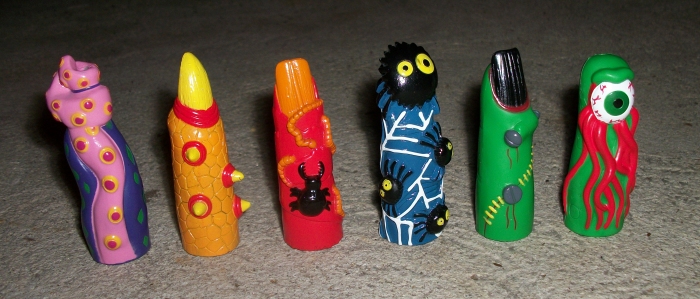 T
he tentacle
- a logical inclusion, the tentacle has a pleasing blue, green and pink color
scheme with prominent suckers.


The scaly claw
- perhaps from a reptilian demon, the scaly claw has an interesting
texture and warm, sinister colors.


The mummy finger
- Yes, this is actually a mummy finger. The sculpt is of cloth
wrapping, but they painted it entirely red for some reason. The worms and the
antlion/spider/scarab are what really sells this misfit.


The spiders
- at first, I couldn't even tell this was still a finger. It just seemed more like a
pillar of spiders. On closer inspection, it does have a sculpted knuckle, and the large
spider is positioned as a fingernail. Fairly cute. It still makes a neat little pillar of spiders,
of course.


The Frankensteinian finger
- Obligatory, I suppose. We've got blood, stitches and
bolts; all the trappings of your
classic
prosthetic monster finger.


The tentacled eyeball
- the obvious winner. Unlike the spiders, there's nothing about this
that says "finger" under any amount of scrutiny. It's more like a little
finger puppet
or

figurine
of a tentacled eyeball, though the notion of a creature with tentacled eyeballs for
fingers is pretty thought provoking.