Written by Jonathan Wojcik
TOP TEN FAKE SCOOBY DOO MONSTERS

While the many incarnations of Scooby Doo are a pretty massive cultural phenomenon, it was one of those things I only really watched as a kid because there wasn't anything else on in the same time slot. The revelation that every monster was really just some crazy gypsy or disgruntled gold prospecter felt like a total cop-out to my young mind, and four out of the five starring characters always bored me to tears. Now, of course, I've developed a slightly more refined appreciation for the ridiculous, and while I'm still not an avid consumer of Doo, that doesn't stop me from forming opinions of his classic foes. An interesting monster concept is an interesting monster concept...even when it's double pretend.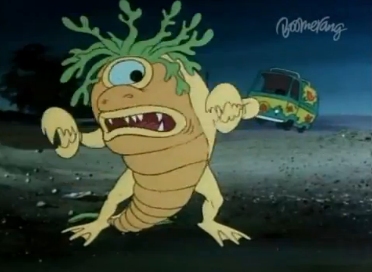 #10: The Creepy Heap from the Deep
This bipedal fish had a fairly inventive design with its seaweed hair, pincer-tipped tentacles and single, vacant eyeball. It was supposedly the cursed spirit of an evil pirate, risen from the sea floor to feed on human souls, reducing its victims to obedient zombie slaves. In reality, the heap was an escaped convict using a monster disguise to evade the cops, because a howling, neon sharktoclops is pretty easy to overlook when you're combing a desolate beach for a runaway mugger.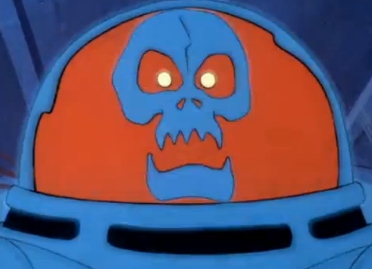 #9: The Spooky Space Kook
A fairly eerie concept and well executed by our hoaxer, the "Space Kook" is a luminous skeleton in a futuristic space suit accompanied by a ghostly, holographic flying saucer. Oh yeah, and he giggles, all the time, like he's just completely out of his gourd. Why aren't alien ghosts explored more seriously as a concept? It's already absurdly unrealistic that even the most advanced alien being could (or would) traverse billions of light years just to visit Earth, so why not just say it's a disembodied soul from a long dead world attracted to the rare life energy emanating from our own? I forget who the Space Kook really was. I don't care.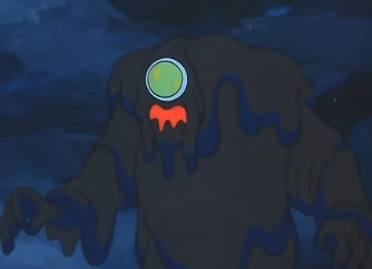 #8: The Tar Monster
The image of a hulking, oozing tar creature with a single porthole-like eye is pretty cool, though it makes it far too obvious that it's just a costume. A costume that should technically suffocate its wearer to death since the guy actually covers himself in a thick, heaping layer of tar. How did he even manage to move? He actually bases his costume on a "statue" of a "legendary" tar monster in an ancient temple, leaving us to believe an ancient civilization came up with a pile of goo in a scuba mask.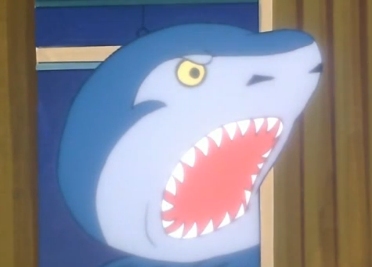 #7: The Demon Shark
This bog-standard amphibious sharkman wouldn't be noteworthy if not for the rather startling fact that there is an actual, real Demon Shark in the episode.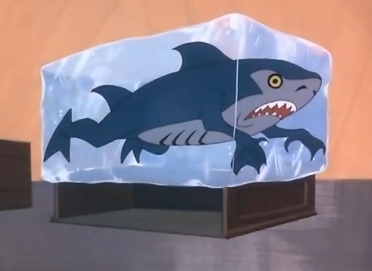 The original demon shark, whose existence amazes no-one, is a frozen specimen on display at an aquarium, supposedly uncovered from the bottom of the ocean in a block of ice "a million years old."
Only
a million? So in Scooby Doo canon, walking demonic sharks once shared the Earth with giant ground sloths, terror-birds and primitive man? That's
so
much more interesting than the episode's story of stolen pearls and an ugly carpenter.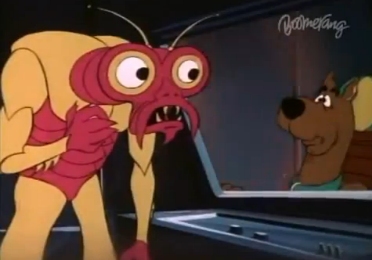 #6: The Future Creature
While I knew he would just be another rubber mask in the end, the Future Creature's concept blew my mind as a kid. Convincing people that he's built a functioning time machine, a scientist "accidentally" opens a portal to what he claims is precisely 5,007 years in the future, only for this bug-eyed, hunch backed, spiny insectoid to step out and start chasing people's dogs around. It's all a senselessly elaborate scheme to steal what can't possibly be more money than the cost of a fake time machine, but these assholes earn some serious creativity points. The suggestion that giant bug-men somehow roam the Earth only five millenia from now has enough intrigue that the professor might have been better off selling it to Astounding Stories.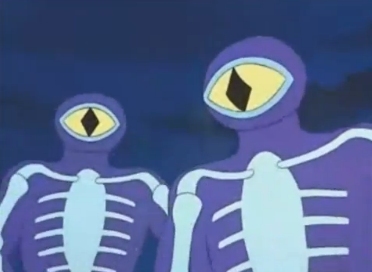 #5: The Skeleton Men
It's pretty hard to swallow that anybody, even as baked as Orville Rogers, could be fooled by some spandex with bones painted on it, but I like that these guys went with alien cyclops heads instead of the more obvious human skulls. They turn out to have been responsible for the entire mythos of the Bermuda Triangle, using a massive custom-built flying saucer to abduct whole ships, submarines and planes. I forget why, and it doesn't matter. UFO eyeball skeletons are much cooler than whatever buried treasure mumbo jumbo was revealed in the end.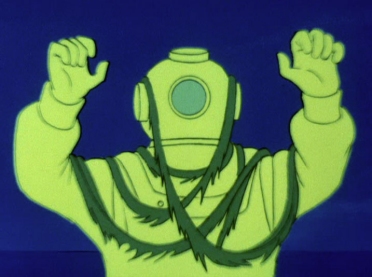 #4: Captain Cutler
I have a strange fascination with this one that I really can't explain. He's nothing but a deep sea diver that glows in the dark and runs around moaning, but everyone totally buys it that he's actually the ghost of a deep sea diver. After all, he glows! And he makes spooky ghost sounds! Even if there had been a dead guy in the suit, there's still no reason for anyone to be any more afraid of this jackass than they would anyone else plodding around in a costume that has to weigh several hundred pounds.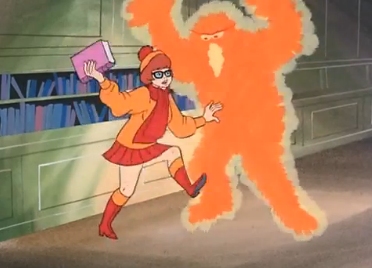 #3: Ten Thousand Volt Ghost
He may look completely idiotic, but this is one of those rare Scooby villains who pose a substantial threat with or without supernatural abilities, as the ten thousand volt ghost is really "just" a human in a ten thousand volt electrical suit that allows him to melt steel and burn through walls. See, kids? There's no such thing as ghosts, just deranged burglars with brilliant engineering skills that can fry you to death in their hands and oh my God they totally drew Velma pantsless in this scene.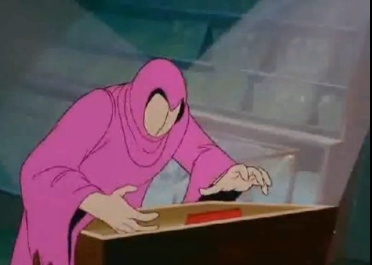 #2: No-face Zombie
While perhaps marginally less deadly than a flesh-searing electrical field, No-face zombie is far more technically impressive than the ten thousand volt ghost, and clearly just as scary as whatever the hell a real "No-face zombie" would have been: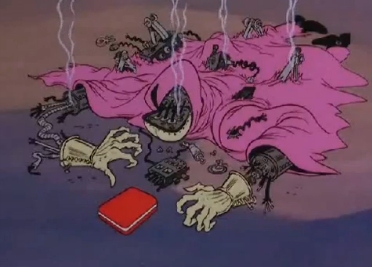 "Wow," says Velma after Fred violently crushes what was so much more likely to have been a human being, "The No-face Zombie was only a computerized robot!" Really? You mean instead of a zombie that can't bite people it was an intelligent humanoid machine hundreds of years beyond modern technological understanding? Well, Jinkies, what were we ever scared of?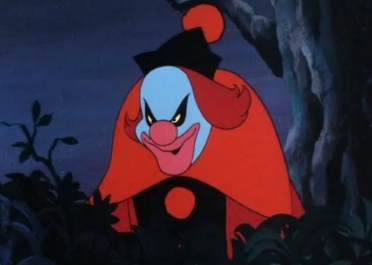 #1: Ghost Clown
Alright, if only one phony Scooby-Doo monster was ever wholly disturbing in or out of their disguise, it would undoubtedly be Ghost Clown here, A.K.A. "Harry the Hypnotist." An elderly circus performer turned ex-con, Harry's cartoon-style hypnotism allowed him to completely enslave someone's mind just by dangling a pendant in their face, even "hypnotizing" his victims into performing dangerous circus acts they had no prior training for and leaving them with no memory of their time under his power.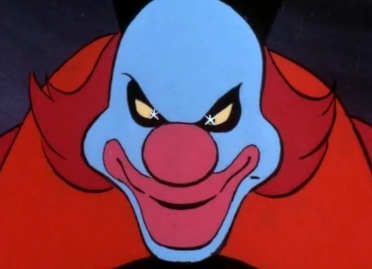 This creepy bastard doesn't even need to be a "real" ghost, since he's already a real dangerous madman with real hypnotic powers who really dresses like a clown just to unnerve people. John Wayne Gacy was creepy enough without being a ghost or hypnotic, and when you think about it, there's virtually no possibility that Harry isn't also a sexual predator. In one scene we see Daphne's eyes glaze over in a trance, and in the next she's on a unicycle in a tiny, pink tutu. You think an elderly man who just got out of prison didn't at the very least watch while she changed outfits? Screw this jackass, the kids are pretty lucky they got out of this one with all their body parts attached.
Browse Halloween 2011: