LOST POKEMON:
TWINZ AND GIRAFARIG

A very weird one here, for a number of reasons! TWINZ would have been a dark/normal type, and they resemble a pair of conjoined, shadowy spirits with surrounding fog strangely reminiscent of Gastly. A very, very unique looking pokemon that I think would have had a lot of fans. Fans that I'm sure would have been harshly divided on the subject of this duo's evolved form.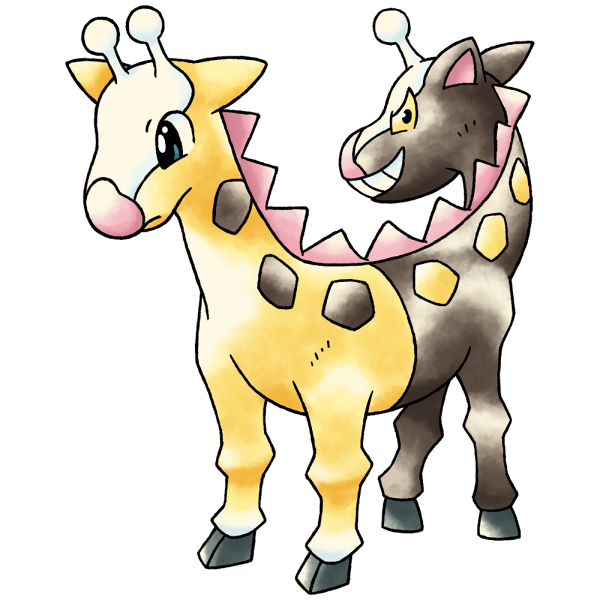 WHY do these two "ghosts" transform into a double-ended giraffe? What a weird, weird twist. It's actually been known for a very long time that Girafarig was originally going to have two equally sized heads, and as much as I like the little chain-chomp tail of final Girafarig, I do wonder why in the world they discarded the larger "evil" giraffe head. It better suits the Pokemon's palindrome name and "dark and light" theme and is just generally so much more striking.

Really, does this design feel like a pokemon "split" between two different types, to you? More inexplicably, they would change Girafarig to normal/
psychic
, which doesn't fit nearly as well as dark typing. They had a truly iconic pokemon concept on their hands, and for whatever reason, they watered it down to something many players have largely forgotten. I don't think you could have overlooked proto-Girafarig nearly as easily, nor its mysteriously ethereal prevolution.


Also, I don't mean to be a big ol' self-shill here, but I'm currently running a kickstarter to produce these
starter pokemon skulls
as limited edition, glow-in-the-dark enamel pins! You can check that out
RIGHT HERE
and preorder a pin, set of pins, stickers, t-shirt or all the above!