BOGLEECH STORE!
Support Bogleech.com and my many sinister secrets by buying some stuff with my drawings on it! If there's something weird you would like on a shirt, button or magnet that you don't see here, just E-mail me and I'll see what I can do about it!



THE NIGHTMARE FUEL COLORING BOOK:
150 pages of death, darkness and decomposition in a cheerful cartoon illustrated by myself in a cheerful style! Traumatize sensitive children! Entertain sadistic ones! For extra fun, the complete book is carefully ordered to begin with the most inconspicuous scenes and progress smoothly into increasingly grotesque imagery.
COMPLETE 150 PAGE BOOK - $9.99 (I receive 3.50 per sale!)
ORIGINAL 118 PAGE BOOK - $6.66
100 PAGE "LOW GRADE" EDITION - $5.99 - Excludes the fifty most explicit pages for more child-friendly coloring fun!
100 PAGE "HIGH OCTANE" EDITION - $5.99 - cut down to only the most grotesque scenes!
CHIMERA ISLE: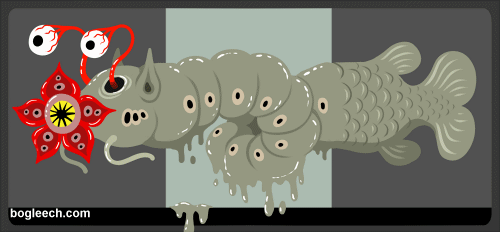 A fun, fast paced game of mixed-up creatures, imagination and survival of the fittest! Designed by Kevin Lanzing with original artwork by myself! BUY IT HERE!




SHIRTS, BUTTONS & MAGNETS:




DISEASES (BEST SELLER!)

DISEASES HEART

ECOHAZARD

VAMPIRE SQUID

HAGFISH

DEEP SEA ABYSS

CUTE SPIDER I

CUTE SPIDER II

CUTE SPIDER III

BAD FISTS

COOL SKULLS

BUTTS

ANIMAL KINGDOM

PHAGE DOCTOR

GERM DOC

BOGLEECH LOGO
PARASITES:




BLOOD FLUKES

TONGUE BITER

HOOKWORM

LEUCOCHLORIDIUM

SACCULINA BARNACLE

CORDYCEPS

PSEUDACTEON

RIBEIROIA

TAPEWORM

GUINEA WORM

ASCARIS

DIPLOZOON

PINWORMS

CRAB LOUSE

LOVEY CRAB

CORDYCEPS SKULL
MONSTERS:




PENANGGALAN

JERSEY DEVIL

HOPKINSVILLE GOBLIN

FLATWOODS

CHUPACABRA

PASCAGOULA ALIEN

CTHULHU

DAGON

ELDER THING

SHOGGOTH

ALIEN PILOT

YOUR GHOST

NEEDLE DOC

TOMBSTONE

SMOG MONSTER

ROBOT ZOMBIE