>Hatch the Plan
Refusing to be rattled by any ominous messages, you go over your basic idea with Chip and Willis, who seem to think it could work. You make your way back to the main lobby and continue plotting things out with Willis...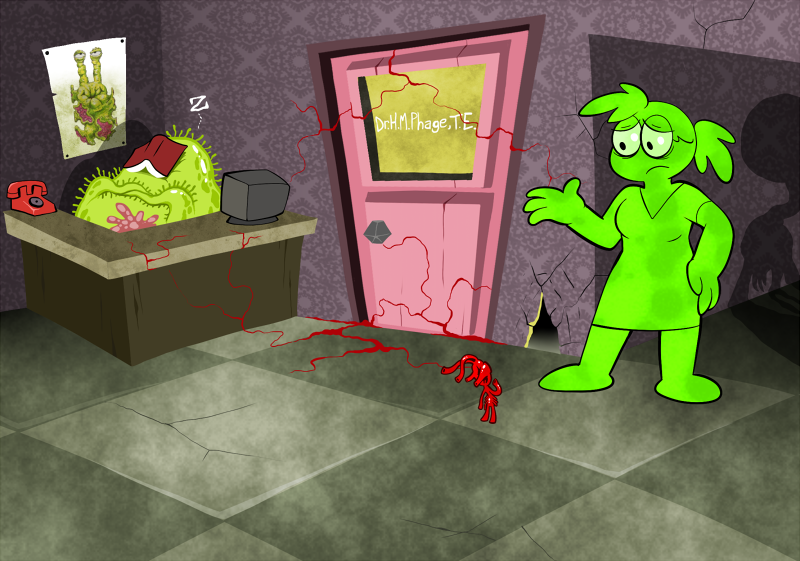 FERN:

So...you said something about Phage getting bow tie deliveries, right? Can we possibly use that to get him out here?



WILLIS:

Oh! OH YEAH!!! I do his voice REAL good!!!



FERN:

...Whose voice?



WILLIS:

Duh, the bow ties guy! I practiced lots cause mom hates it.

Well...she usedta...



FERN:

*Siiigh*...of course there's a specific bow tie guy.

Can you show me how it sounds, Willis?



WILLIS:

*Cough cough*...... "DUH-HOO-HOO-HOO!!! IT'S A SPIIIIIFFEDY-SPECIALTY BOW TIE DIDDLY-DEEEEEE-LIVERY TO OUR NUMBERLY ONE-DERFULLEST CuStOmErRRrr!!!


The voice...

...Is as if a hundred birthday clowns got together to strangle each other to death at the same time, and every last one of them liked it.

FERN:

Willis...I positively hate to say this...but I think I'm gonna need you to do that again, and louder, just as soon as I'm set up.



WILLIS:

Will you do barf noises!?



FERN:

Huh?



WILLIS:

When I did the bow ties voice, mom usedta make barf noises!!!



FERN:

...Yes, Willis, as soon as the coast is clear...I promise to make the worst barf noises.



WILLIS:

OKAY!!