Written by Jonathan Wojcik
Thirteen Dollars at the Dollar Tree: 2016
It's the first week of September, and that's when every Dollar Tree across America has finally finished unpacking
all
their Halloween goodies! How do they stack up this year? It's time to see the absolute BEST you can fill a bag with for a sPoOoOky thirteen-hundred-cents-plus-tax!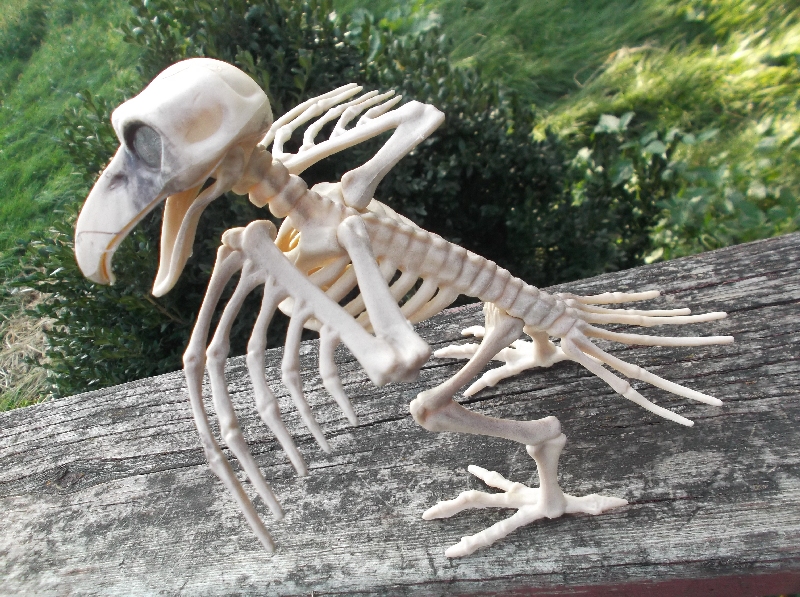 Cheap Skeleton Crow
For shame
, Dollar Tree! This is the exact same skeletal crow designed by the
Crazy Bonez
line, but cast in cheaper materials and rebranded, or rather UNbranded for Dollar Tree stores. Of course, the "official" version runs up to seven or eight dollars, so here you can buy a whole murder for the price of one. Dollar Tree's version is also dirtier and yellower, which I'm inclined to prefer, and has articulation in the shoulders to boot!
What say you now, Crazy Bones???
(I still love you)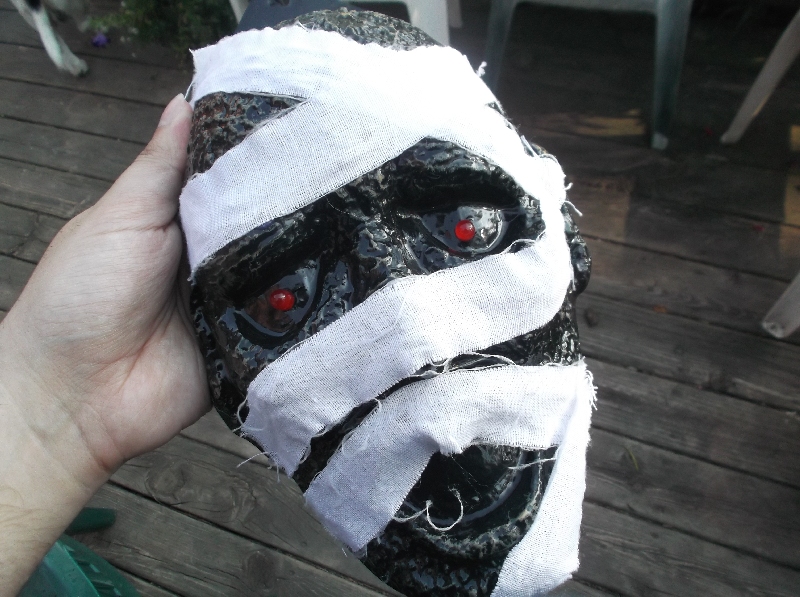 Monster Head
This is basically just a plastic Halloween mask, but perhaps realizing that most kids wouldn't wear something this cheap looking, they're selling it as a wall decoration on a string, with light-up eyes. Not bad at all for a buck!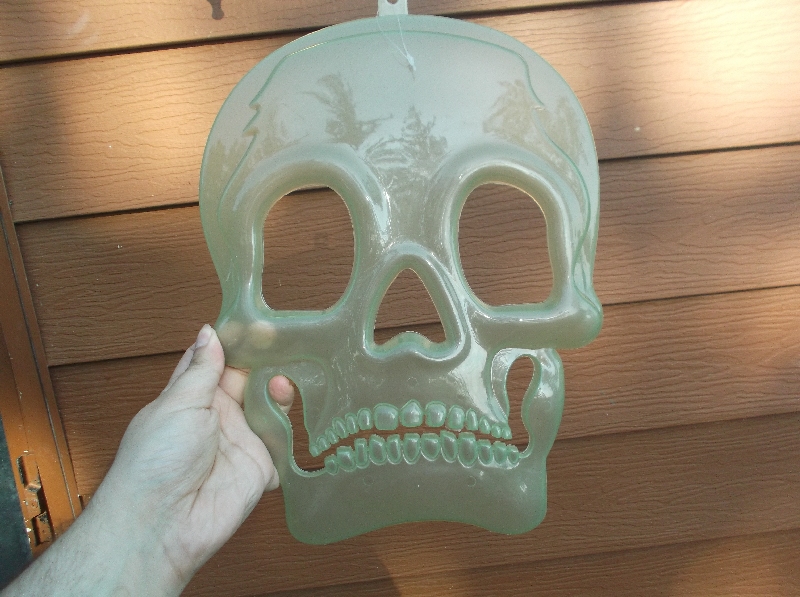 Giant Glowing Skull
This flat, translucent hunk of plastic looks pretty nice honestly, especially once it starts glowing in the dark. What I really enjoy, though, is that look of
concern
on its face. This is one of the most unmenacing skulls I've ever seen, and I've seen the skull of a bushbaby.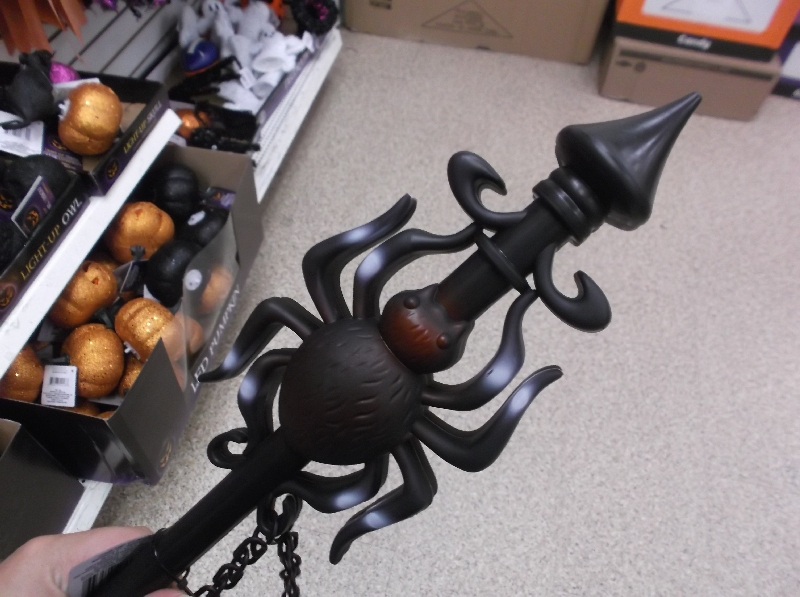 Spider Fence Posts
Complete with a plastic chain to link them together, you get TWO spider fence posts for your dollar, allowing you to build a fence of reasonable size without breaking the bank. The only problem is that these things are hollow on the back, so they look pretty poor from any other angle, but you can always glue the two together I guess. Another alternative, and my preferred option, is to wield them like a spider
spear
.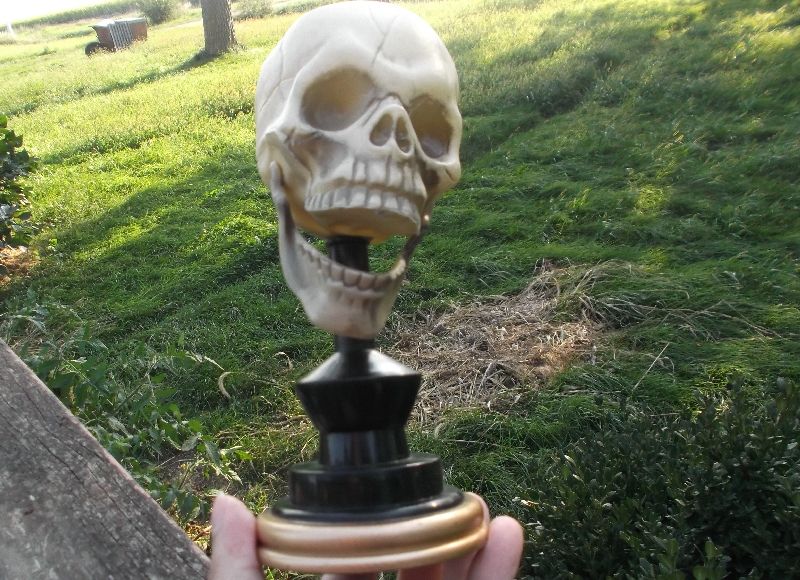 Plastic Skull on a Stand
This is like...a human skull on a candlestick, or something. It can rotate, and its jaw can open and close. It's nice, simple, multi-purpose goth decor, though curiously enough, the dollar tree I visited in
Maryland
sold this version, while the dollar trees in
Iowa
sell one
without movable jaws.
What are you trying to pull, IOWA? Obviously
this
is why you're nothing but "the flyover state."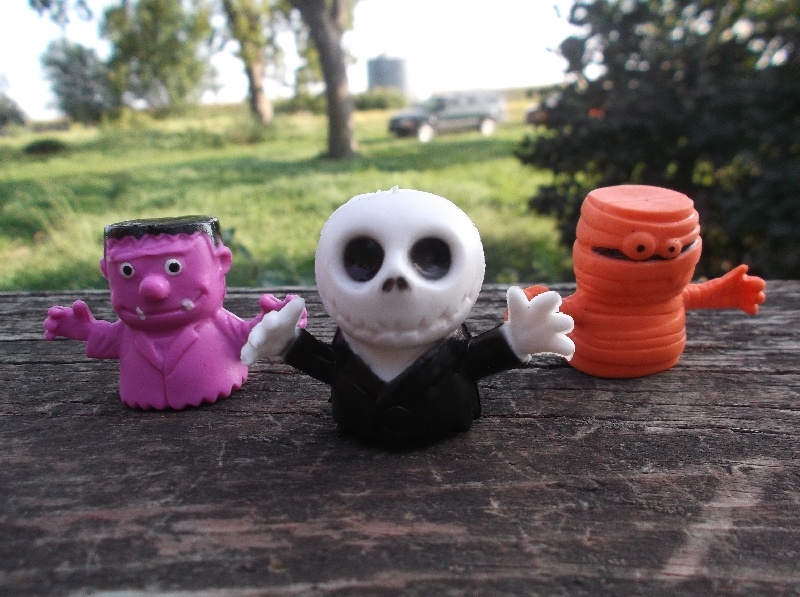 Rubber Finger Puppets
It's been a pretty long time since I've seen Halloween finger puppets at the dollar store. Three to a pack, the Franky and the Mummy are repaints of a flat-topped set I've seen year after year, but the
knockoff Jack Skellington
is a completely new one to me, and well worth the dollar all on his own. They're too small and thick to actually fit on your finger, but they'd at least make decent pencil toppers. I kind of want a "special edition" Nightmare Before Christmas now where Jack is tiny, squat and legless. Don't you?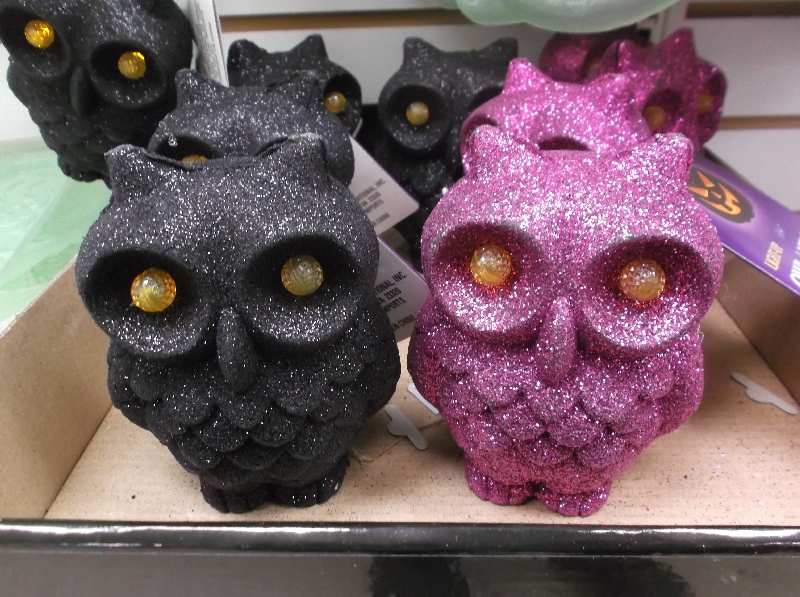 Sparkly Owls
They're hollow, plastic, encrusted completely with glitter and their cool yellow eyeballs light up a little in the dark. Of course, this whole article assumes you would buy only one of these towards our $13, but you can't very well decorate your home with only ONE cheap, glittery plastic owl. I feel like around twenty is the bare minimum, alternating the two colors. Just one would make you look
weird.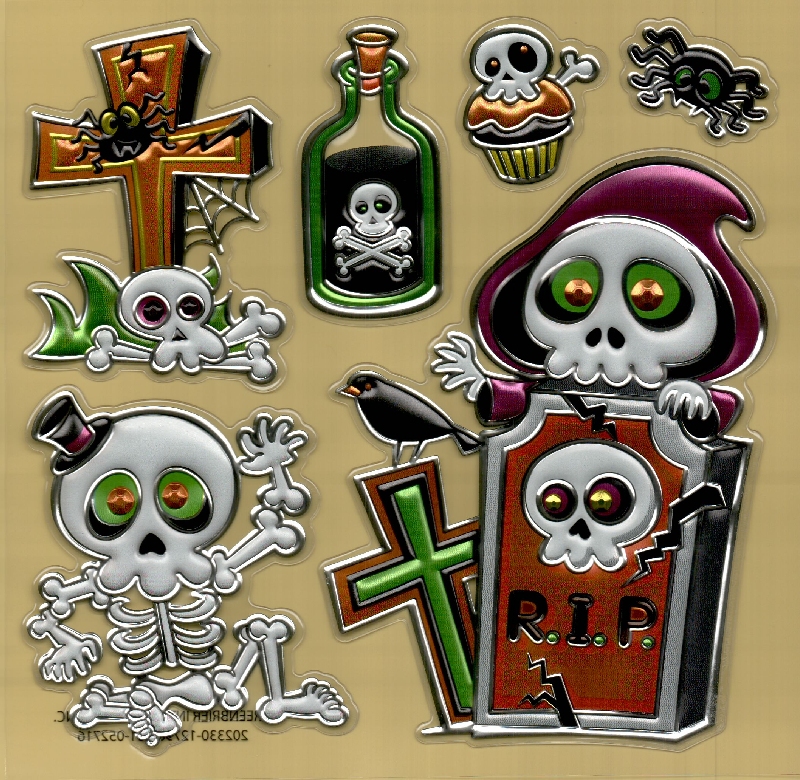 Shiny Stickers
Slightly textured and metallic with especially shiny eyeballs, these are pretty large for stickers and intended primarily to decorate windows and mirrors. You get a cross with a spider climbing all over it, a bottle of poison, a spooky cupcake, a lone tiny spider, an adorable skeleton in a tiny hat and the real prize of the sheet, a DARLING grim reaper seemingly sneaking up on a crow! Is that what grim reapers eat?? They just stalk small birds, like a
cat?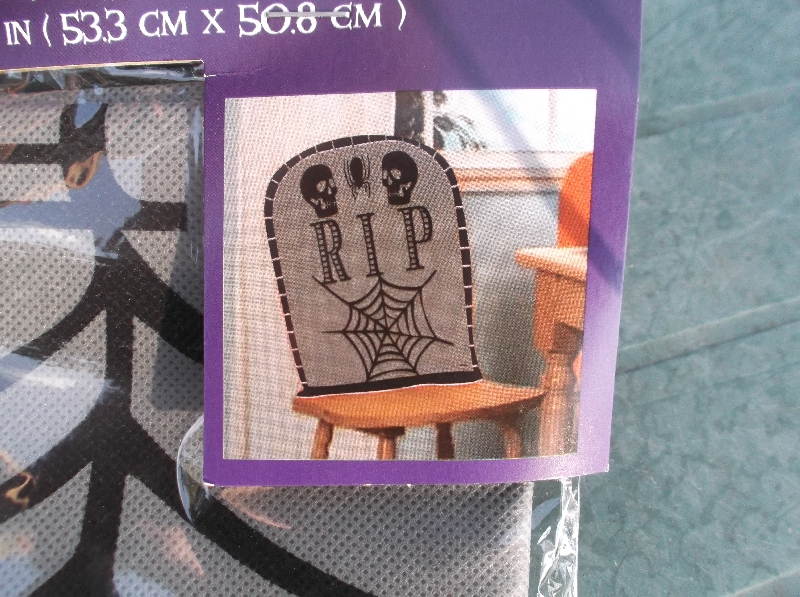 Tombstone Chair Cover
While there isn't much to say about this, it's a pretty impressive item for only a dollar. It will only fit certain chairs, but I feel like it would sell for a LOT more at any other outlet.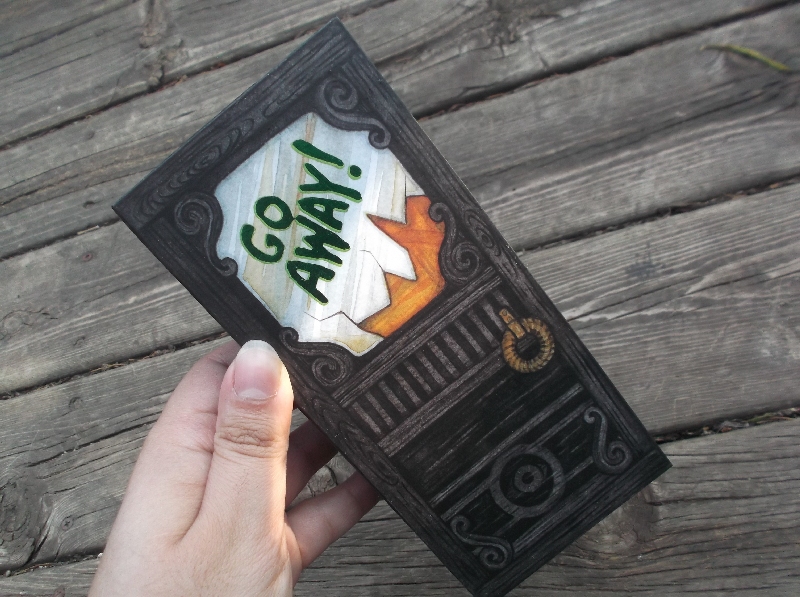 "Go Away" Box
This is a pretty high quality gift box, I have to say. Not only is the artwork beautiful, but the lid is held in place by an unseen magnetic strip, a lot more effort than I'd have expected.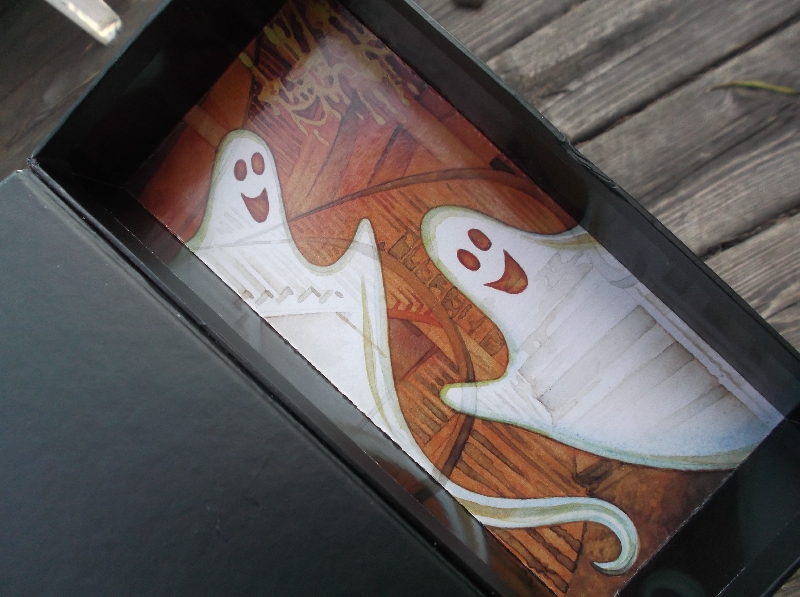 As a friend of mine observed, the interior of the box feels as though it contradicts the "Go Away!" warning; these ghosts look damn excited to greet us.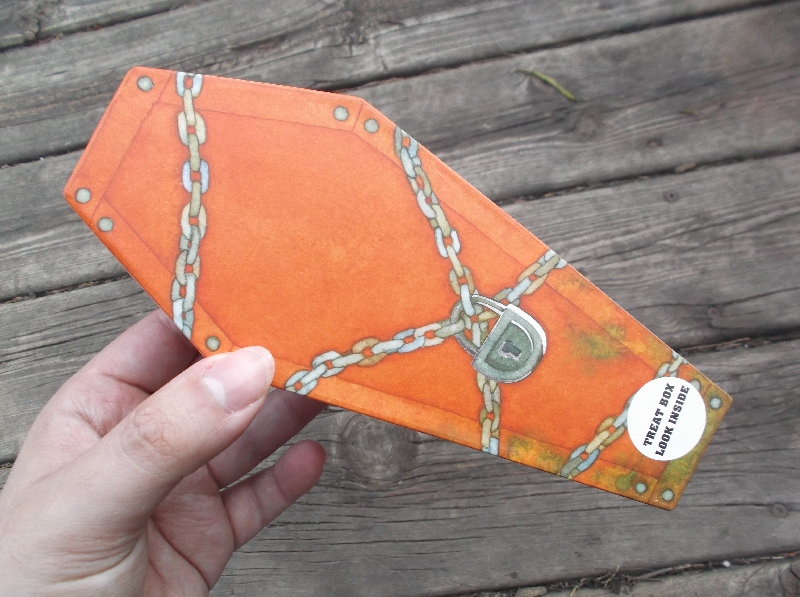 Coffin Box
This is the third year in a row that Dollar Tree has offered coffin-shaped boxes in three different designs, but the one I always gravitate towards is the
mummy,
which is always housed in the
orange
coffin. In 2014, the mummy was a
lovably green-skinned, armless specimen
. In 2015, it was a
rat-eaten corpse
in a more beautifully designed casket.
This year?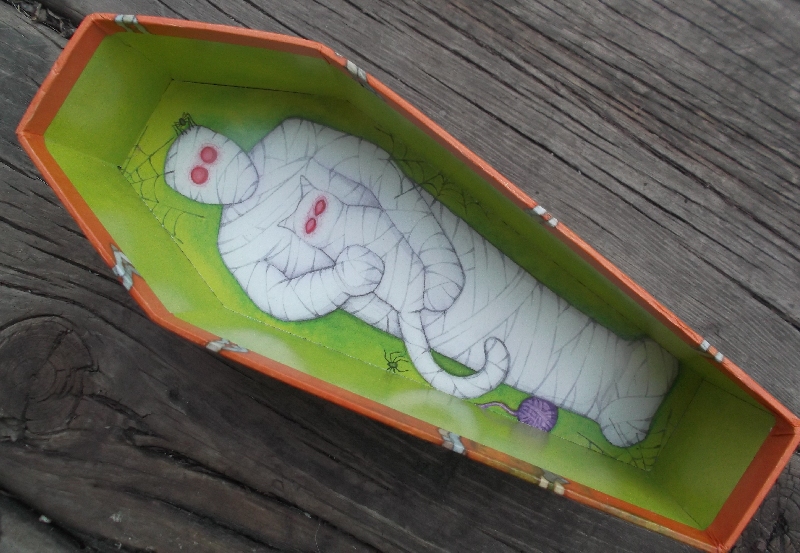 Oh. My god. A mummy with disturbing, luminous pink eyes
and a matching DEAD KITTY CAT?!
How do these Dollar Tree Mummy Coffin Boxes just keep outdoing themselves, year after year?! At this rate, you'll be able to buy an actual, real undead mummy for a dollar by 2050 and it'll know how to cook.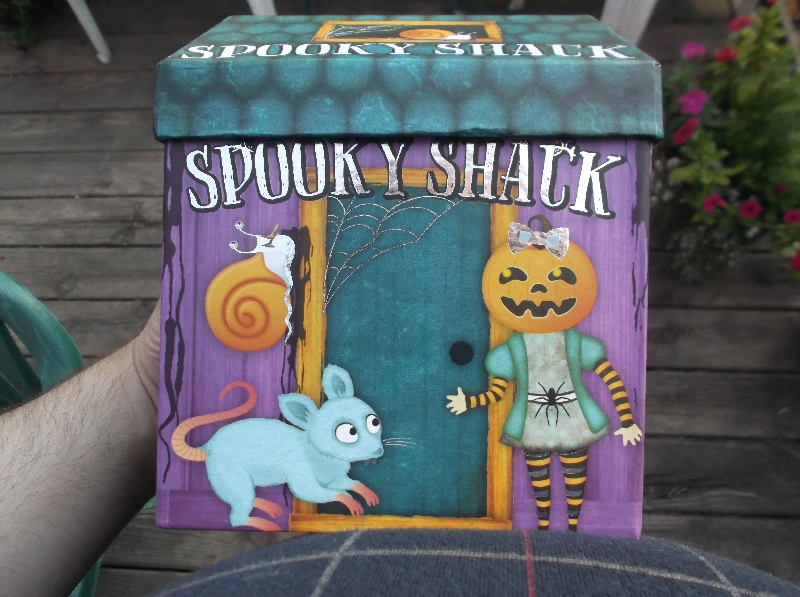 "Spooky Shack" Box
These little house-shaped boxes are another tradition, and always have some interesting designs on every wall. The best one this year is the "Spooky Shack," already cool as hell from the pumpkin girl, metallic snail and giant, adorable rat on this side.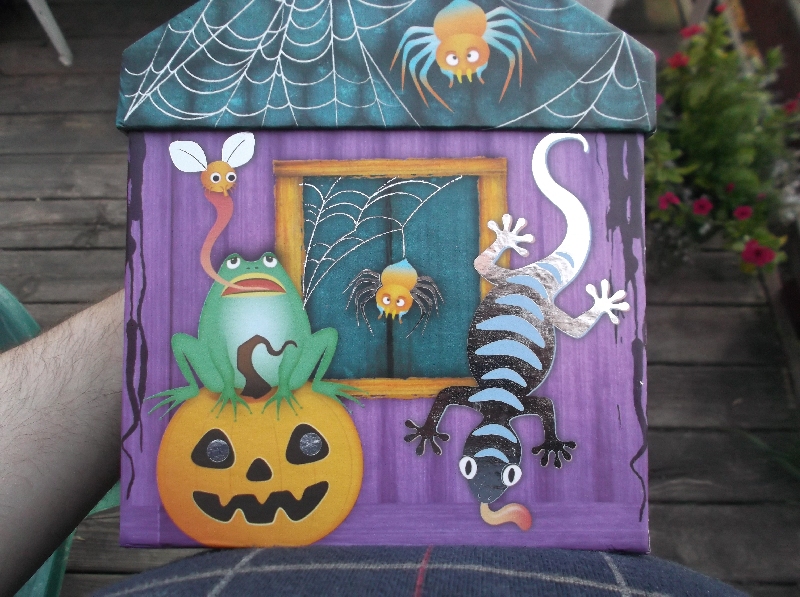 On another wall, we have a giant gecko lizard
and
a giant frog, eating a delightful orange fly with just the sweetest little proboscis. The "SPOOKY SHACK" seems to be pretty "crawly creature" themed, just the kind of Spooky Shack to pique my interest.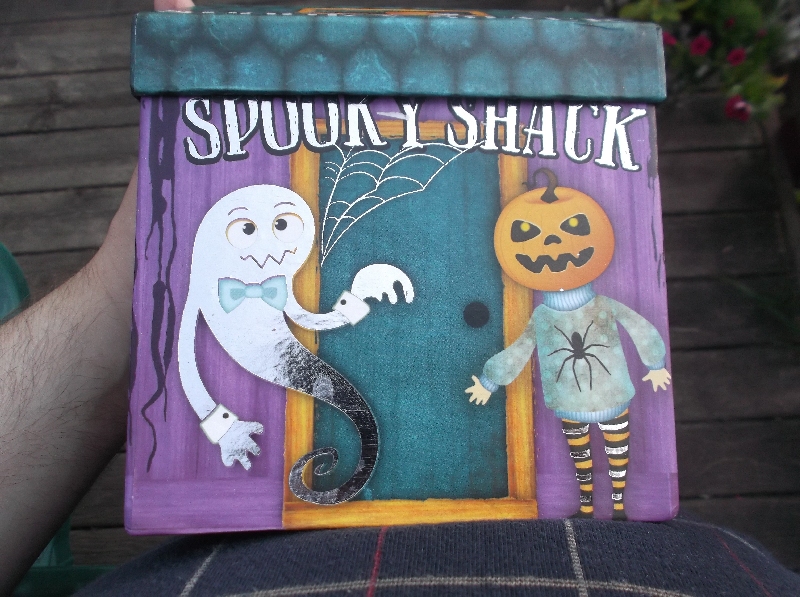 Opposite the first wall, a pumpkin guy and a bow tie ghost beckon you into another door. What's a mere
shack
doing with two doors?? Maybe its contents are different depending on which one you enter through...and the outside world may differ depending on which one you exit. The Spooky Shack is life changing.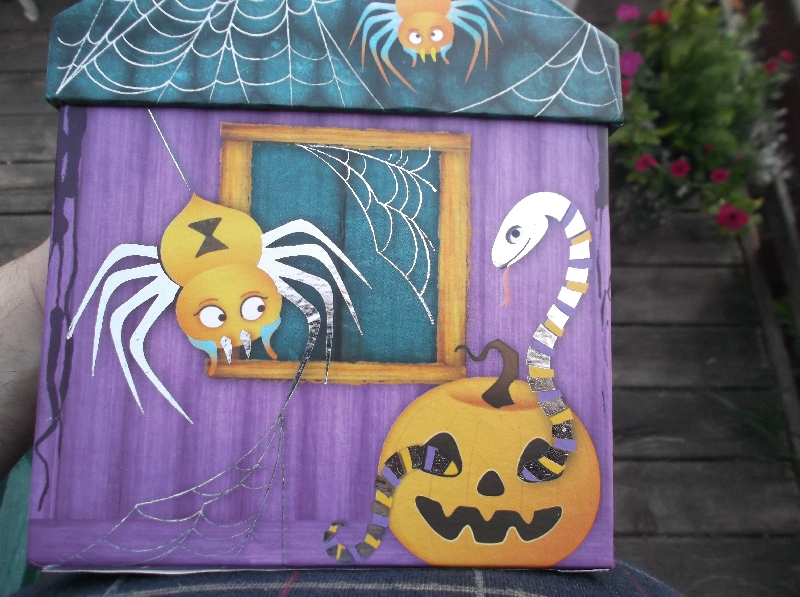 Completing your basic "crawly thing" set, the final wall features a beautiful snake
and
a giant spider.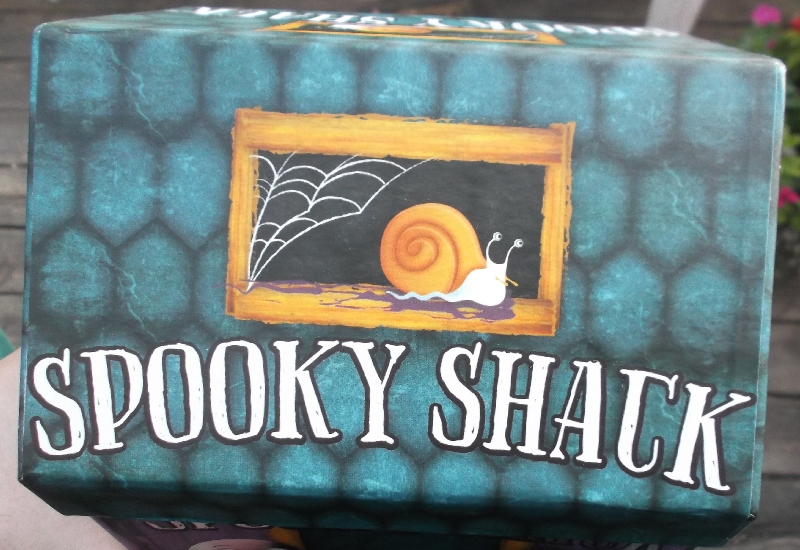 Incidentally, have I ever spoken on this website of my nearly life-long dream to run what would basically be a Halloween themed "zoo" and museum of curiosities? Essentially Grunkle Stan's Mystery Shack, but with bugs and reptiles in it, so yes, literally what we're seeing here. The Dollar Tree has manifested my ideal future in a hunk of cardboard...though my own Spooky Shack could never have proper giant snails as long as I'm stuck living in North America, where giant snails are
ILLEGAL.
This is, without a doubt, the greatest injustice of this country immediately after all the massive human rights violations, endless war, government corruption and gun massacres.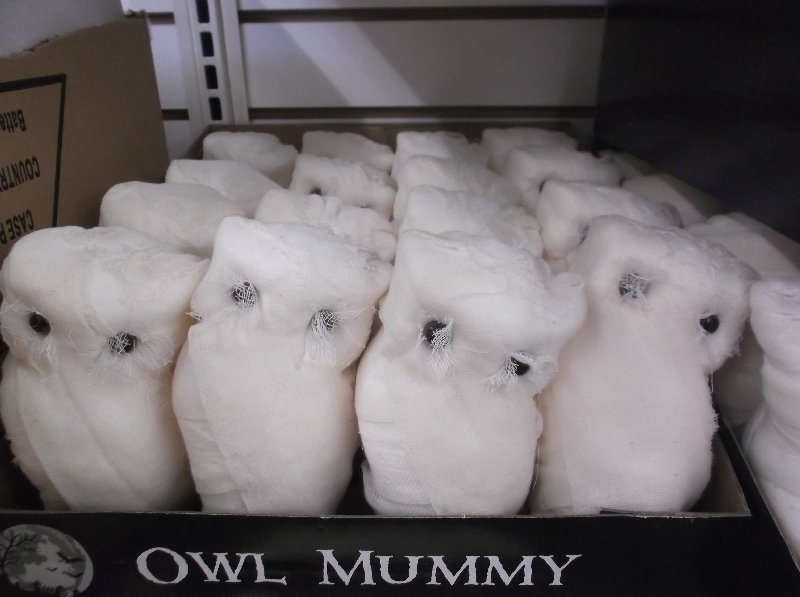 On that note...ONE DOLLAR OWL MUMMIES!!!
I was delighted last year by an
owl mummy from World Market,
and while those are still a little better in quality, you can't beat just a buck for something this drop-dead adorable. Look at those little eyes! You can practically hear the chorus of softly muffled hoots just looking at these little dweebs! You can
almost
forget that we're living in a poorly disguised dystopia!
MORE HALLOWEEN FEATURES: