Written by Jonathan Wojcik
WELCOME TO NIGHTMARE BEINGS: YEAR FOUR
Is it
really
our fourth year of "Nightmare Beings" already?! If you're not familiar with this Halloween II tradition, we spend the winter weeks sharing our favorite, weirdest nightmares with one another in the comments section, and if your nightmares happen to include monsters, villains or other oddball entities, I just might illustrate and feature a few of my favorites!
The last two years, I opened with some nightmares of my own. This year, I present to you multiple entities from
just one
dream that I've kind of been "saving."
It's a dream from all the way back in 2001, more recently rediscovered in a dream journal, but this journal details only five distinct "scenes"...
SCENE ONE: THE DOOR.
In a world that has lost all of its color, a group of people hide in a huge, decaying house. Opening the front door is forbidden, but one man, desperate to get out, now stands gawking at the thing outside.
It hovers just above the ground, all long and bony limbs, and with one spidery hand, it grabs the man around his torso and pulls him out into the dark.
The other "survivors" struggle to close the door, as though against a powerful but silent wind, and fail to notice several small, fuzzy objects, like dust bunnies, scurrying their way inside.
SCENE TWO: MELTING VICTIMS.
Deep inside the house, a woman is half-melded with a huge, wooden beam, and a man struggles against a filthy floor his face has fused into.
Somehow, I know this is because of the little fuzzy things.
I also know that the lack of color is somehow both the cause and the symptom of the world's "madness." This isn't to say that
people
in the world have gone mad, but according to this dream's logic, the literal world we live in has lost its "sanity" as it also became greyscale.
SCENE THREE: THE WINDOW.
Still a disembodied observer and perfectly safe, I peer out a window to see a huge, paper-mache-looking wasp on a tree branch only a couple of feet away, illuminated by a moon that fills up most of the sky. Despite looking poorly hand-made, the wasp turns to look at me with a serene, human head, and I realize there's no glass in the window at all.
SCENE FOUR: THE WRINKLY MAN.
A massive, bag-like being, covered in wrinkles, weeps and slobbers a black substance in an empty room. I'm aware somehow that this results from one of the fuzzy creatures forcing its way into his mouth.
SCENE FIVE: THE GOAT MAN.
Nobody is left in the house, or possibly even the world. Nobody except one man, who has become half-goat and incredibly warped.
He has been coming and going from the house, running wildly through the woods of the grey world, and can no longer bear to find out how far he's going to transform.
He climbs the house, laughing, and throws himself off the roof, but I wake up before I see him land.
THE END!!! I HOPE YOU LIKED MY NEAT-O DREAM!!!
Please share dreams of your own in the comments below, but remember this is not a competition or race to get yours illustrated; I'll only be doing a handful of those! The point is to just share creepy dream tales!
PAST NIGHTMARE BEINGS: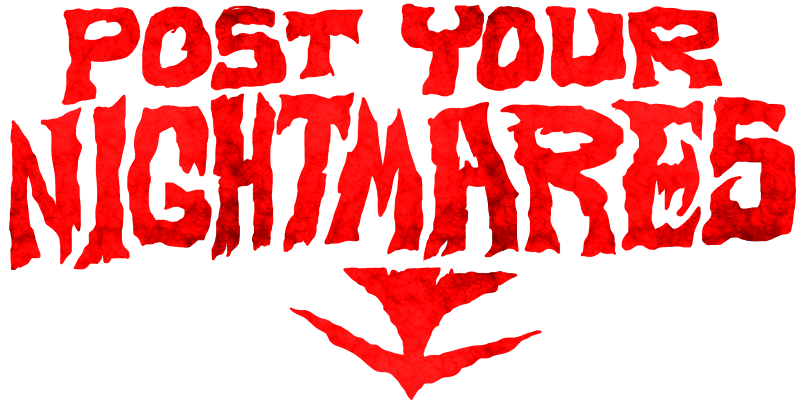 MORE HALLOWEEN FEATURES: